Kentucky Derby offers clues for Preakness winner
Updated May 18, 2017 - 7:53 pm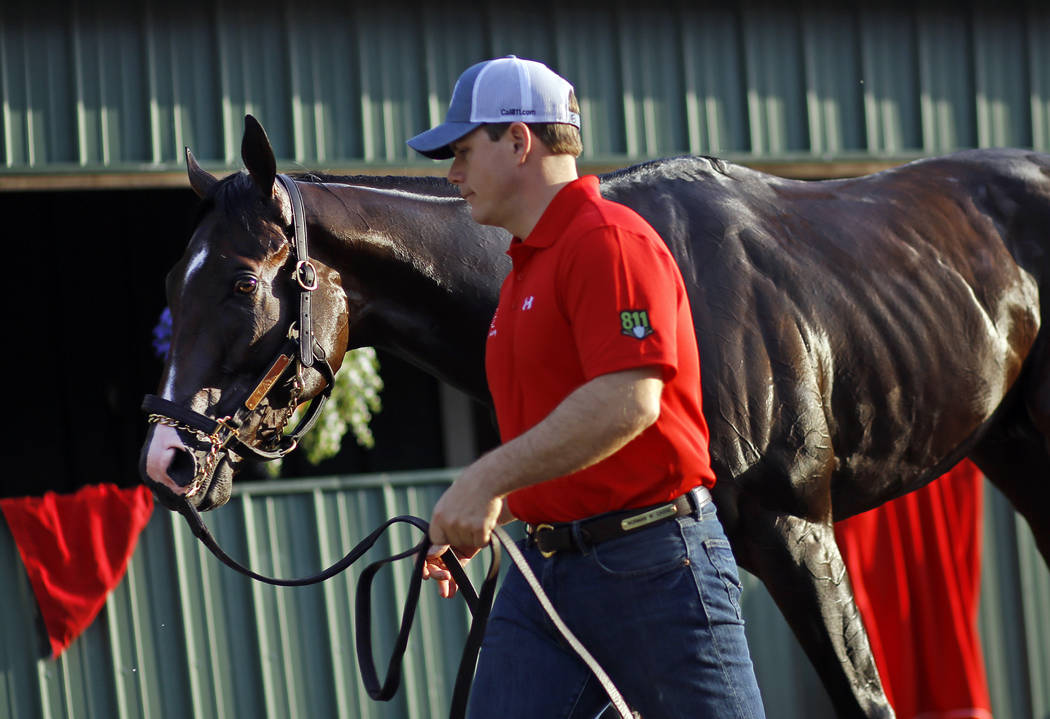 I like comparing horse racing handicapping to solving a murder mystery. You typically will have a cast of characters providing you clues as to whom they are and where they have been. After analyzing the clues, you come up with the bad guy, or in the case of horse racing, the most likely race winner.
The best clue with the Preakness is this: Thirty of the past 33 winners came out of the Kentucky Derby. And one of those three, Rachel Alexandra, is a filly who won the Kentucky Oaks, so she could not have run in the Derby. So, in reality, it's 30 of 32.
If that formula holds true Saturday at Pimlico, then the most logical horse would be among Kentucky Derby winner Always Dreaming (4-5), Classic Empire (3-1), Lookin At Lee (10-1), Gunnevera (15-1) and Hence (20-1). The other five starters are non-Derby horses.
Always Dreaming is the horse the racing industry will be rooting for. A win in the Preakness sets up another Triple Crown chance in the Belmont Stakes on June 10.
Always Dreaming has had two perfect trip wins in a row in the Florida Derby and Kentucky Derby. I suspect the Always Dreaming camp wanted Royal Mo in the race to be the pacesetter so Always Dreaming could stalk him.
Instead Royal Mo was injured and was retired.
Always Dreaming now might be forced to set the pace himself. Thus, the horse I think will get a perfect stalking trip is Classic Empire. He will start one stall to the right of Always Dreaming. Jockey Julien Leparoux will try staying glued to the right flank of Always Dreaming and then test him the length of the Pimlico stretch.
This Preakness shapes up as a two-horse race between Always Dreaming and Classic Empire.
Lookin At Lee, the Derby runner-up, cannot possibly get a better trip than he did at Churchill Downs. He broke from the dreaded rail but turned a negative into a positive. His jockey, Corey Lanerie, never left the rail and rallied for second. He has a good chance to rally for minor spoils again.
Of the new shooters, I prefer Cloud Computing (12-1) and Conquest Mo Money (15-1).
Jockey Javier Castellano tipped his hand when he jumped off Gunnevera to ride Cloud Computing. This colt has a much higher ceiling and could be competitive in the Preakness.
Conquest Mo Money defines "blue-collar horse" in a positive way. He cost a measly $8,500 at the Keeneland sales and has made more than $500,000. He has tactical speed and a pit bull fighter's mentality.
The Baltimore weather this weekend looks perfect. We like a fast and firm track and may the best horses win.
Eng's picks
Classic Empire, Always Dreaming, Cloud Computing, Conquest Mo Money, Lookin At Lee.
TI tournament
The TI will host qualifiers Friday and Saturday for the National Horseplayer Championship in early 2018 at the TI. The entry fee each day is $1,000. All fees will be returned as prize money. Five seats to the NHC will be awarded Friday and four Saturday.
Richard Eng's horse racing column is published Friday in the Las Vegas Review-Journal. You can buy his Santa Anita Park picks at racedaylasvegas.com. You can email him at rich_eng@hotmail.com and follow him on Twitter @richeng4propick.