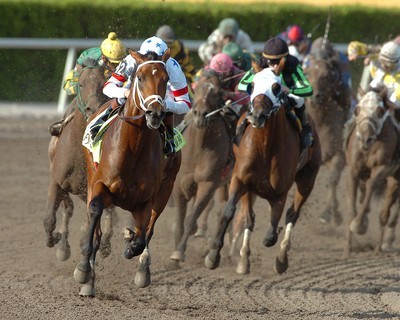 Last week's Kentucky Derby prep races were conclusive in one respect. The results of the Wood Memorial, Illinois Derby and Santa Anita Derby further cemented Big Brown's standing as the likely Derby morning-line favorite.
On Saturday, the Blue Grass at Keeneland and the Arkansas Derby at Oaklawn will help firm up the 20-horse Derby field. But for now, Florida Derby winner Big Brown and Pyro have separated themselves from the lot.
Pyro is the even-money chalk in the Blue Grass. Even a daylight win might not be enough for him to wrestle the Derby favorite's tag from Big Brown.
The final Beyer ratings from last week's preps were revealing. Tale of Ekati won the Wood with a Beyer of 93 — mediocre for any Derby prep, much less a Grade I. The top four finishers of the Wood appeared to run the final furlong in quicksand.
Recapturetheglory won the Illinois Derby in a decent 102 Beyer. But I have my doubts. The colt has a front-running style, just like Big Brown. Recapturetheglory ran the opening half-mile at Hawthorne in a painfully slow 48 3/5 seconds. My guess is if those two fought for the lead in the Derby, Big Brown would beat him senseless.
Finally, Colonel John posted an ordinary 95 Beyer in winning the Santa Anita Derby. My caveat is the race was over Cushion Track, which has yielded low Beyers throughout the meet. Of any horse from the three prep races, Colonel John is the one who can move forward and be a factor in the Derby.
That brings us to Saturday's two Derby preps.
Pyro has been handled perfectly by trainer Steve Asmussen in winning two prep races at the Fair Grounds. Now he's hoping a race over the Polytrack at Keeneland will benefit Pyro the same way it did 2007 Derby winner Street Sense.
In the Blue Grass, conditioning will be as big a factor as winning. Two upset possibilities in the Blue Grass are Cowboy Cal and Visionaire. Cowboy Cal is exiting four good grass races for trainer Todd Pletcher. Michael Matz, who trained 2006 Derby winner Barbaro, will saddle Visionaire.
Obviously, Matz knows how to get a horse ready to peak on Derby day.
Last year's Arkansas Derby was dominated by Curlin. There is no animal like him in this year's group. If there is an upset at Oaklawn, it might come from Z Fortune, another Asmussen trainee. His dismal finish in the Rebel was too bad to be true. He could rebound here at juicy odds.
• SAM'S TOWN — There will be a one-day qualifier for the 2009 Horseplayer World Series on Thursday in the new race book at Sam's Town. The entry fee is $100.
Richard Eng's horse racing column is published Friday. He can be reached at rich_eng@hotmail.com.