Plenty of action in Vegas for Breeders' Cup
October 23, 2014 - 12:44 pm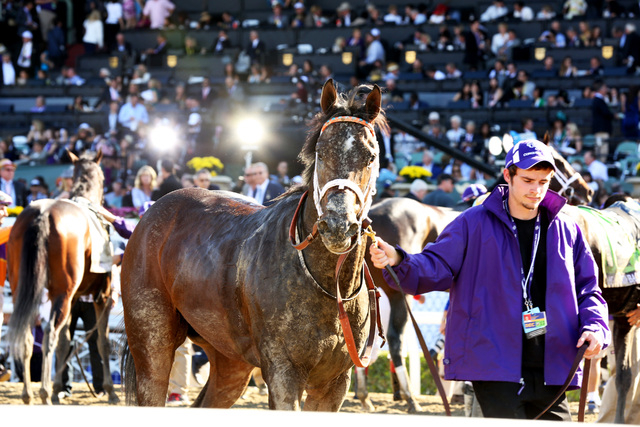 A record 201 horses were pre-entered for the two-day Breeders' Cup championships at Santa Anita Park on Oct. 31 and Nov. 1. And this with one less race as the Marathon no longer exists.
The Daily Racing Form Breeders' Cup Advance edition is available now in all race books and in the DRF office at 6000 S. Eastern Ave. You'll need to start studying the past performances as soon as possible to familiarize yourself with all 201 entrants.
The Breeders' Cup offers the best opportunity all year to make a score betting on horse racing. These are the best horses in training running for millions of dollars purses. Every runner is primed for his or her best effort.
The key is since the quality of each field is so deep in contention, there will be live long shots in every race with a reasonable chance to win.
So, for example, the goal in each leg of a horizontal wager is to beat the favorite. If you were able to do that, say in all four races of a Pick 4, there is a good chance you'll cash for an IRS signer.
You will probably need a bigger bankroll than normal. But if you can catch even one good trifecta or Pick 4, you most likely will show a profit for the day.
If you can't attend the races in Arcadia, I recommend you come to Las Vegas. Every race book in the city will be rolling out the red carpet for horseplayers.
There are too many race book giveaways to list here, but one thing I do every year is mention the free handicapping seminars for next week plus special events like free ballroom parties and Twin Quinella wagers.
Also, the rich Pick the Ponies handicapping tournament will be in the Superbook at the Westgate Las Vegas on Oct. 30-31. The entry fee is $500.
Here is a list of the free seminars in chronological order:
SUNSET STATION — Thursday at 6 p.m.; handicapper Steve Davidowitz, who wrote Betting Thoroughbreds for the 21st Century and is a contributor to espn.com
PALACE STATION — Thursday at 6 p.m.; handicapper Gordon Jones, Richie Saber of Gaming Today and Ralph Siraco of the Race Day Las Vegas radio show
SAM'S TOWN — Friday, Oct. 31 at noon; myself and Siraco will conduct an interactive handicapping seminar throughout the first day of the Breeders' Cup
SOUTH POINT — Friday, Oct. 31 at 6 p.m.; John Kelly of eog.com, Patrick McQuiggan, South Point house handicapper and Southern California clocker Toby Turrell. The seminar also will be streamed on-line at southpointcasino.com.
TEXAS STATION — Friday, Oct. 31 at 6 p.m.; Jerry Jacovitz of Jerry J's Power Page
PLAZA — Saturday, Nov. 1 at 9 a.m.; myself and Dave Tuley of viewfromvegas.com. By then we'll have the late scratches and changes, local weather and track conditions.
Two casinos, the South Point and the Orleans are hosting free ballroom parties. The South Point ballroom will be open both days of the Breeders' Cup, Friday and Saturday. The Orleans ballroom will be open on Saturday. Check with the race supervisors for any food, beverage and gift giveaway specials.
Station Casinos will offer two rich Twin Quinellas bets. The Friday Twin Quinella is $10,000. The Saturday one will be $20,000. You can be sure that the Breeders' Cup Classic will be used on Saturday.
Richard Eng's horse racing column is published Friday in the Las Vegas Review-Journal. He can be reached at rich_eng@hotmail.com. Follow him on Twitter: @richeng4propick.