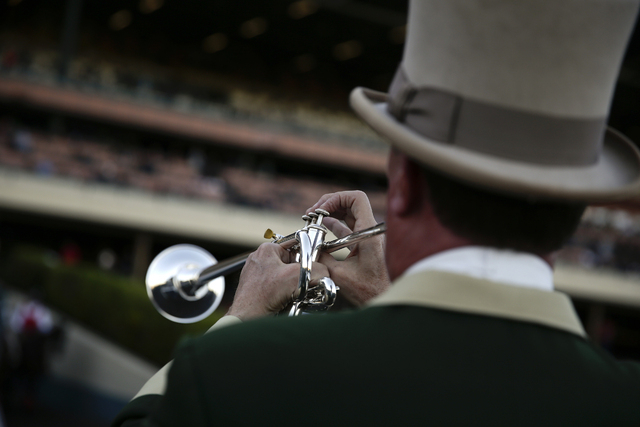 Say goodbye to Hollywood … Say goodbye, my baby."
When Billy Joel wrote the song "Say Goodbye to Hollywood," he wasn't thinking of the end of Hollywood Park. But he might as well have been.
The "Track of the Lakes and Flowers" in Inglewood, Calif., will host its final day of racing on Sunday. A large crowd is expected. In my heart, horse racing fans need to celebrate the day like an Irish wake, not like a funeral.
The rich history of Hollywood Park, which opened June 10, 1938, is too vast to put into simple words. But I had help in reliving a few key moments in track history.
A Las Vegas horseplayer, Irv Pfister, loaned me his horse racing scrapbooks. Irv is in his 90s and living comfortably in a local retirement home.
In Book 1, on Page 1, is a winner's circle photo of Citation winning the 1951 Hollywood Gold Cup with the original track program page facing it.
Irv pasted in clippings of Los Angeles newspaper racing coverage plus more Hollywood memorabilia: the track's first triple dead heat (Joe's Pleasure, Leaful, Challenger Tom) for win on July 3, 1957; Perizade, a $180 winner of the 1961 Vanity Handicap; all-time favorite Native Diver dying from colic on Sept. 12, 1967; the first Western Harness program from Nov. 18, 1968.
You're probably yelling at me that it was a different era then. For sure. Horse racing used to be the only legal bet in town.
The fact is, horse racing had a prime, which lasted a long time. In every big city in the United States is a ghost of a racetrack that used to be there. In New York, it's Jamaica. In Cincinnati, it's Latonia. In Cleveland, it's Randall Park. In Miami, it's Tropical Park. In Las Vegas, it's Las Vegas Downs.
Now it's Los Angeles, and Hollywood Park soon will have a date with a wrecking ball.
I still can recall my first visit to Hollywood Park in late May 1979. It was a Wednesday, and more than 20,000 people were there. The gravelly voice of track announcer Harry Henson was as unique as Fred Capossela's was at the New York tracks.
If you think this is too sentimental, just ask an old Brooklyn Dodgers fan about the end of Ebbets Field and the team moving out West. We grow attached to things that are special to us.
Southern California racing never will be the same after Sunday. The Hollywood racing dates will be divided among Santa Anita Park, Del Mar and Los Alamitos. But it'll be different. A lot different.
As a handicapper, I always appreciated the Hollywood main track as the fairest on the Southern California circuit. When playing the races, we never mind a track bias as long as the surface remained consistent, and that was the case at Hollywood.
The final voice we will hear in the final race at Hollywood Park on Sunday will be that of track announcer Vic Stauffer. His will be the final words about the place. I'm sure Stauffer will come up with something appropriate that will stay with us for a lifetime.
Richard Eng's horse racing column is published Friday in the Las Vegas Review-Journal. He can be reached at rich_eng@hotmail.com. Follow him on Twitter: @richeng4propick.