Who will take Horse of the Year?
September 4, 2014 - 1:38 pm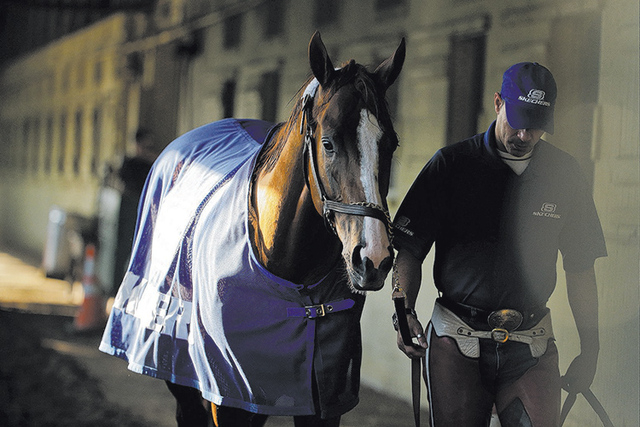 I am among the 50 voters in the weekly National Thoroughbred Racing Association horse poll. It's a privilege, for sure. And another chance to be told I know nothing about horse racing, which I would disagree. I know something about horse racing.
With just two months to the Breeders' Cup championship days of racing on Oct. 31 and Nov. 1 at Santa Anita, the Horse of the Year race is as wide open as I can remember.
Five horses received first place votes in the last NTRA poll: Wise Dan, Shared Belief, California Chrome, Close Hatches and Palace Malice.
A closer look at their resumes shows how tight the competition will be.
Wise Dan is the defending two-time Horse of the Year. He's won all three of his starts this year, all on turf, in the Maker's 46 Mile, Woodford Reserve Turf Classic and Bernard Baruch Handicap. His next start before the Breeders' Cup will be the Shadwell Turf Mile at Keeneland.
Shared Belief is also unbeaten in three starts this year. He won an allowance race, the Los Alamitos Derby and the TVG Pacific Classic. His win in the Classic is significant because as a 3-year-old he defeated older horses. His Breeders' Cup prep will come in the Awesome Again at Santa Anita.
California Chrome has won five of six starts this season. He's won the Cal Cup Derby, San Felipe, Santa Anita Derby, Kentucky Derby and Preakness. His one loss was in the Belmont Stakes, denying him of the Triple Crown. His comeback race will be in the Pennsylvania Derby.
Close Hatches is a filly who has won all four starts this year. She won the Azeri, Apple Blossom, Ogden Phipps and Personal Ensign. Her next start will likely be the Beldame at Belmont Park.
Palace Malice has won four of his five starts this season. He won the Gulfstream Park Handicap, New Orleans Handicap, Westchester and Met Mile. His lone loss came in the Whitney. His next start will be in the Jockey Club Gold Cup.
Last week John Avello of Wynn Las Vegas said the Horse of the Year will need to win his or her last two starts. I agree.
I am 98 percent certain the Eclipse Award Horse of the Year title will go to one of the above five horses. Let's make a shaky assumption that all five win their Breeders' Cup prep race.
Three of them, Shared Belief, California Chrome and Palace Malice would meet in the Breeders' Cup Classic. Wise Dan would likely run in the Breeders' Cup Mile while Close Hatches would run in the Breeders' Cup Distaff.
There are so many variables that could happen at the Breeders' Cup.
If among Shared Belief, California Chrome and Palace Malice, one of them won the Classic, I would think he would hold an advantage, regardless of what Wise Dan or Close Hatches did earlier.
However, the Classic figures to be a most difficult race to win. The path of Wise Dan and Close Hatches may be one of less resistance.
If you think that I'm wrong and you're right, you can bet your opinion in a Nevada future book for Horse of the Year at Wynn Las Vegas or William Hill.
-30-
Richard Eng's horse racing column is published Friday in the Las Vegas Review-Journal. He can be reached at rich_eng@hotmail.com. Follow him on Twitter: @richeng4propick