LVMS president recalls Robin Leach and Racing with Jesus
Updated August 25, 2018 - 2:06 pm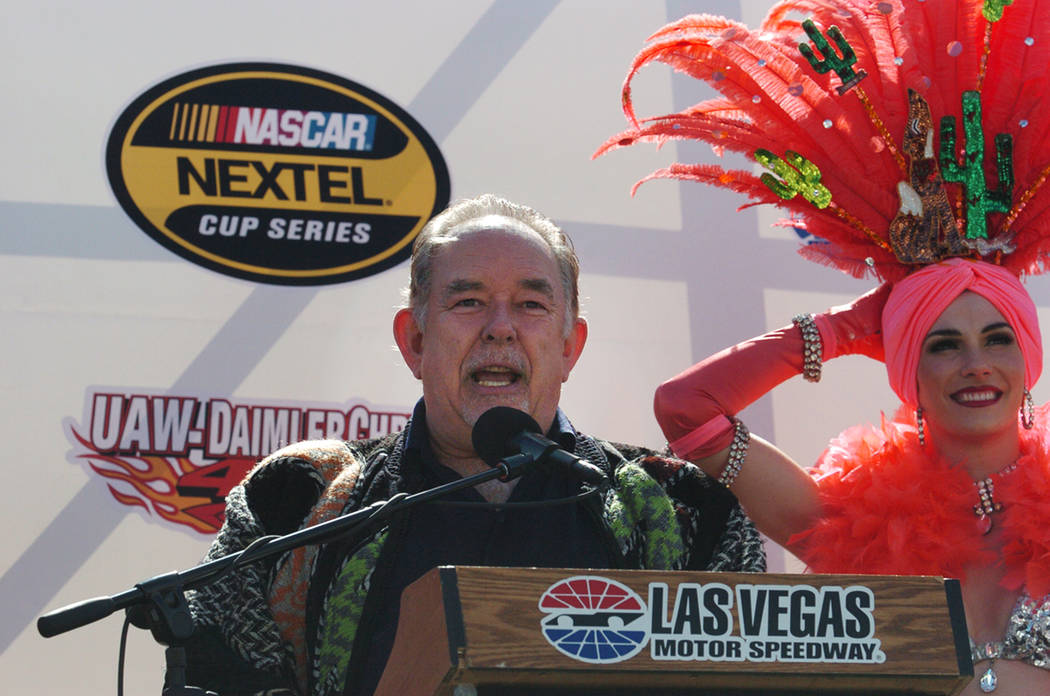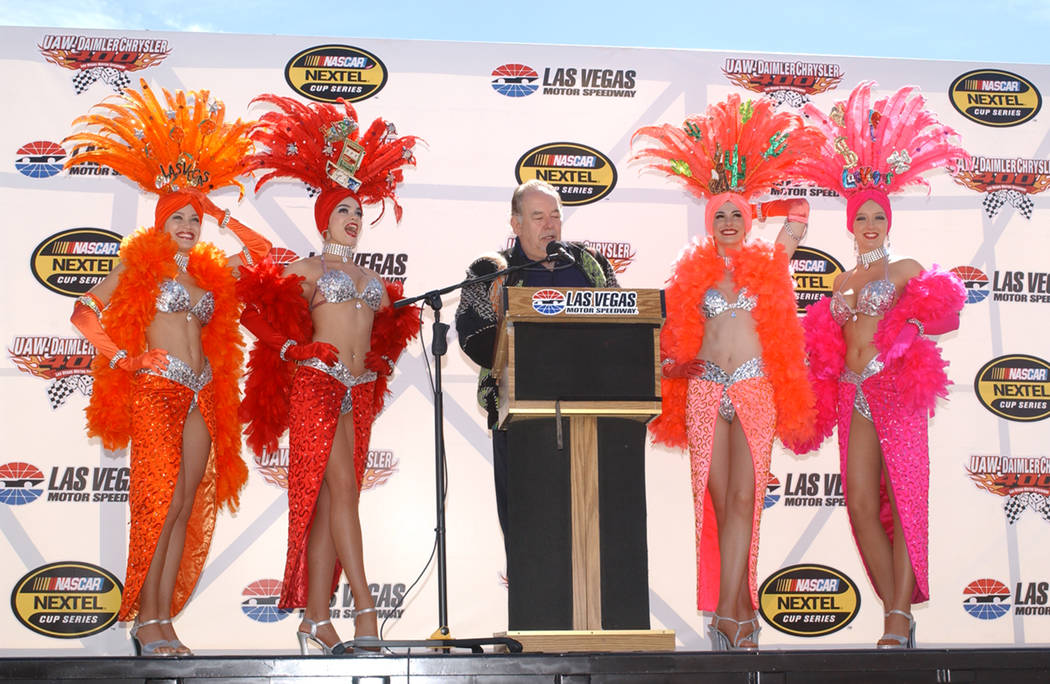 It was just before the big NASCAR race at Las Vegas Motor Speedway in 2004, and the first driver introduced was the veteran Morgan Shepherd, who lined up last on the 43-car starting grid.
Robin Leach's diction was succinct, his British accent familiar.
He said over the booming public address system that Morgan Shepherd would be driving the No. 89 Racing with Jesus car.
Only he pronounced it "HAY-zeus."
There were grins and guffaws in the media center.
No, Robin Leach wasn't trying to appeal to Daniel Suarez fans, because this was long before the Mexican driver would break into NASCAR.
"It wasn't his fault," LVMS president Chris Powell said Friday after it was reported the "Lifestyles of the Rich and Famous" host and Las Vegas bon vivant had died at age 76.
"I remember telling (communications director Jeff) Motley just make sure he knows how to pronounce … (Travis) Kvapil and (Brad) Keselowski and whatever the name might be. But I guess we didn't go over the sponsors."
Shepherd, a devout Christian, used the hood of his race car to preach the good word when he couldn't secure a sponsor.
"When Robin said Morgan was driving the Racing with (HAY-zeus) car, we said this was one we never could have anticipated," Powell recalled with an appreciative chuckle. "We were so appreciative of him coming out. I thought the fans got a big kick out of him."
In lieu of a fee, Leach asked the speedway to make a donation to the Cleveland Clinic Lou Ruvo Center. His only requests were for a helicopter ride to the track and pit passes for his lady friends.
"The depth of his auto racing knowledge, I don't know, but he always took an interest," Powell said.
"Just a great guy, a likable guy. We're certainly going to miss him at the speedway."
Who took out Danica Patrick today in her Nationwide race? Morgan Shepherd, 68 YEARS OLD, in his "Racing With Jesus" car

— Darren Rovell (@darrenrovell) June 27, 2010
Bettor beware
The Nevada Gaming Commission is considering yanking the license of CG Technology, a firm that operates sports books for several Las Vegas casinos, for violations that include accepting wagers on sporting events already concluded.
This reminded me of my only bad betting beat.
When I was 9 or 10, the Chicago Bears played St. Louis in a preseason game broadcast on tape delay — technology I didn't understand when I was 9 or 10.
The Bears won 42-0 or something like that.
My old man was trying to teach me about the pitfalls of gambling. He offered me the Cardinals plus 41.
How could I lose?
After I did, my dad gave back my money with a precautionary word: Throughout my life, he said, I would be approached by wise guys and timeshare operators with deals that seemed too good to be true. And when that happened, I should remember taking the Cardinals plus 41.
It's a lesson I never forgot, though I never quite got over my contempt for Cardinals quarterback Jim Hart and his St. Louis teammates.
Meet the Komets
Here are some facts about the Fort Wayne Komets, the Golden Knights' new ECHL affiliate:
— Komets with a "K" was the idea of Ernie Berg, the franchise's first general manager. It was a tribute to his wife, Kay.
— The Komets have been around since 1952. Only the NHL's Original Six teams and the American Hockey League's Hershey Bears have played longer in their respective cities than the Komets have in Fort Wayne.
— Former Las Vegas Thunder goalie and Las Vegas resident Pokey Reddick starred for the Komets' 1993 International Hockey League championship squad. The Komets also had a goalie named Robbie Irons, whose jersey (No. 33) was retired — probably because play-by-play broadcasters never tired of saying "Irons between the pipes."
— They love their hockey in Fort Wayne.
During the Thunder's inaugural 1993-94 season, the IHL All-Star Game was played at Fort Wayne's Allen County War Memorial Coliseum. I drove a rented car from Indianapolis to Fort Wayne in a blizzard so fierce I thought they might postpone the game.
Not only was it played, all 8,103 seats at the ancient arena (which since has been expanded to 10,480 for hockey) were filled.
Former Maple Leafs goalie Allan Bester, then an IHL All-Star with the San Diego Gulls, and I thawed out together on the flight back west.
Bester agreed they love their hockey in Fort Wayne.
Who took out Danica Patrick today in her Nationwide race? Morgan Shepherd, 68 YEARS OLD, in his "Racing With Jesus" car

— Darren Rovell (@darrenrovell) June 27, 2010
Contact Ron Kantowski at rkantowski@reviewjournal.com or 702-383-0352. Follow @ronkantowski on Twitter.
Komets' tale
Fast facts about the Fort Wayne Komets, the Golden Knights' new minor league affiliate:
Home: Fort Wayne, Ind.
League: ECHL
Founded: As ECHL franchise, 1985; as International Hockey League franchise, 1952
Arena: Allen County War Memorial Field House (cap. 10, 480)
Owners: The Franke family
Coach: Garry Graham
Colors: Orange, black, white