Raiders' Mark Davis among those saluting Aces' first season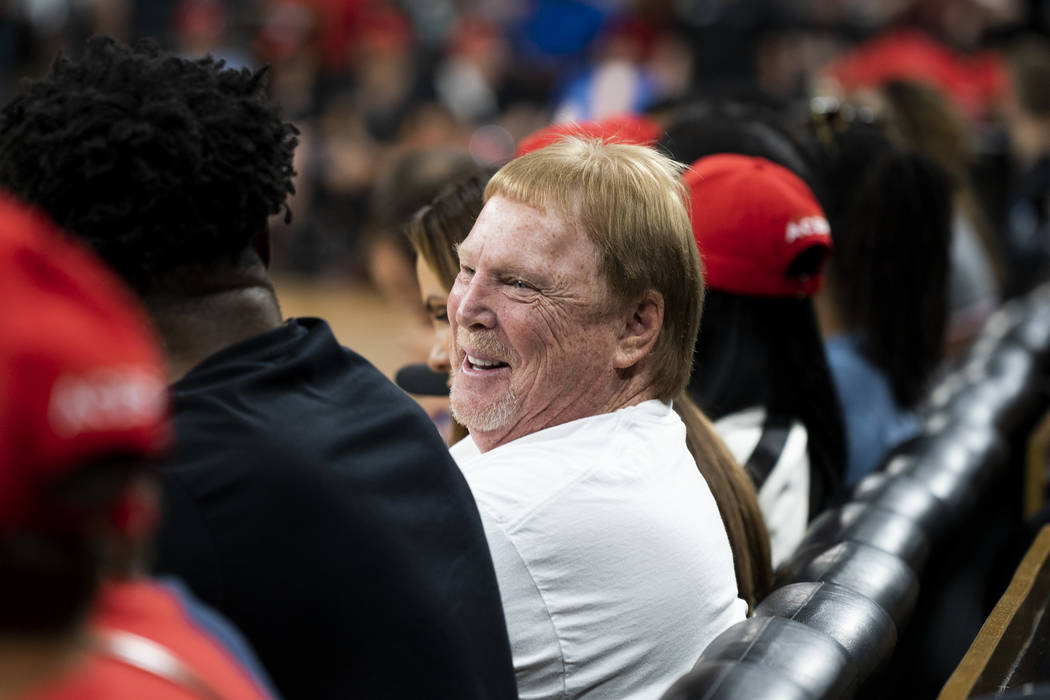 As the final seconds of their inaugural season filtered through the hourglass and the clock around Flavor Flav's neck as he hip-hopped around courtside, it occurred to one longtime observer of Las Vegas' pro sports scene that the WNBA's Aces had lasted longer than the Posse of the Canadian Football League.
The Posse almost made it to the end of their only season in 1994. The team couldn't make payroll and essentially folded ahead of its last game at Sam Boyd Stadium before the CFL wrote checks to save face.
The game was moved to Edmonton at short such notice that Eskimos fans who had chartered flights to Las Vegas couldn't cancel. So a bunch of people wearing green and gold toques wound up watching the game on a special feed pumped into a ballroom at the old Imperial Palace after truckloads of Labatt's Blue were pumped in first.
To no one's surprise, Aces coach Bill Laimbeer didn't mention any of this during his postgame news conference.
"Off the court, I think we established our fan base," said Laimbeer, the baddest of the Detroit Pistons' Bad Boys as an NBA player. "I think we have a very proud fan base that's growing."
After he thanked MGM Grand and Mandalay Bay for creating a raucous game-day experience, Laimbeer also thanked the media. So like the Posse's demise, there also was a surreal aspect to the Aces' finale.
There was a pro football element to it, too.
Davis comes up Aces
The Aces gathered at center court to salute the 5,737 who showed up for a meaningless game but cheered as if it were Game 5 of the WNBA Finals. Sly and the Family Stone's "Thank You (Falettinme Be Mice Elf Agin)" was played over the public address system.
Aces point guard Kelsey Plum fired a T-shirt in the general direction of where a familiar face with an even more familiar dutch boy haircut was standing and cheering.
During the game, Mark Davis had been sitting in the Aces' version of UNLV's Gucci Row.
Whereas the Lakers of the Showtime era had Jack Nicholson and Dyan Cannon and the Knicks still have Spike Lee, the Aces have the owner of the NFL's soon to be Las Vegas Raiders on their A list of spectators. Only Davis didn't engage the Atlanta players in verbal sparring the way Lee would with the Pacers' Reggie Miller back in the day.
"First off, I love women's basketball," Davis said of becoming a regular at Aces games. "(The women) are fantastic. I've watched them for so many years (but) they're getting so much better now.
"This team has been really exciting. They got off to a slow start but they picked it up and ended up giving it a good run."
Women's pro basketball games that start at 3 p.m. on Sunday leave plenty of time for the business of pro football. But you usually don't see Cowboys owner Jerry Jones sitting out in the open and posing for selfies and interacting with fans wearing pro football T-shirts who charge down from the cheap seats during timeouts at Dallas Wings' games.
When the Wings honored women's basketball trailblazer Nancy Lieberman of the old Dallas Diamonds, Jones sent a video greeting. DallasNews.com filed it under "Other" among the sports stories on its website.
Uniform appeal
"What they've done is just fantastic," Davis said as Aces fans finally started heading for the exits. "We look to them as our sisters in bringing professional sports to the area and we're just excited to be a part of it."
And here you thought it was only about the uniforms.
The Aces' primary colors of silver and black mirror those of the Raiders. But as Davis pointed out, the Aces have added gold accents to create their own identity, or perhaps cherry pick the one their NHL brothers engendered during their wildy successful debut season in Las Vegas.
"They added a little gold that brings the Knights into it," Davis said. "But it's still silver, black and gold, so yeah."
Long after Kelsey Plum and her teammates had flung commemorative T-shirts into the stands, supporters of women's professional basketball still were milling about them with smiles on their faces.
The Aces did not make the playoffs but their inaugural season had been a success. There was no need to switch the season finale to Atlanta. Unlike the 55-yard line and Edmonton Eskimos fans and the Imperial Palace, the Aces will be back.
More Aces: Follow all of our Aces coverage online at reviewjournal.com/aces and @RJ_Sports on Twitter.
Contact Ron Kantowski at rkantowski@reviewjournal.com or 702-383-0352. Follow @ronkantowski on Twitter.