Gordon: Canelo Alvarez has nothing — and everything — to prove
Updated September 29, 2023 - 6:11 pm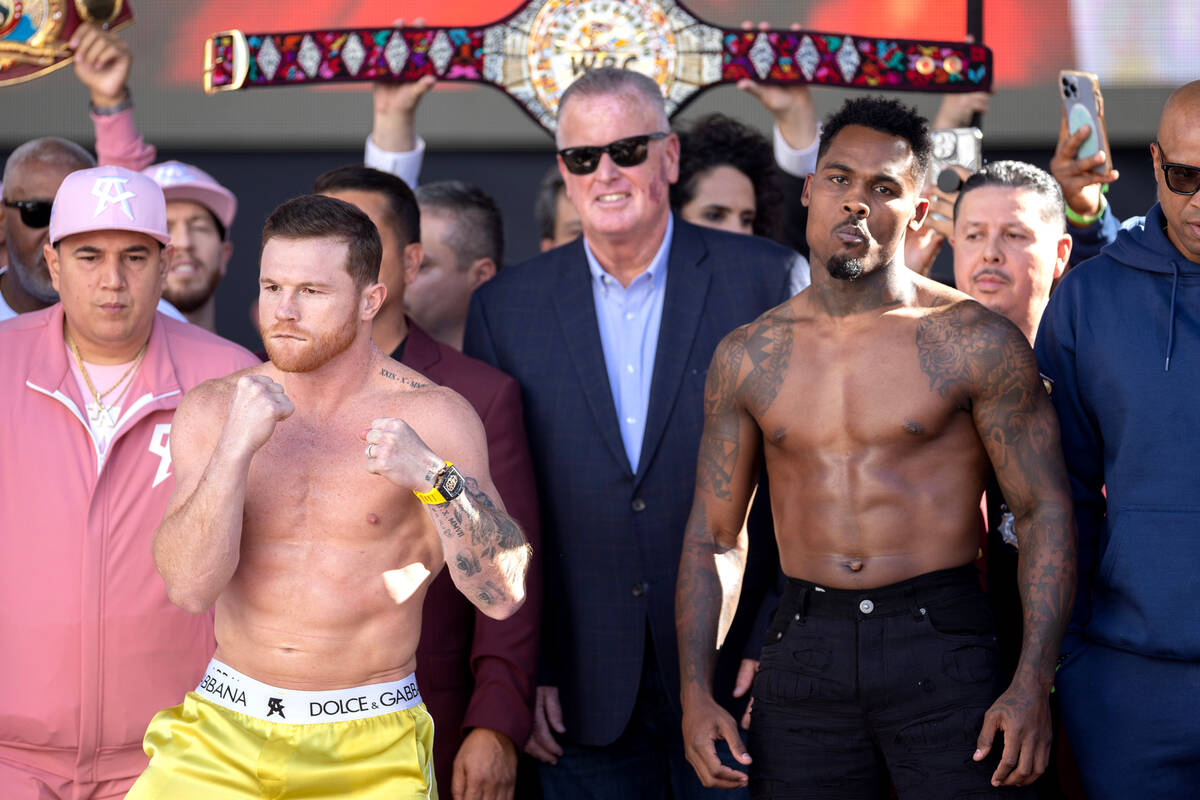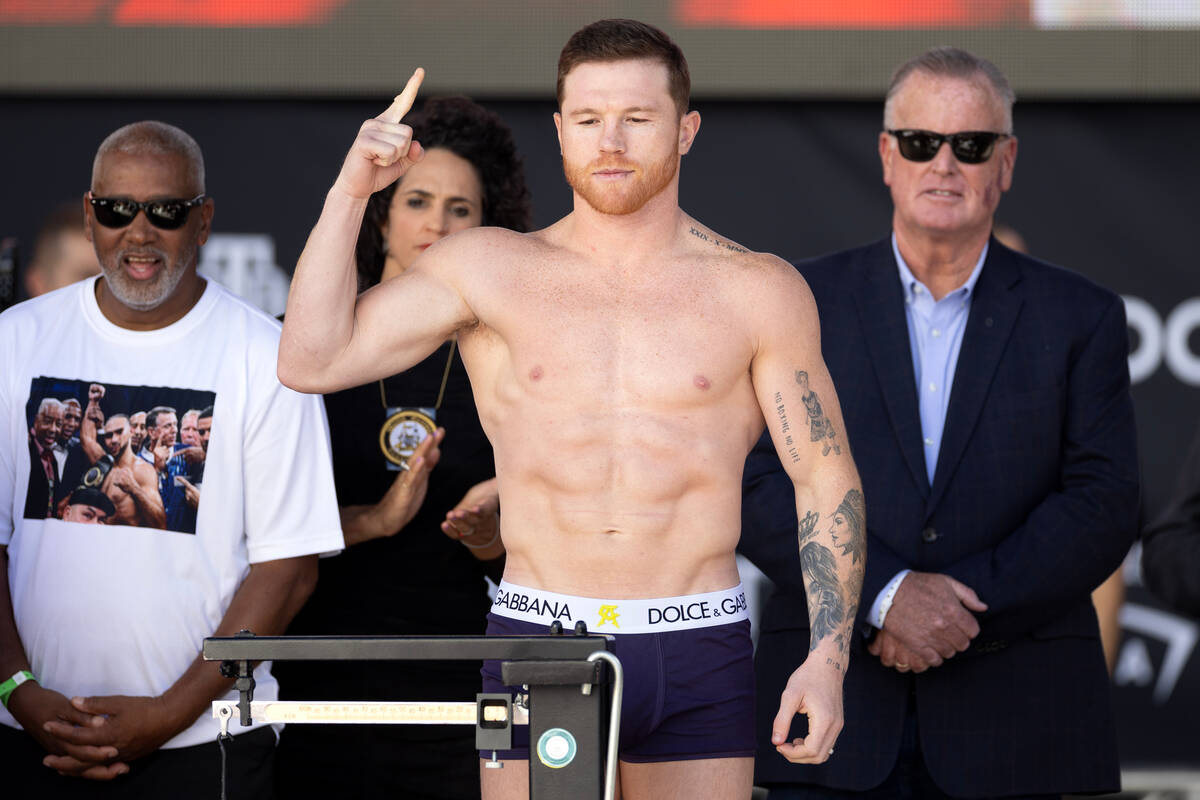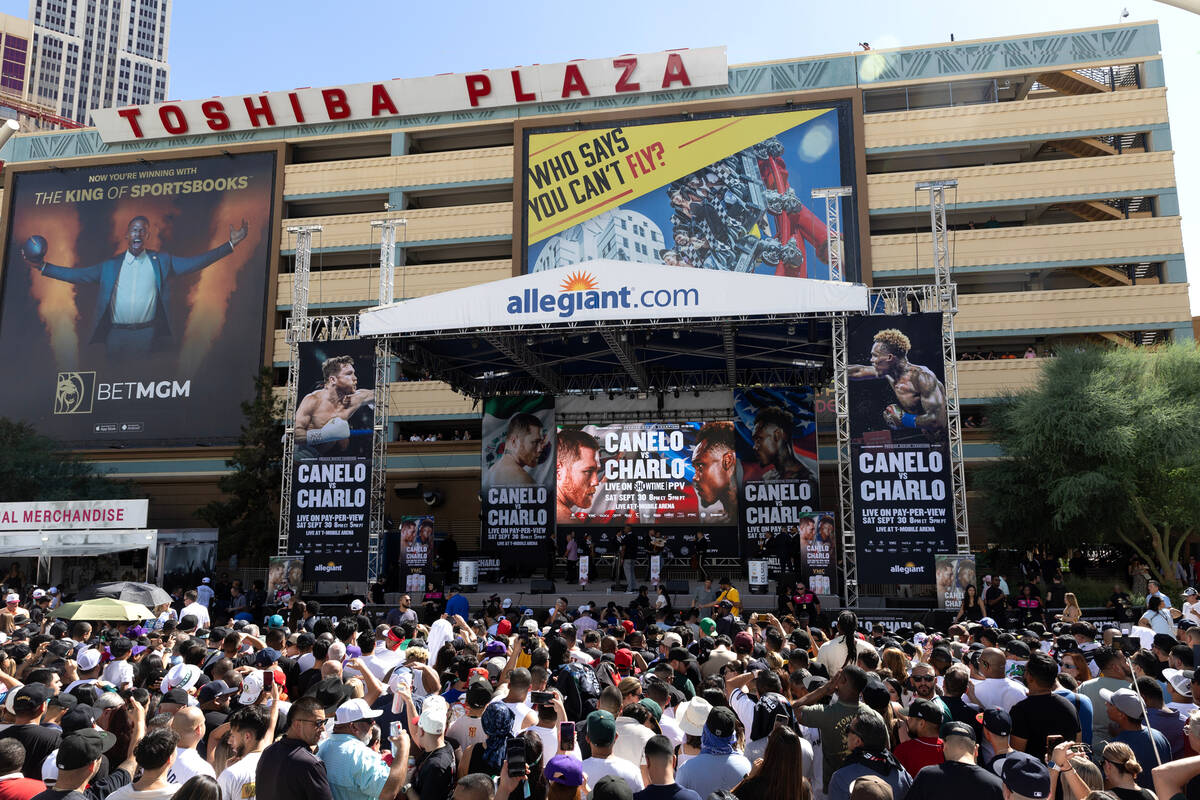 Sequestered the last several weeks in the shadow of the Nevada Sierra Mountains where the trees are lush and the air is thin and crisp, Canelo Alvarez found a semblance of serenity in the altitude: 6,237 feet above sea level.
Perfect for his 64th training camp as a professional prize fighter.
The elevation in South Lake Tahoe, California, allowed boxing's biggest superstar, at 33 worn down by a decade of megafights and their corresponding training camps in Southern California, to regain the stamina that eluded him at the end of his last three outings.
Of that, he seemed certain. That, we'll see Saturday.
"I've been in this position a bunch of times and I love to be the guy everybody wants to beat," he said. "And being involved in these kind of fights. That's the only thing I want in boxing."
Alvarez has nothing — and everything — to prove when he steps for the eighth time into the boxing ring inside T-Mobile Arena, where he'll defend his undisputed super middleweight crown against undisputed junior middleweight champion Jermell "Iron Man" Charlo, the 19th champion he'll vie to defeat and the first of three opponents that comprise his contract with Premier Boxing Champions.
The previous 18 cover four divisions during a decade-plus of dominance, ensuring Alvarez is among the most well-paid boxers in modern history — and the greatest ever from Mexico; all due respect to Julio Cesar Chavez, his chief competition for the mythical title that Alvarez remains dedicated to capturing universally.
But he hasn't in nearly two years delivered the caliber of performance that has distinguished him as such, instead plodding his way last May through a lopsided loss to light heavyweight great Dmitry Bivol, his only defeat since 2013 when he was schooled similarly by Floyd Mayweather.
In subsequent victories after the loss to Bivol, Alvarez underwhelmed against (the fighting remains of) former middleweight great Gennady Golovkin and veteran super middleweight challenger John Ryder, neither of whom he could stop within the distance.
Too slow. Too flat-footed. Too tepid. Too tired.
But Alvarez and trusted trainer Eddy Reynoso insist he's in peak form, steeled equally by the sting of his last three performances and the healthiest camp he's had in years.
A resounding victory over Charlo is required for Alvarez (59-2-2, 39 knockouts) to prove he's not well past his prime and that he still sits among its pound-for-pound elite all these years after his megafight debut.
Fighting father time?
Alvarez arrived this week in Las Vegas clothed in jogging pants, a track jacket and an invisible cloak of championship chutzpah. His cinnamon hair is freshly tapered into a shortened, stubbly beard that both covers his freckles and embellishes his age — eroding away the last bit of the baby-faced, floppy-haired innocence he brought with him in the ring against Mayweather.
He's a father, a husband, a power-punching conglomerate, a millionaire now a couple hundred times over who says he still loves boxing as much as he has ever.
The discipline. The dieting. The process. The preparation. "Everything about training camp," he says. That much hasn't changed.
In Lake Tahoe, he found his Fountain of Youth, a haven of health, allowing for maximum exertion day after day.
He'd hurt his left hand and wrist in 2021 while preparing to fight Caleb Plant for the fourth and final 168-pound title at MGM Grand Garden. He knocked him out anyway, an 11th-round coronation. His run at super middleweight began with four fights, victories and belts in an 11-month surge into boxing immortality, unsheathing the best in Alvarez, a cunning counter-puncher with one-punch power, deft defensive wit and a diamond chin checked properly by plenty of powerful punchers.
But it came with attrition and Bivol outclassed him, abruptly ending his second foray into the 175-pound division. Golovkin in clear defeat proved fresher than his rival at the uninspiring conclusion of their epic trilogy, both fighting him last year at T-Mobile Arena, the venue Alvarez opened in 2016 with his crushing kayo of Amir Khan.
Ryder, beaten badly, managed to tag Alvarez flush more than a few times during the homecoming affair outside his precious hometown of Guadalajara, Jalisco, Mexico. The catch, per Alvarez and Reynoso: he fought through the injury against Bivol and Golovkin, mitigating the effectiveness of his training and requiring surgery and subsequent rehabilitation.
Against Ryder, he completed 12 relatively healthy rounds, building confidence in his wrist that he'd train with in Tahoe — and thus bring to Las Vegas, where he plans to stop Charlo.
That, we'll see Saturday or this, we must consider: maybe he can't harness in the same way his former greatness.
Protecting the throne
Maybe he possesses most of it. Enough perhaps to fend off Charlo (35-1-1, 19 KOs). But not enough of it after 18 years professionally to ward off the bundle of prospective future challengers chomping at the bit to fight boxing's cash cow.
Undisputed welterweight champion Terence Crawford is the reigning defending pound-for-pound king, willing to elevate three divisions for the biggest possible megafight. Fellow super middleweight David Benavidez is 26, unbeaten and with David Morrell Jr., 25 and unbeaten, the likeliest heir to Alvarez's 168-pound throne.
The litmus test comes Saturday with Charlo, a proud, dogged and skilled champion, albeit one in two weight classes beneath that ruled by Alvarez, whose movement and angular, explosive, offensive style should make for compelling action.
It also leaves him vulnerable to timely pressure and counters that Alvarez could and should exploit. … if he's as conditioned as he claims.
"The physical setbacks are over and done with. We have been dealing with some adversity in the past," Reynoso said through a translator. "But Canelo has the best fusion of experience and youth. He's still young. He still has a lot to give and we're 100 percent ready."
Of that, he seemed certain. That, we'll see Saturday.
Unless, of course, we don't.
Contact Sam Gordon at sgordon@reviewjournal.com. Follow @BySamGordon on X.
Up next
Who: Canelo Alvarez vs. Jermell Charlo, 12 rounds, undisputed super middleweight championship
When: 5 p.m Saturday
Where: T-Mobile Arena
TV: Showtime pay-per-view, PPV.com ($84.95)
Tickets: Starting at $305 on axs.com
Odds: Alvarez -420; Charlo +335
Tale of the Tape
Canelo Alvarez
Age: 33
Hometown: Guadalajara, Jalisco, Mexico
Record: 59-2-2, 39 knockouts
Height: 5-8
Weight: 167.4
Reach: 70.5
Stance: Orthodox
Jermell Charlo
Age: 33
Hometown: Houston, Texas
Record: 35-1-1, 19 knockouts
Height: 6-0
Weight: 167.4
Reach: 73
Stance: Orthodox