Gordon: Ziegler, McDaniels must prove they can build winner
Updated January 10, 2023 - 9:53 am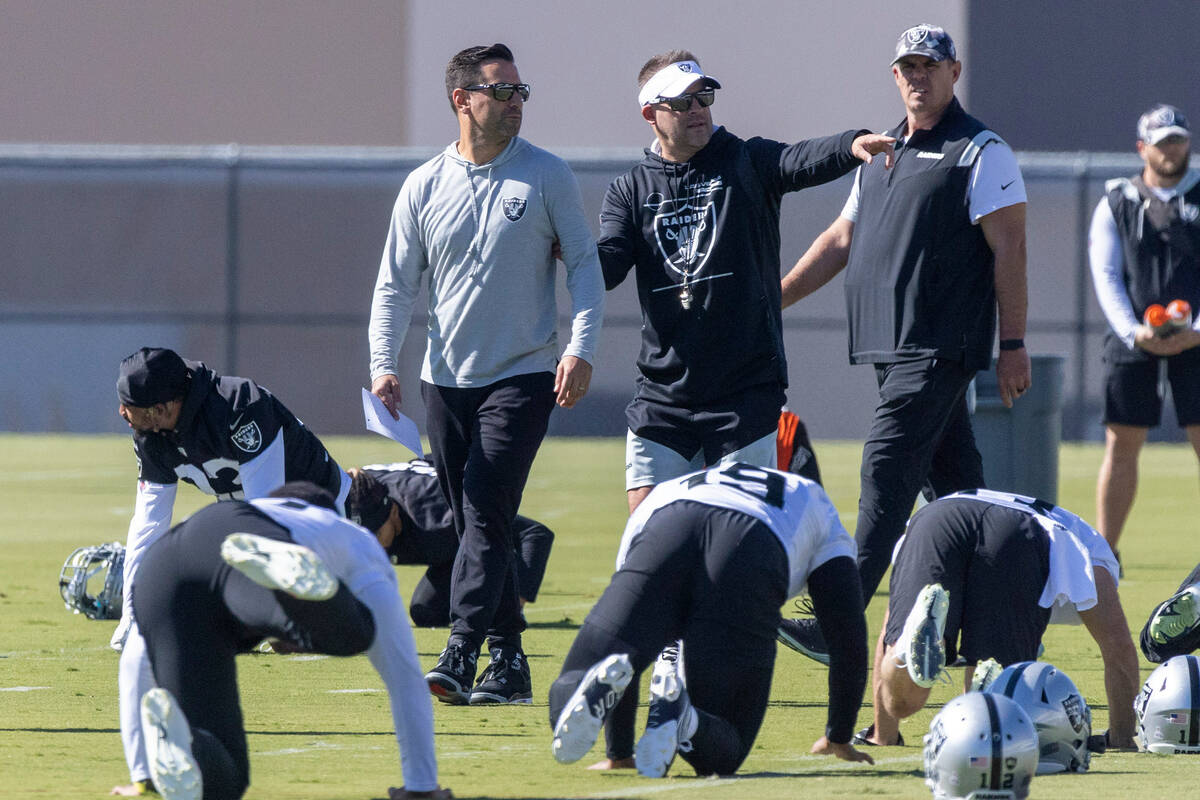 The one redeeming thing about the 2022 NFL season for the Raiders is that it's finally over. No more almosts, what-ifs or squandered two-score, second-half leads.
Not this season, anyway.
"We didn't do enough as a football team to earn the right to keep playing," said Josh McDaniels, the six-time Super Bowl champion assistant with the 17-28 record as a head coach.
"The reality is, we've got to be more productive."
Indeed, the club's 6-11 record reeks of squandered star power and unfulfilled potential, leaving McDaniels and general manager Dave Ziegler with plenty to prove as they begin their second offseason in Silver and Black.
They took over a flawed but feisty playoff team that finished 10-7 in 2021. They failed this season to build upon its foundation en route to the league's seventh-worst record.
Cue the predictable rhetoric about the "process," a word McDaniels utilized four times Monday, a hurdle his first-year coaching counterparts in Minnesota, Jacksonville, New York and Miami were somehow able to clear en route to the postseason.
"We know what the standard is, and we're going to try to do everything we can to get closer to it and that's every day, and that process has already begun," he said. "We all know what the goal is, we all understand what we signed up for."
Missing the mark
The process actually began the moment the McZiegler duo was hired, prompting Raiders owner Mark Davis to tell reporters at their introductory press conference that their hiring signaled "not a rebuild" but a "reload."
They either failed to properly evaluate the roster they inherited and the fleet of free agents that comprised their first class or failed to get those players to produce.
The holes the Raiders have now were the same ones they had a year ago, but more gaping without last year's playoff sheen.
Instead of drafting young, affordable starters with their first- and second-round picks, the Raiders opted to trade them for All-Pro wideout Davante Adams. Despite his record-setting brilliance. Adams made nary an impact in production for an offense (352.5 yards per game) that averaged more yards last year (364.9).
Among the remaining six picks the Raiders elected to utilize, only offensive lineman Dylan Parham is a starter — and his unit is due an upgrade. That's especially true amid the pursuit of Tom Brady or Jimmy Garappolo, far less mobile quarterbacks than Jarrett Stidham, who absorbed a beating Saturday against the rival Chiefs.
The pass rush, linebacking corps and secondary are also due an upgrade on a defense (365.6 yards allowed per game) that also worsened compared to that of 2021 (335.6).
The Raiders wield their full complement of draft choices, plus roughly $33.1 million in salary cap space that can balloon by another $27.4 million or so by cutting or trading quarterback Derek Carr.
They must spend it more wisely, though, than they did last spring, when they signed aging pass rusher Chandler Jones to a three-year contract worth $17 million annually. He had 4.5 sacks in 15 games, tying for 89th among defensive players.
"We know there's going to be changes and adjustments to staff, players, etcetera," McDaniels said. "That's every team, every year. No team is the same from one year to the next."
Resources for retooling
Because the braintrust's first offseason was a failure doesn't necessitate that this one will be, too. The Raiders have the resources to reverse their fortunes. It's not yet clear if they have the decision makers, but it will be by this time next season.
"You want to pour everything you got into it to try to make that come full circle and win," McDaniels said. "There's a lot of great people here that do a lot of great things to help us win. And we're going to try to do everything we can to help everybody here become a winner."
All part of the process.
Contact Sam Gordon at sgordon@reviewjournal.com. Follow @BySamGordon on Twitter.