DraftKings sets odds on who will sign Tom Brady
Updated January 20, 2023 - 8:16 pm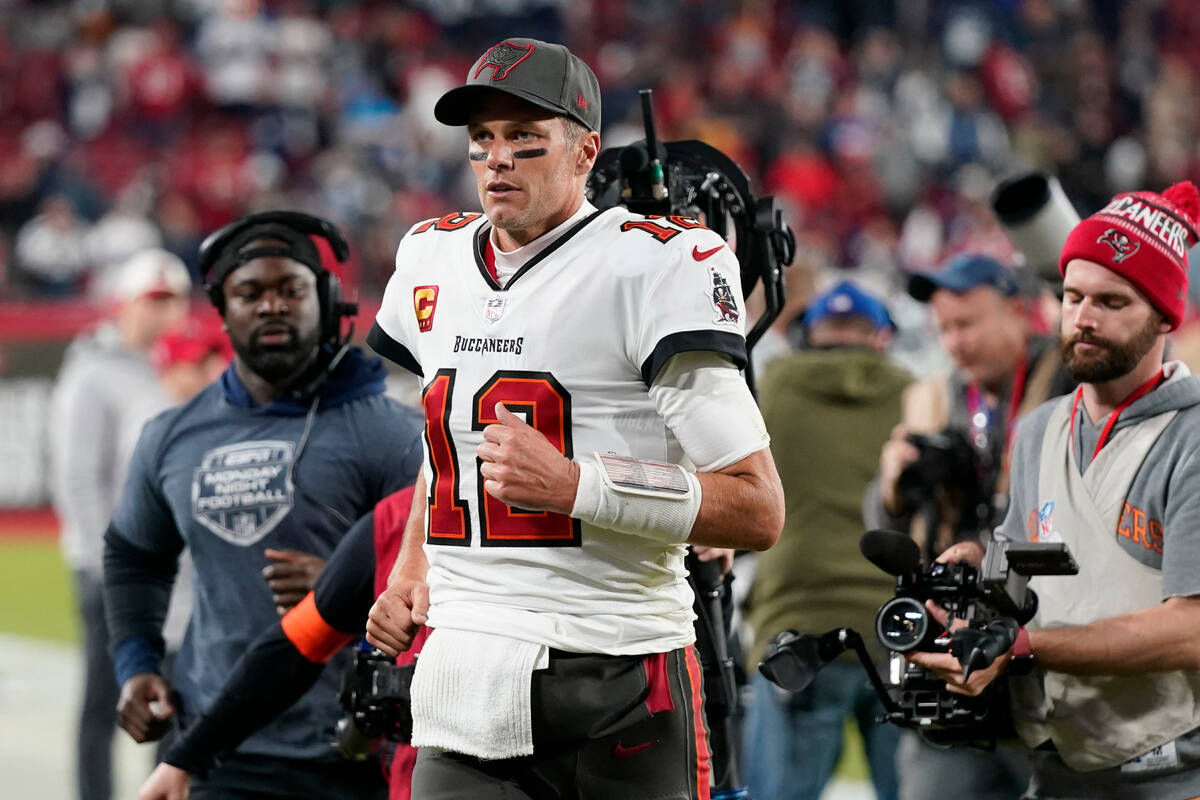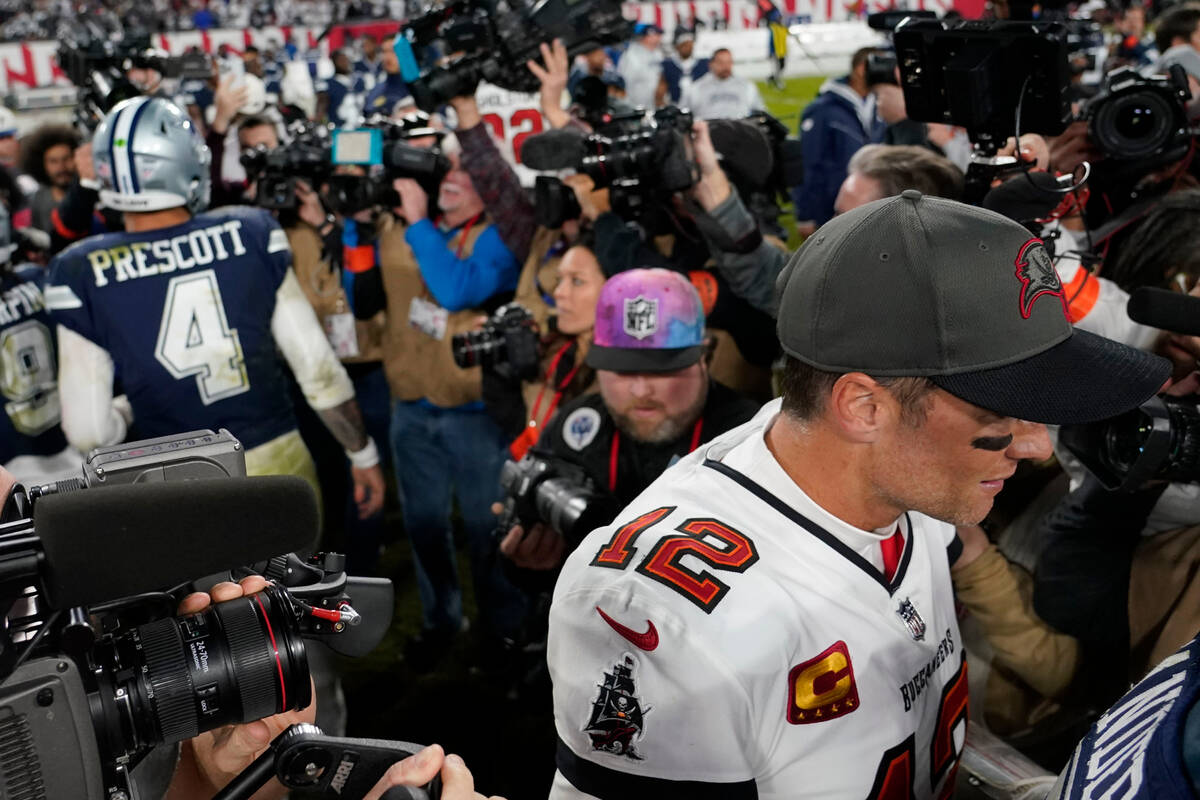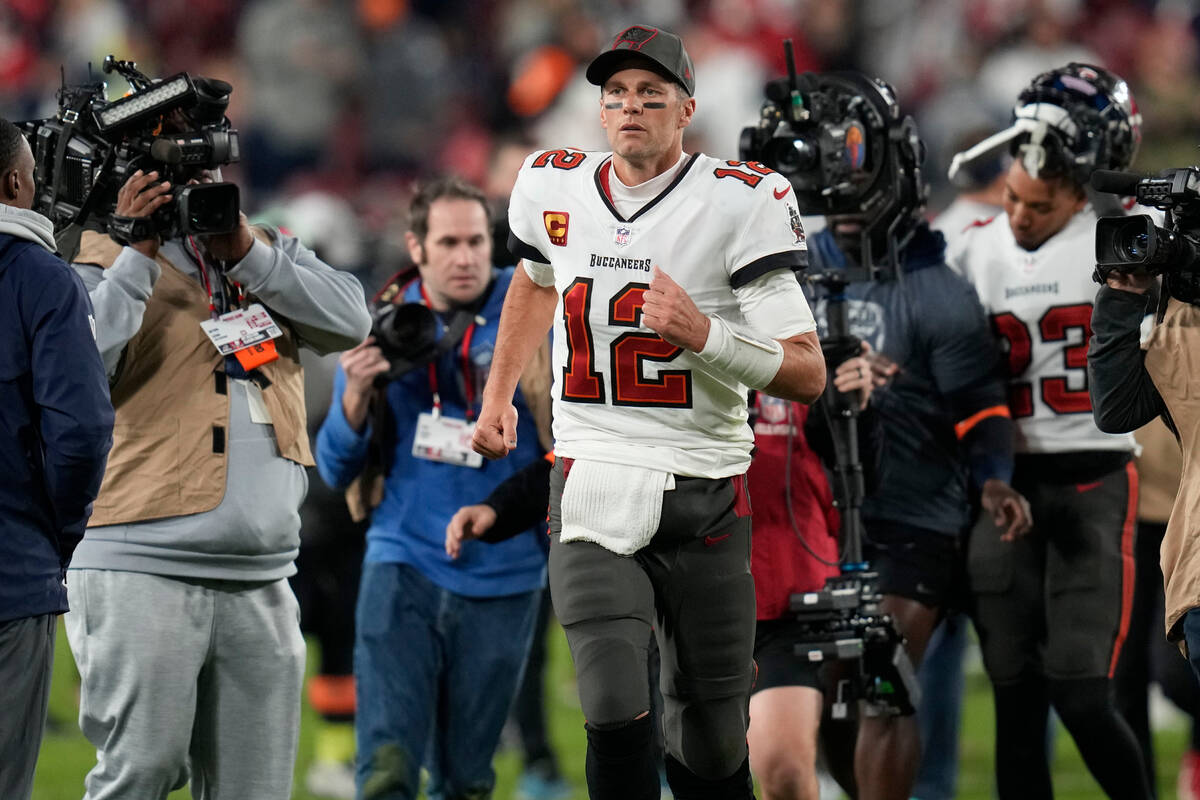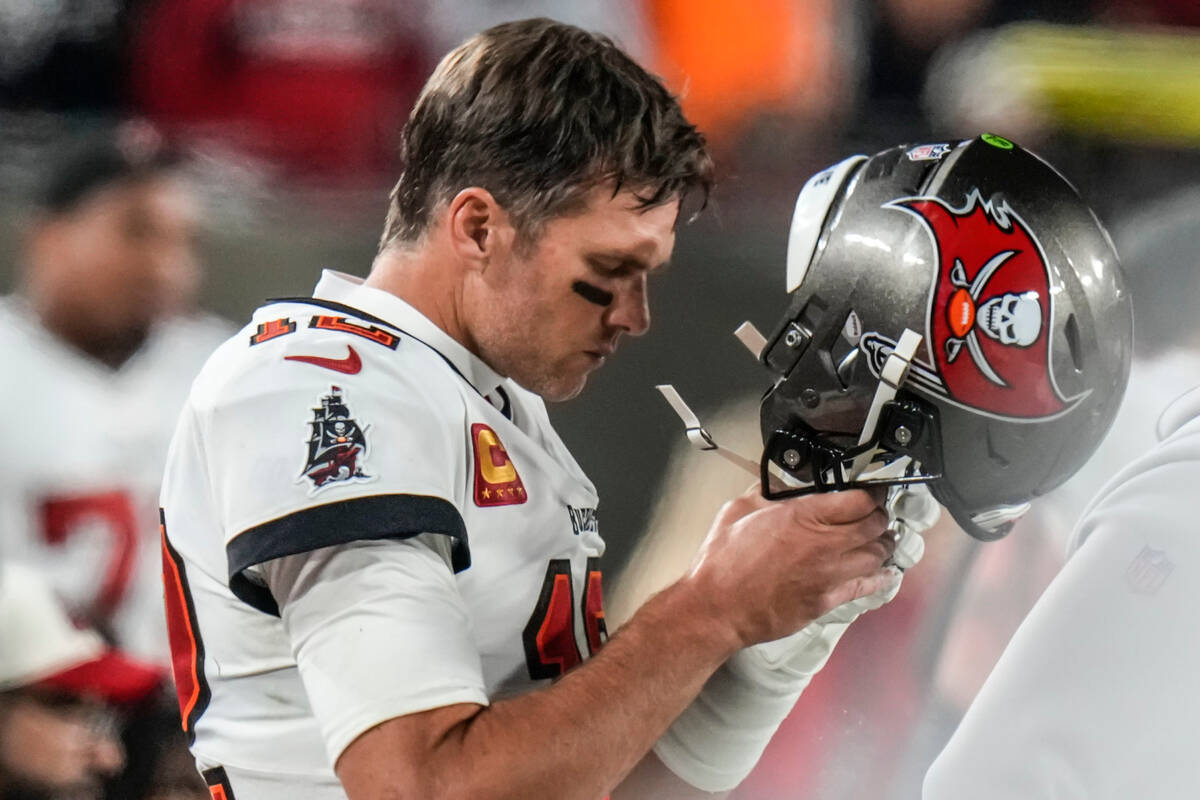 If Tom Brady tries to stiff-arm Father Time again next season at age 46, there's a good chance he'll do it in a Silver and Black uniform.
The day after the seven-time Super Bowl champion's season came to an inglorious end in Tampa Bay's 31-14 wild-card playoff loss to the Dallas Cowboys, DraftKings sportsbook posted odds on Brady's next team.
The Buccaneers opened as 2-1 favorites Tuesday, and the Raiders were the +250 second choice. But action on the Raiders quickly made them the +150 favorites to sign the quarterback, who becomes an unrestricted free agent March 15.
"The Raiders have taken all the money so far because they have expressed interest in Tom Brady," DraftKings sportsbook director Johnny Avello said. "We don't know. We just put up odds on what we think teams need and what teams said they'll do."
The Review-Journal has reported that NFL sources familiar with the Raiders' thinking said the team's top offseason priority is signing Brady to replace Derek Carr.
Raiders coach Josh McDaniels was Brady's offensive coordinator in New England for 13 years, and they won three Super Bowls together.
"One of the other things about the Raiders is they play indoors," Avello said. "It's Vegas. He may like that aspect. And he's got tremendous receivers."
The offense has weapons similar to the ones Brady had in his Patriots heyday — with wideout Davante Adams playing Randy Moss, tight end Darren Waller replacing Rob Gronkowski and slot receiver Hunter Renfrow reprising the roles of Wes Welker and Julian Edelman.
Brady also will have the NFL's rushing leader in the backfield if the Raiders re-sign Josh Jacobs.
Westgate SuperBook oddsmaker Ed Salmons still isn't sold that the Raiders are a perfect match for Brady.
"I would think he needs to go to a team that's built to win now. The Raiders are not built to win now," Salmons said. "On paper, the offense looks like it can work. But the defense has to dramatically improve. And it's a tough division.
"He would have to go to a team that's a piece away from the Super Bowl."
Super Bowl boost
If Brady signs with the Raiders, Salmons said their Super Bowl odds would drop dramatically in anticipation of an avalanche of money on them.
"Everybody would be betting on them to win the Super Bowl," he said. "Let's say the Raiders draft a quarterback, they'd probably be 100-1 to win the Super Bowl. But with the perception of them being big-time players with Brady, they'd be 30-1."
The San Francisco 49ers are the 3-1 second pick at DraftKings to bring Brady back home to his childhood team. But they certainly won't pursue Brady if rookie quarterback Brock Purdy leads them to the Super Bowl.
Tampa Bay and Miami are each 6-1, with concerns about Dolphins quarterback Tua Tagovailoa's history of concussions.
Las Vegas sportsbooks don't have odds on Brady's next team, but Red Rock Resort sportsbook director Chuck Esposito said he would make the Raiders, Dolphins and Buccaneers the favorites.
"There's definitely a tie with the Raiders with McDaniels being there," Esposito said. "The Dolphins make sense, too, depending on Tua's health, because he gets to stay in Florida. And I think there's a chance Brady still stays in Tampa. Those are the three spots that make the most sense to me."
The New York Jets are 7-1, followed by a return to New England (10-1) and joining former teammate and Titans coach Mike Vrabel in Tennessee (12-1).
A new Carr
As for Carr's next team, Salmons and Esposito make the Jets the favorites.
"I think Carr will go to a team that thinks they can plug in a quarterback and win," Salmons said. "The Jets would make a lot of sense. If they get a quarterback, I believe the Jets are good enough to win the Super Bowl right now.
"They've drafted elite talent on both sides of the ball and probably have the best defense in the NFL right now. The only thing they were lacking was a quarterback."
Sportsbetting.ag, an offshore book that operates illegally in the U.S., posted odds on Carr's next team. It made the Jets the +250 favorites, followed by the Colts (+350), Falcons (6-1), Commanders (+650), Saints (7-1), Buccaneers (7-1) and Titans (9-1).
"I just don't think the Colts will go the veteran quarterback road again," Esposito said. "The Jets will be a really good fit for Carr. They have all the pieces on both sides of the ball to be a playoff team next year."
Contact reporter Todd Dewey at tdewey@reviewjournal.com. Follow @tdewey33 on Twitter.
Tom Brady's next team
Odds at DraftKings sportsbook (not available in Nevada)
Up to 20-1
Raiders +150
49ers 3-1
Buccaneers 6-1
Dolphins 6-1
Jets 7-1
Patriots 10-1
Titans 12-1
Seahawks 18-1
Giants 18-1
Commanders 20-1