Steve Sarkisian named head coach at USC
December 2, 2013 - 8:58 pm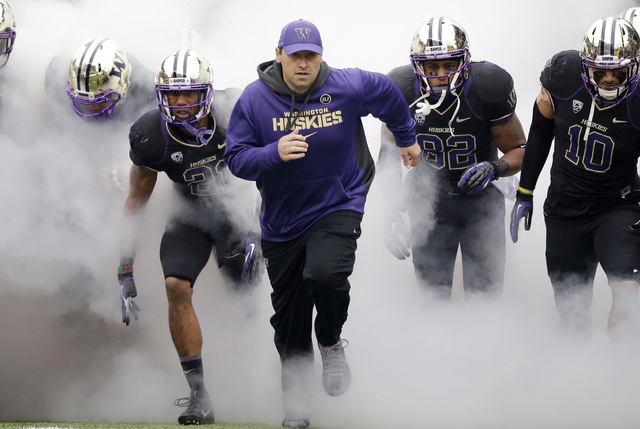 Steve Sarkisian was named the head coach at Southern California on Monday, leaving Washington to return to the Trojans' storied football program for another run at national titles.
Two days after USC's regular season ended with a home loss to UCLA, Trojans athletic director Pat Haden replaced interim coach Ed Orgeron with yet another assistant coach from Pete Carroll's championship-winning era at the school.
The 39-year-old Sarkisian is a Los Angeles-area native who went 34-29 in five seasons at Washington, rebuilding a decimated program into a bowl contender. He is the permanent replacement for Lane Kiffin, his former co-offensive coordinator at USC under Carroll.
Sarkisian will be introduced at a news conference Tuesday. In a statement released by USC, the coach thanked the Huskies for his first head coaching opportunity.
"I am extremely excited to be coming home to USC and for the opportunity that USC presents to win championships," Sarkisian said. "I can't wait to get started."
Kiffin was fired in late September and replaced by Orgeron, who didn't get the permanent job from Haden despite going 6-2. Crosstown rival UCLA trounced USC 35-14 last Saturday in what turned out to be the Trojans' final game under Orgeron, who resigned Monday after failing to get the head job.
Haden didn't immediately announce who will coach the Trojans in their bowl game later this month, but it could be Sarkisian, who immediately left Washington. He also could bring a handful of Huskies assistants with him to USC.
Haden said USC conducted a major search during the regular season, interviewing five coaches for the job.
"We kept coming back to Sark," Haden said. "He is the only one who was offered the job. I believe in my gut that he is the right coach for USC at this time. He embodies many of the qualities for which we looked. He is an innovative coach who recruits well and develops players. He is a proven and successful leader."
Orgeron turned himself into a candidate for the full-time job with an impressive revitalization of a program that had grown dour and stale when Haden fired Kiffin, who went 28-15, at the airport five games into the season. Orgeron's tenure was highlighted by the Trojans' victory over No. 5 Stanford last month, but his groundswell of support for the full-time job dissipated with a home loss to the Bruins.
Haden said he spoke to Orgeron about remaining on Sarkisian's staff, but Orgeron said he wants to be a head coach.
In a school statement, Orgeron thanked "all the Trojan players and family members who have become close personal friends during my 11 years at USC. I am especially proud of this year's team and coaching staff, who had to start a new season and then bonded, played together as a family and competed like Trojans."
USC players were told not to speak to reporters after leaving a team meeting with Haden, but many went online to post mixed feelings about the move.
"Words can't explain how I'm feeling right now….just lost a father. Way more than a coach," tweeted USC defensive lineman Leonard Williams, who was named to the all-Pac-12 first team Monday. Orgeron recruited Williams out of his native Florida.
"I'm on board Sark was very close to getting me to come with him to U Dub," USC freshman tailback Justin Davis tweeted.
Sarkisian takes over one of college football's crown jewel programs, a five-time AP national champion with a lengthy history of national prominence. He also inherits a roster stocked with solid talent by Kiffin and Orgeron, yet still laboring under the last of NCAA sanctions stemming from violations during Carroll's era.
Next season is USC's last year of scholarship limitations, keeping the Trojans with just 75 scholarship players on their roster — 10 fewer than other schools.
Sarkisian was on Carroll's staff as the quarterbacks coach for USC's national title in 2003. He left for one season with the Oakland Raiders while the Trojans won another title in 2004, but returned for the next four seasons at USC before Washington called.
Sarkisian played a major role in the Trojans' development of a string of standout quarterbacks, coaching Heisman Trophy winners Carson Palmer and Matt Leinart along with Mark Sanchez, John David Booty and Matt Cassel.
Sarkisian is a Torrance native and a former BYU quarterback who briefly played baseball at USC before three separate stints as an assistant coach. Although he had moderate success at Washington, his ties to his home state run deep: He has been an impressive recruiter in California, luring dozens of talented players to Seattle from high schools within a short drive of USC's campus.
Two days after the Huskies beat Washington State 27-17 in the Apple Cup to finish 8-4, Sarkisian and Washington athletic director Scott Woodward addressed the Huskies at a team meeting on Monday.
"It was a business decision," said Washington quarterback Keith Price, a Compton, Calif., native. "I'm not mad at him. His family is first. It would have been nice to get another game with him — my last game. But things happen. We have to move on. Whoever our coach is going to be for the bowl game, we're going to play hard. There's still a lot to accomplish this season."
Sarkisian was in the middle of a contract that runs through 2015 and paid him about $2.25 million per year before jumping to $2.85 million in the final season.
Denver Broncos assistant coach Jack Del Rio interviewed for the job at his alma mater, and USC was thought to be interested in Texas A&M's Kevin Sumlin, Vanderbilt's James Franklin and Boise State's Chris Petersen. Instead, Haden went with another contributor to USC's glorious recent past.
USC is 43-21 since 2009, Carroll's last season, and the last season before the NCAA sanctioned the program. When Carroll skipped to the NFL, Kiffin was hired away from Tennessee by former athletic director Mike Garrett in 2010.
Sarkisian arrived in Seattle planning to help Washington return to the elite of the Pac-12. The Huskies at least got back to respectability, but their attempts at finally joining the upper echelon of the conference this season were turned back in losses to Stanford, Oregon and Arizona State.
Sarkisian also never defeated the Ducks in his tenure, an issue that stuck with Washington fans tired of getting beaten up by their neighbors to the south. Sarkisian is the first Washington coach to voluntarily leave for another position since Darrell Royal in 1956 when he departed for Texas. Royal was at Washington for one season.
———
AP College Football Writer Ralph D. Russo and AP Sports Writer Tim Booth contributed to this report.