Tag Team tournament adds spice to WSOP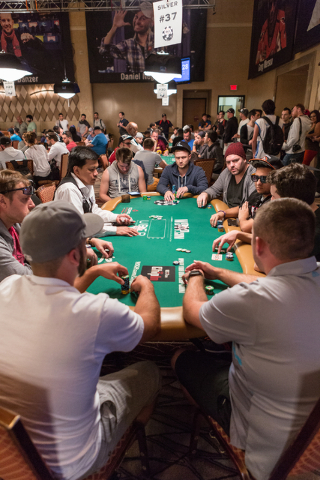 Raney Stanczak was about to board a flight to London late last month when he noticed there was a new event on the World Series of Poker schedule.
Needing his poker fix, the well-known professional paintball player from Carlsbad, California, called his friend Ramsey Doumani and suggested they enter the $1,000 buy-in Tag Team No-limit Hold 'em event.
"Coming to Vegas by yourself is … kind of depressing, but when you're with a friend it's a lot better," Stanczak said. "And usually when I play a tournament, I'm always like, 'Hey, man, what are you doing?' Or, 'What do you think of this hand?' Now, it's easier, because we've been doing this for years."
Stanczak and Doumani were one of the 863 teams to enter the Tag Team event Wednesday at the Rio Convention Center, the first team tournament at the WSOP since 1983.
The event features teams of two to four people — players can tag out at any time once all members of the team have paid the small and big blinds — and the format created a festive atmosphere in the Brasilia Room.
The Tag Team event concludes Friday with the winning team earning $153,358.
"It's weird, because obviously you take it seriously because there's money on the line. But everybody's just having a good time and having fun with it," bracelet winner David Williams said. "It's cool to not take poker so seriously sometimes because usually everybody's so focused and it's always so individualized that you don't really get to share that with others. Now, they're rooting for you."
The event led to several interesting teams, with girlfriends and boyfriends, husbands and wives, professional poker players and friends such as Stanczak and Doumani joining forces in an effort to win a bracelet.
Williams was part of a powerhouse quartet that featured six-time bracelet winner Daniel Negreanu, three-time bracelet winner Vanessa Selbst and well-known pro Maria Ho. The Mizrachi brothers had a team, while Phil Hellmuth, Brandon Cantu and Mike Matusow also entered together. (Matusow busted out on his first hand after begging his teammates to play.)
"I would say the overall vibe of this tournament is maybe even the most fun of any event I've ever played," said Doug Polk, who teamed with fellow pro Ryan Fee. "It's so easygoing. I can just be here chilling, watching my friend play, and then at any point if he needs a break, he can just tag me in. So, it's pretty cool."
The tournament's format also made for interesting strategy. Williams said he was playing the majority of his team's hands, while Stanczak, who won a WSOP circuit ring in 2014, and Doumani, a 28-year-old construction inspector and recreational poker player from Los Angeles, divided their time at the table more evenly.
"I'm usually the bull, and he usually maintains the stack," Doumani said. "One thing that I like is that a lot of players that I'm playing with are scared to bust their stack because they don't want to piss off their teammate. But him and I don't care, so that's actually beneficial to me."
Stanczak and Doumani got off to a strong start and were among the leaders after eight levels of play. The team led by professional poker player and author Jonathan Little had the unofficial lead at the 9:30 p.m. break.
"I like that they mixed it up," Stanczak said. "They added a new event, and it's better than your standard no-limit where no one's talking, everyone has their headphones on. Now you have a different dynamic, people tag each other in. I think when you're always evolving the game, it makes things better and more exciting."
Contact reporter David Schoen at dschoen@reviewjournal.com or 702-387-5203. Follow him on Twitter: @DavidSchoenLVRJ