Top-ranked Nevada swimmer Carter Grimes took his own route to the top
Updated June 25, 2017 - 12:51 am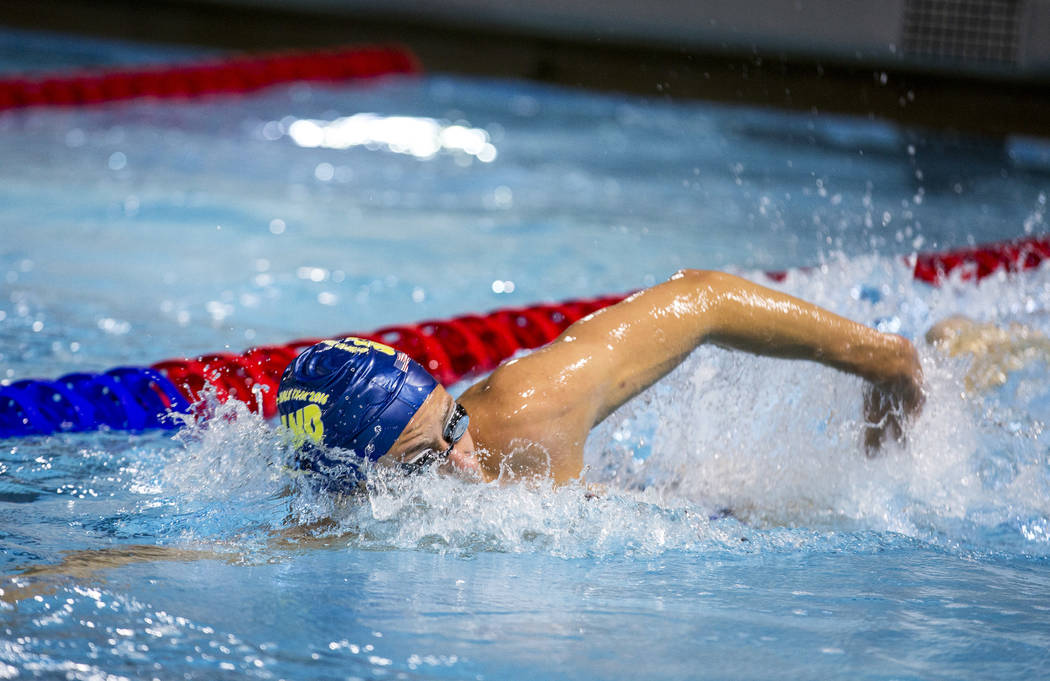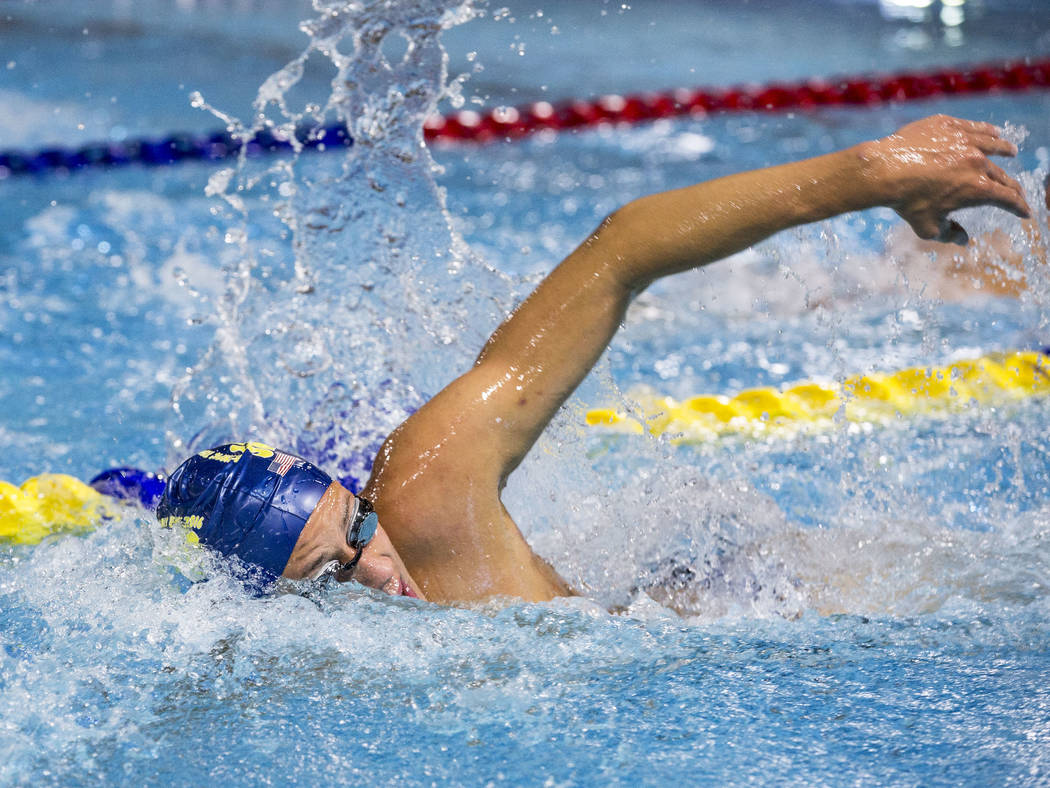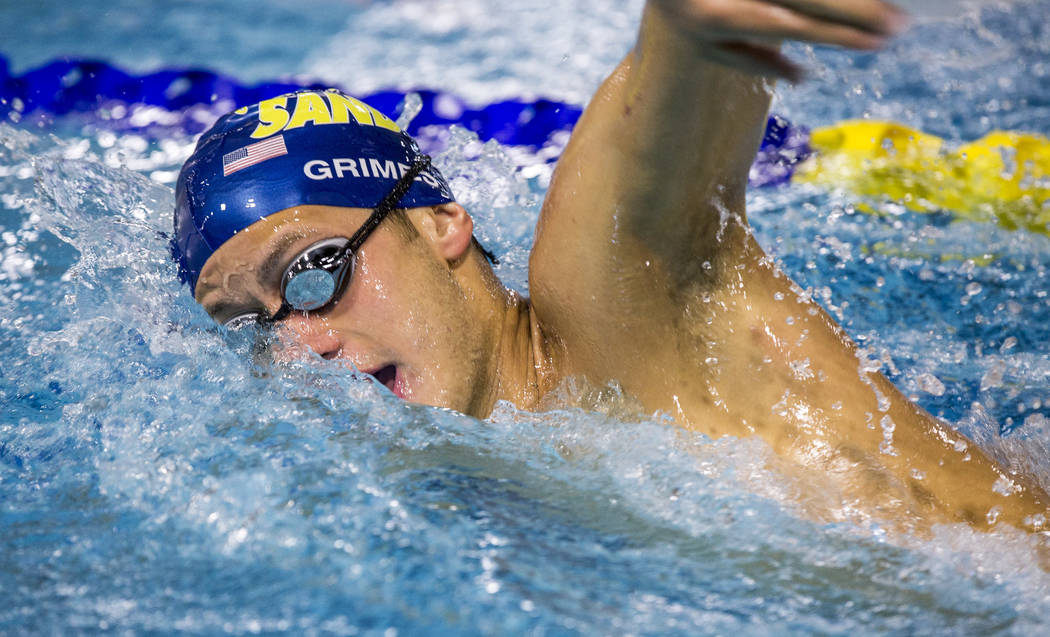 Nevada's best swimmer didn't compete at the high school state tournament last month. He used to swim for Centennial, but Carter Grimes decided that to get where he was going, he needed to do it his way.
He left the Bulldogs and focused his time with the Sandpipers of Nevada club team while attending the online Nevada Connections Academy.
It's hard to argue with the results. Grimes is the top-ranked swimmer in Nevada, according to CollegeSwimming.com, and is headed to Missouri this fall to join one of the top programs in the nation.
"There was no doubt he was going to be a full-ride athlete somewhere," longtime Sandpipers coach Ron Aitken said. "It's just watching the process unfold and seeing what his next steps bring him through college."
Grimes' path to the top was an unorthodox one. He has swam with the Sandpipers since he was 11 and was home-schooled. He joined Centennial's team when he was freshman, and all he did was win three state titles in two years, including the 100-yard backstroke his junior year and back-to-back medals in the 100 butterfly his sophomore and junior years.
For his senior year, he opted to devote his training time fully to the Sandpipers, a program that produced 2016 gold-medal-winning Olympian Cody Miller.
"With Centennial swimming and high school and stuff like that, I would have to get out early of (Sandpipers) practices, especially in the mornings so I can make it to school on time," Grimes said. "Not swimming with Centennial this year was more a tool to help me focus on the club side of my swimming career."
It wasn't an easy decision. He liked Centennial's team, and his brother Sawyer was named to the All-Sunset Region first team after winning the state title in the 500 freestyle and placing third in the 200 freestyle as a freshman.
"It would have been fun to swim on the Centennial team with him," Grimes said.
As if his athletic accomplishments weren't enough, Grimes earned a 4.9 GPA from Nevada Connections Academy and was named valedictorian. He'll be attending Missouri on a full-ride athletic and academic scholarship.
"For our fourth child going to college, it's very nice to have him get a full ride," said his mother, Shari Grimes. "Being home-schooled, most importantly, set him up for the right type of time management to get his academic along with his athletics. He's been trained for this for years."
Since leaving Centennial, Grimes has made waves on a national level. He won the 400 individual medley at the 2017 Speedo Grand Challenge in California, and competed in the 2017 USA Swimming Open Water Championships, where he placed in the 5,000 freestyle and 10,000 freestyle.
He's the top-ranked Nevada swimmer and No. 50 in the nation.
"If he continues to do that kind of stuff through college, he has the potential to be an Olympian," Aitken said.
Contact Justin Emerson at jemerson@reviewjournal.com or (702) 387-2944. Follow @J15Emerson on Twitter.
Carter Grimes' swimming career
— No. 1-ranked swimmer in Nevada
— No. 50-ranked swimmer nationally
— 2017 Speedo Grand Challenge winner, 400-yard individual medley
— Placed at 2017 USA Swimming Open Water Championships
— 2015-16 Division I state champion, 100-yard butterfly
— 2016 Division I state champion, 100-yard backstroke