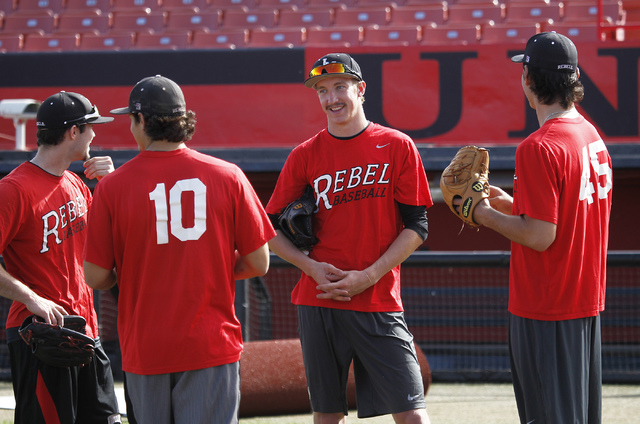 Coach Tim Chambers sat in the UNLV dugout Tuesday afternoon.
Well, sat might not be the appropriate word.
He seemed ready to leap off the bench at any moment, and he was fired up as he looked out on the field to see four players standing near home plate discussing hitting motion and other baseball-related matters.
"Look at them, they're talking baseball," Chambers said. "They're not talking about girls. They're chomping at the bit. They want to play right now."
Just then, sophomore center fielder Joey Armstrong wandered over to the dugout, and hearing what his coach said, raised his eyebrows and nodded excitedly.
"Yesterday went by so slow," Armstrong said.
The wait finally ends tonight, and Chambers said in his 26 years of coaching he has never had a team this focused, this disciplined, this committed to winning. And it's a team, which opens against Central Michigan at 6:05 p.m. to begin a three-day, four-game series at Wilson Stadium, that believes anything short of an NCAA regional is a disappointment.
The Rebels came close to making a regional last season for the first time since 2005, going 37-20. With seven position starters and six pitchers back, their focus is not only on making the postseason but also going deep into June.
"Toward the end of (last) year, we kind of fizzled a little bit," Armstrong said. "We knew that, and losing the conference tournament, going 1-2, was tough after having a good year. We definitely take that as motivation, and we've got a great group of guys here, and we know what we have to do."
UNLV was picked third in the Mountain West by conference coaches, but just three points behind co-favorites New Mexico and San Diego State.
"Last year, winning 37 games, which no one expected us to do, was huge," Armstrong said. "That gives us a lot of confidence going into this year, knowing what we can do. Our expectations are extremely high for this year."
Now the Rebels will try to build on that success while facing a daunting schedule. They play four teams ranked in at least one of the four major polls, including Cal State Fullerton, which is first in three polls and fourth in Baseball America's.
"You want to play the best teams to see how good you really are," junior right-handed pitcher Erick Fedde said. "If we have a rough patch, I think that's the great part about this team is we'll have no issues with getting through it."
UNLV beat Fullerton in two fall exhibitions. Too much can't be read into those meetings, but at the least, the games showed the Rebels can compete on the same playing field. They will meet March 18 at Fullerton, so UNLV will get a much better gauge then against a team looking for revenge.
"They're pissed," Chambers said of Fullerton.
Part of the reason for UNLV's optimism this season is the experience that returns on the mound, even with the loss of Buddy Borden, who went 8-2 with a 2.59 ERA last season. The Rebels do get back junior closer Zack Hartman, a right-hander who missed most of last season with a shoulder injury and underwent Tommy John surgery in March.
Fedde, who went 7-3 with a 3.92 ERA last season, anchors the rotation. He was named a preseason second-team All-American by Baseball America, and received valuable experience last summer playing in the Cape Cod League and for the collegiate Team USA.
UNLV also brings back an experienced group of hitters off a team that batted .307 last season, though replacing Brandon Bayardi (.341, 11 home runs, 50 RBIs) and Mark Shannon (.309, 39 RBIs) will not be easy.
Senior first baseman Patrick Armstrong, who hit .373 with seven homers and 40 RBIs, returns. So does his brother Joey, who batted .324 with 33 RBIs, and junior third baseman T.J. White comes off a season in which he hit .335 with 36 RBIs.
Chambers, usually careful about praising his teams, can't help himself with a group of players that want to become the first from UNLV to make the College World Series in a certain Nebraska city.
"Everybody talks about regional, regional, regional," Chambers said. "These kids think they're going to Omaha. I'm not going to tell them no."
Contact reporter Mark Anderson at manderson@reviewjournal.com or 702-387-2914. Follow him on Twitter: @markanderson65.