3 takeaways from UNLV's 94-91 win over Northern Colorado
December 22, 2017 - 11:15 pm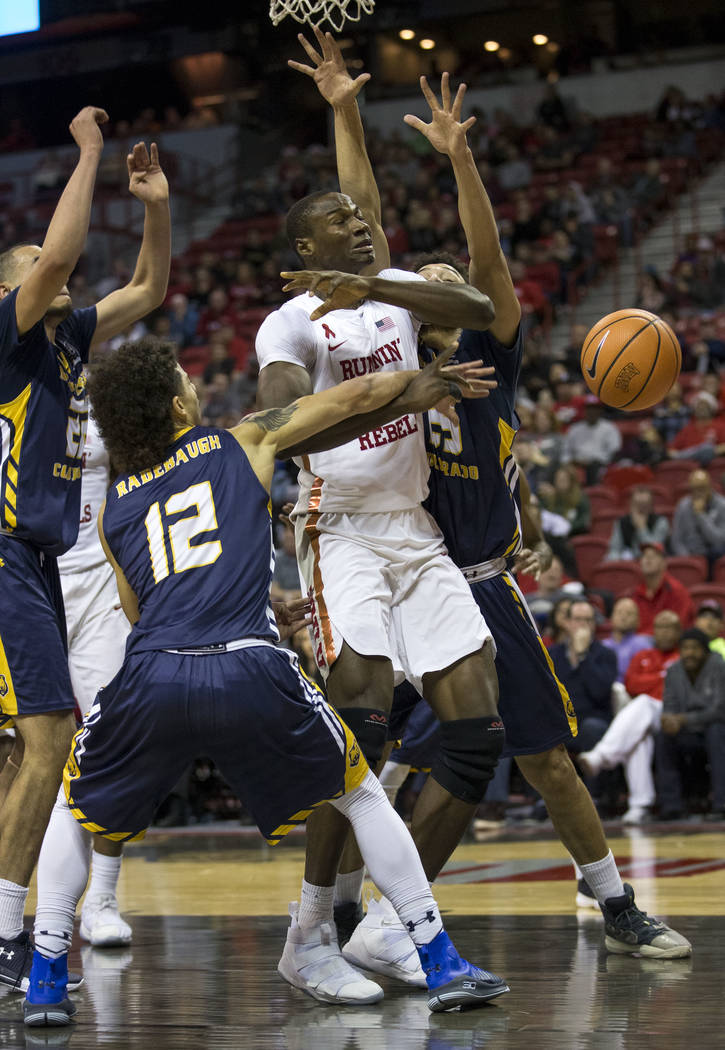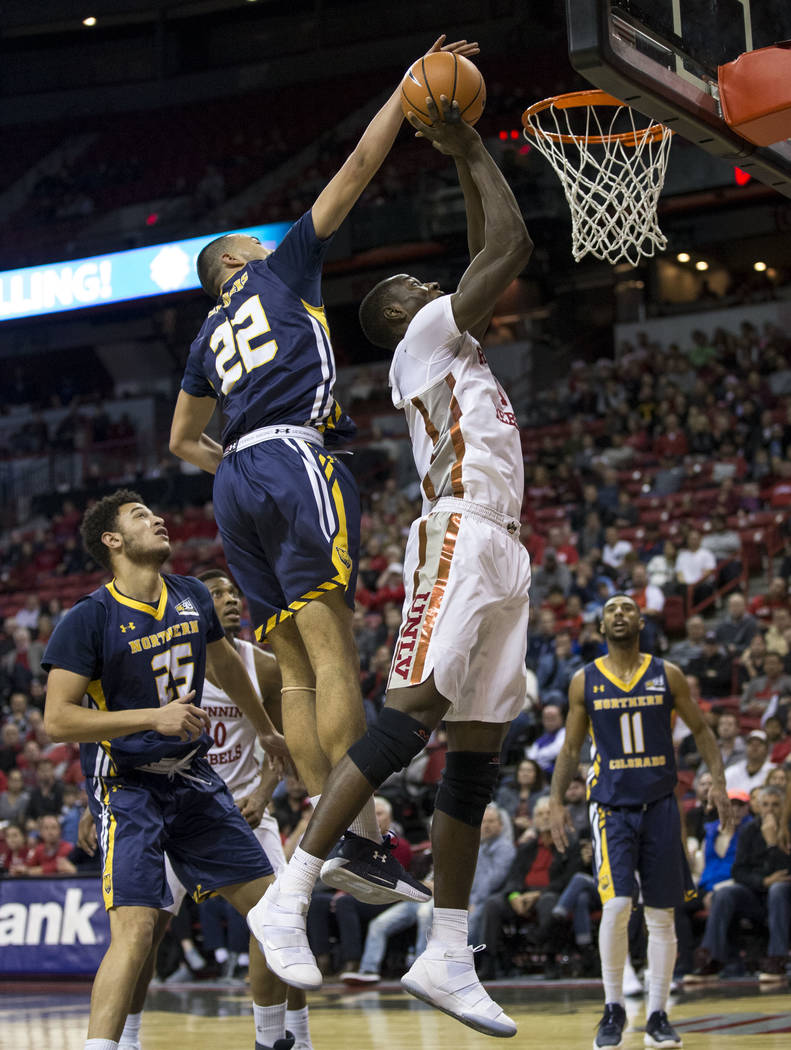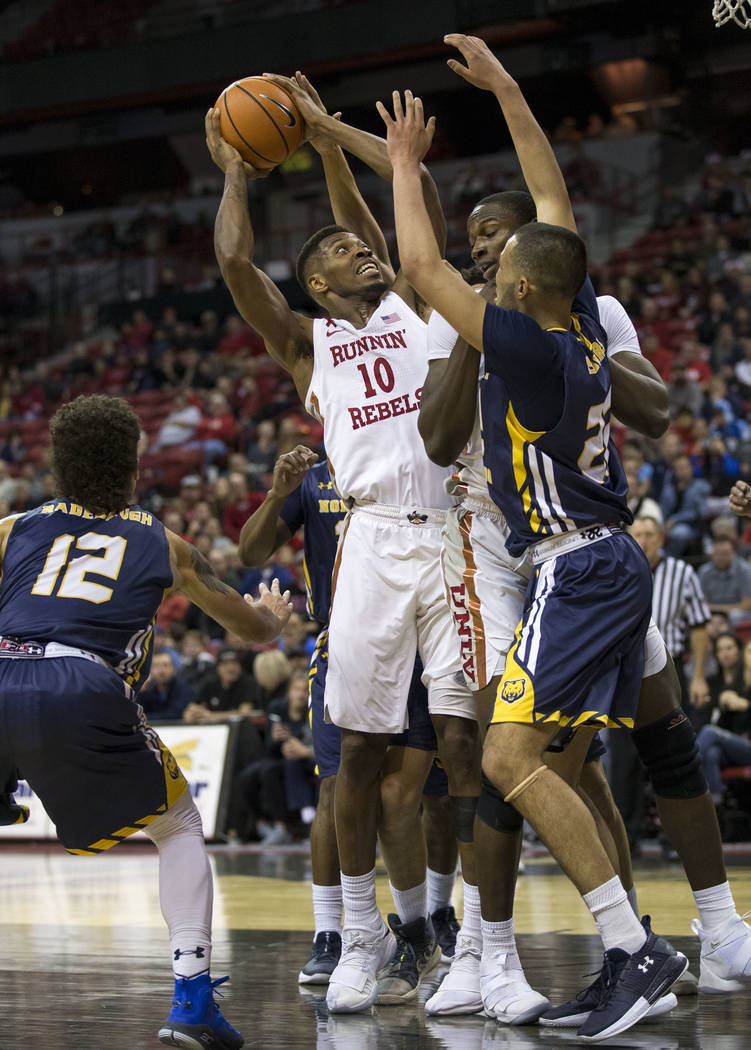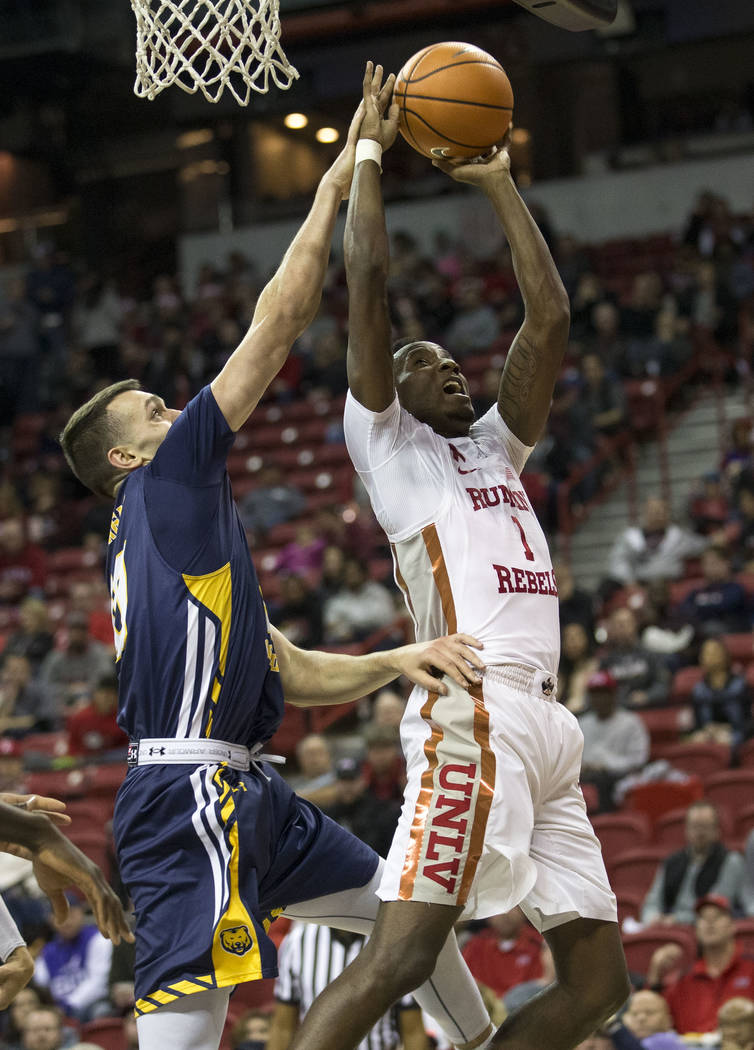 Three takeaways from the UNLV basketball team's 94-91 victory over Northern Colorado on Friday at the Thomas & Mack Center:
1. Jovan Mooring will do anything to win.
UNLV fans aren't always crazy about his shot selection, but Mooring plays as if he's angry, doing everything from taking charges to wanting the ball when the game is on the line. Shakur Juiston had 30 points and 12 rebounds and was outstanding, but the Rebels don't beat Northern Colorado if Mooring doesn't take the big shots.
With UNLV down 84-78, Mooring made a short jumper with 3:21 left, stole the ball and drove for a layup and three-point play with 3:03 remaining. He then hit a deep 3-pointer with 2:09 left for an 88-86 lead.
A lead the Rebels didn't give up.
"That's just who he is," UNLV coach Marvin Menzies said. "You guys (media) know he has a lot of confidence and plays that way."
Mooring, though, downplayed his part in the comeback.
"It wasn't necessarily about trying to put it on my shoulders, it was about trying to make a play for the team," Mooring said. "I saw the open look, and I rose up to shoot it."
2. UNLV's in a great spot entering conference play.
At 11-2, the Rebels already have as many victories as all of last season, and at times in nonconference play they looked like Mountain West contenders. And there have been other moments, such as against Northern Colorado, when it's clear there's progress still to be made.
The Rebels next play Boise State on Dec. 30 at the Thomas & Mack, and that game should be a strong indicator whether UNLV will have something to say about which team wins the conference. UNLV needs to play better than it did against Northern Colorado if the Rebels want to beat the Broncos.
"We had some slippage that I don't think we can have against Boise State that we need to clean up," Menzies said.
3. Brandon McCoy can't lose his aggressiveness.
He has struggled with foul trouble, and did again in this game, even sitting the final 10:16 of the first half after picking up his second foul. The jewel of UNLV's most recent recruiting class wound up with his fourth foul with 8:51 left and again had to head to the bench.
As for the time he spent on the court, McCoy often played as if in fear of getting foul calls, allowing the Bears to drive to the basket.
If UNLV is to accomplish what it hopes this season, McCoy needs to be aggressive and find a way to avoid foul trouble. The good news for the Rebels was he didn't play all that well and still finished with 10 points and 13 rebounds.
Contact Mark Anderson at manderson@reviewjournal.com. Follow @markanderson65 on Twitter.