Defense, rebounding key for UNLV at Illinois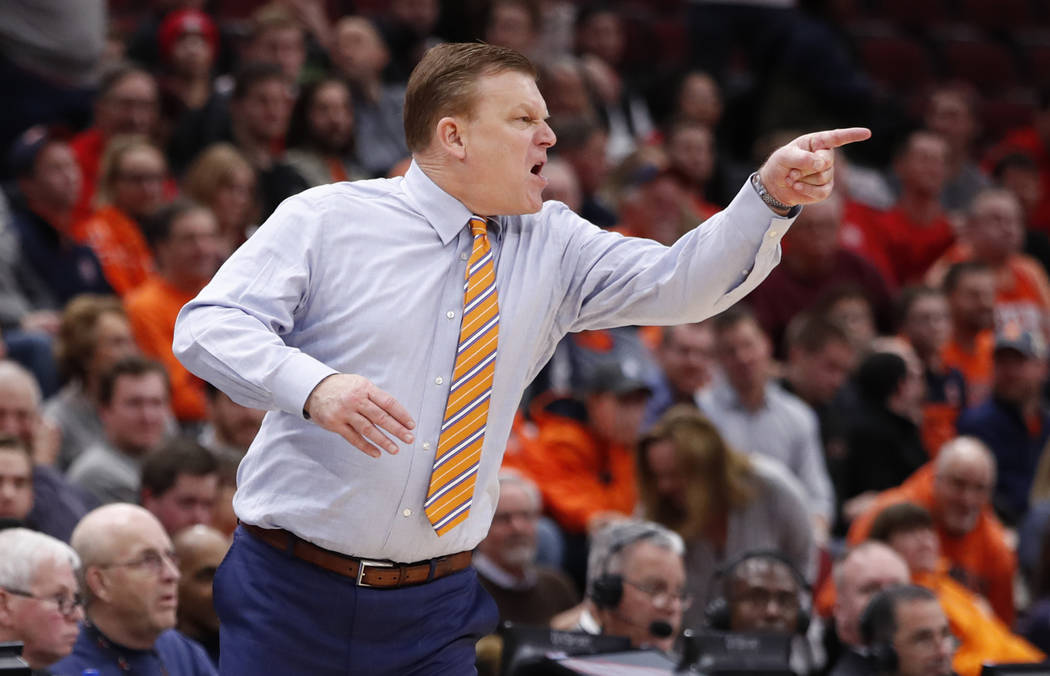 CHAMPAIGN, Ill. — In UNLV's sluggish start to its season, the Rebels have managed to do two things particularly well — play defense and rebound.
Defense and rebounding, fortunately for the Rebels, tend to travel well.
UNLV (4-3) will need to be on top of its game in both areas as it ventures into Big Ten Conference territory to face Illinois (2-7) at 11 a.m. Saturday at State Farm Center. The Big Ten Network will broadcast the game.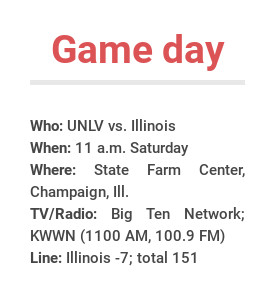 "I think any time you do something really well, other teams pick up on that," UNLV coach Marvin Menzies said. "We're truly going to be tested against Illinois. It's chess not checkers when you get into this time of year where every game's a little bit different style and a little bit different approach."
The Rebels left a day early because of the early tipoff time combined with crossing two time zones. This is UNLV's first game away from the Thomas &Mack Center, the beginning of a stretch in which the Rebels don't play at home again until their Jan. 2 Mountain West opener against Colorado State.
Illinois coach Brad Underwood told the media that he expected 15,000 fans to show up for the UNLV game.
"They're going to have the court advantage," Rebels forward Shakur Juiston said. "As long as we go in there and take care of business and stay composed, it should be a good experience."

Illinois sometimes uses a three-point guard offense, even twice starting the trio of Ayo Dosunmu, Andres Feliz and Trent Frazier. The Illini average 76.2 points per game, making nearly 10 3-pointers per game.
If the Rebels are to beat them, they will do it with defense and rebounding and should have the edge in both categories.
UNLV tops the Mountain West in scoring defense at 64.4 points per game, which also ranks 48 nationally. Illinois allows a 77.1 scoring average.
The Rebels lead the conference in offensive rebounding with a 14.7 average (12th nationally), and are second in rebound margin at a plus-11 average (11th nationally) and in rebounding average at 41 (36th nationally). Illinois has a minus-3.4 rebounding average.
"We get rebounds from the one through the five," Juiston said. "It makes it easier not only on me, but on everybody. If we don't come up with the rebound, we can count on the guards to come in."
Both teams need a spark, and Illinois' record is a little deceiving because of its schedule. Three of the Illini's losses came in the demanding Maui Invitational, including 84-78 to now No. 1 Gonzaga, and they are coming off a 77-67 loss to No. 19 Ohio State in Chicago's United Center.
UNLV is off a 65-61 home loss to Cincinnati, a game in which the Rebels cut the deficit to three points three times in the final 3½ minutes.
"In assessing the last few games, I'm still optimistic and still have a lot of hope for this season," Menzies said. "I feel like our errors have been the errors that are very correctable. I like the guys' attitudes. I like their effort. Their energy's been good. Their attention to detail obviously needs to improve, and their education needs to improve, but overall I really what we're working with. So we've got to stay on the grind and get these guys to the point where that work equates to wins."
More Rebels: Follow at reviewjournal.com/Rebels and @RJ_Sports on Twitter.
Contact Mark Anderson at manderson@reviewjournal.com. Follow @markanderson65 on Twitter.