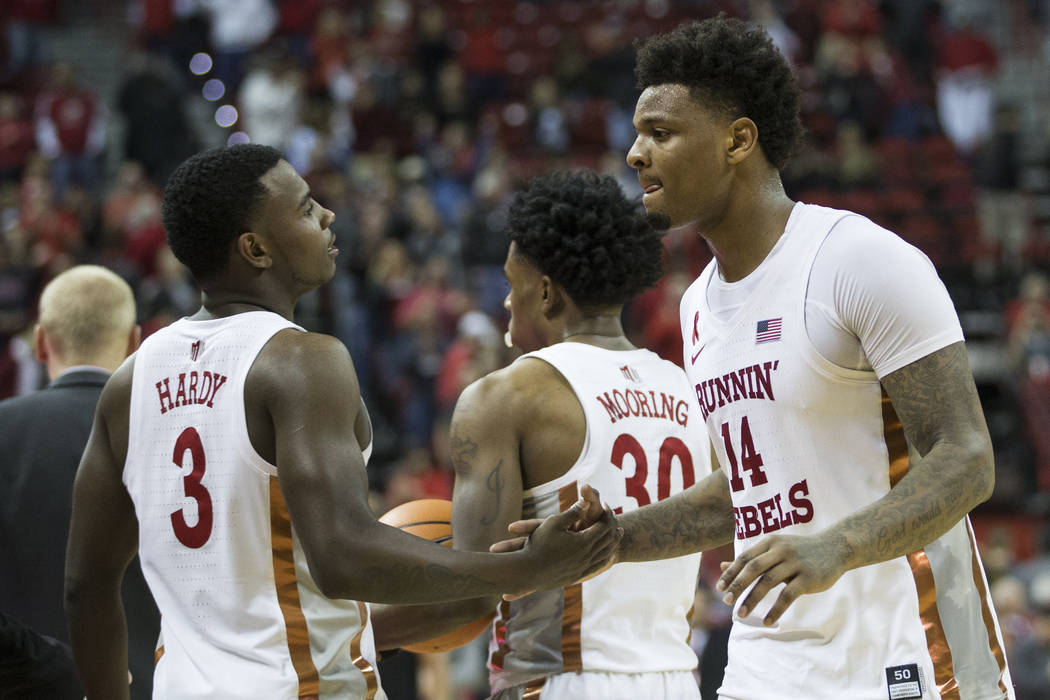 Having spent a year in prep school, Tervell Beck isn't a typical freshman, and the player who turned 20 last month is being trusted with additional responsibilities by UNLV's basketball coaches.
Beck had been emerging as a key player off the bench until Saturday when UNLV hosted San Diego State. He started in an 88-78 victory, marking the first change to the Rebels' lineup all season.
Now with San Jose State visiting the Thomas & Mack Center at 8 p.m. Wednesday, the 6-foot 7-inch forward is expected to be in the starting lineup again.
"I think when you start college, there's so much going on that's new and different from high school," UNLV coach Marvin Menzies said. "It takes time to get acclimated, and he's been embracing practice and the academic component. He's happy to be here, so he's doing a good job of learning on and off the court. When you do that, then obviously there's growth. That's what he's shown, and that's why he's put himself in position to get more minutes."
The Rebels (15-6, 4-4 Mountain West) hope to build off their performance against the Aztecs over a San Jose State team that was one Mbacke Diong free throw from knocking off UNLV in the first meeting Jan. 3. Diong made the free throw, and UNLV emerged with an 82-76 overtime victory in a generally shaky performance.
But the Rebels have played better since then and are 18-point favorites against the Spartans (3-17, 0-9). Beck has been part of that improvement, helping mostly on the defensive end while providing bits of offense.
His play eventually earned him that start against the Aztecs. He replaced Kris Clyburn, who had started the first 20 games.
"As the season progressed, the team and everybody started trusting me," Beck said. "They saw I could do some stuff and gave me a shot."
Against San Diego State, he shot only four times in 29 minutes, but made two of them in scoring five points and collecting three rebounds. He provided the night's most memorable play, his ankle-breaking fake giving him an open 3-pointer that he made.
For the season, Beck has taken 79 shots and made 59.5 percent of them. He is 5 of 11 on 3-pointers and averages 6.1 points.
"He's not a high-rep guy (with shots), but he's efficient," Menzies said. "His shot selection's been pretty decent."
Beck was a three-star recruit out of Cleveland in 2016, but wound up attending a prep school in El Reno, Oklahoma.
After spending almost a year there, Beck chose the Rebels over Arizona State, Houston and Mississippi on March 1, one day after visiting UNLV's campus.
Being a year older has aided his development at UNLV, which is especially important given his added responsibilities. He has played most of the season at power forward, but started at small forward against the Aztecs.
"I think he's capable of truly going to both positions now," Menzies said. "When you bring a freshman in, you don't want to try to overexpose him to too many things from an offensive standpoint. Even though they may be versatile, you don't want him to have to learn every play from every position. So we can help him with that and run some more things he's comfortable with offensively from both those positions.
"I think it all comes back down to who we're playing and where we can see him from a matchup advantage for ourselves."
More Rebels: Follow all of our UNLV coverage online at reviewjournal.com/Rebels and @RJRebels on Twitter.
Contact Mark Anderson at manderson@reviewjournal.com. Follow @markanderson65 on Twitter.
Game day
Who: San Jose State at UNLV
When: 8 p.m. Wednesday
Where: Thomas & Mack Center
TV/Radio: AT&T SportsNet; KWWN (1100 AM, 100.9 FM)
Line: UNLV -18; total 149
Starting lineups
San Jose State (3-17, 0-9 MW)
Coach: Jean Prioleau (3-17, first season)
Probable starters
Player Pos. Ht. Ppg.
Jalen James G 6-4 4.1
Noah Baumann G 6-5 5.7
Keith Fisher III F 6-8 8.7
Ryan Welage F 6-9 18.5
Ashtin Chastain C 6-11 4.6
UNLV (15-6, 4-4 MW)
Coach: Marvin Menzies (26-27, second season)
Probable starters
Player Pos. Ht. Ppg.
Jordan Johnson G 5-11 14.1
Jovan Mooring G 6-2 14.0
Tervell Beck F 6-7 6.1
Shakur Juiston F 6-7 14.7
Brandon McCoy F 7-0 17.5