New Mexico State coach Menzies to interview for UNLV job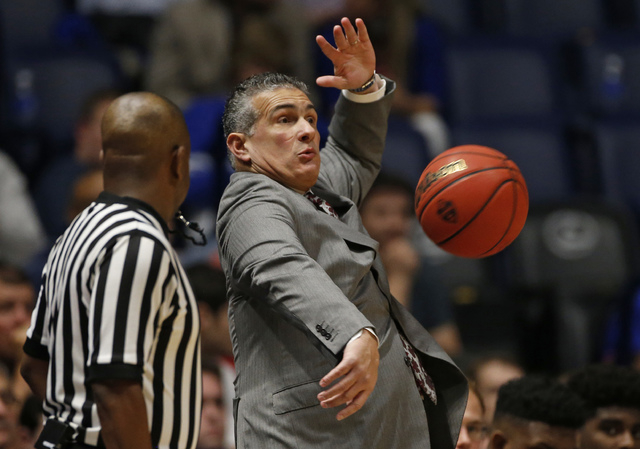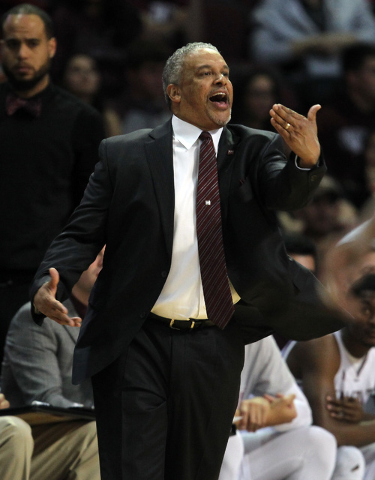 Next up: Marvin Menzies.
Will the New Mexico State basketball coach also be the last man standing?
That's the question as he interviews Saturday at UNLV, which is trying to fill its vacant coaching job.
UNLV's decision to bring in Menzies occurred shortly after Cincinnati coach Mick Cronin turned down the Rebels' offer. Cronin interviewed Wednesday and Thursday with UNLV officials.
Menzies, 54, is 198-111 in nine seasons at New Mexico State. He won five consecutive Western Athletic Conference tournament or regular-season championships and has made five NCAA Tournaments during his time there.
"I think his record speaks for itself," Aggies athletic director Mario Moccia said.
Moccia said UNLV went about contacting Menzies the correct way so that the school was in the loop. Menzies makes $391,000 at New Mexico State, according to the Albuquerque Journal, and he would receive a considerable pay raise if hired by the Rebels. It won't be in the $2 million-plus range offered to Cronin because UNLV athletic director Tina Kunzer-Murphy said that was a special case for a coach who already made close to that figure.
"We're not in a position financially quite frankly to do anything more," Moccia said of financially supporting his coach. "I think all the coaches know where we are in the food chain, where we are in the revenue process and where we are from a state standpoint (compared to New Mexico). You certainly don't want to lose your top coaches, but certainly can't begrudge them for looking at opportunities, and you would certainly label UNLV a great opportunity."
Menzies coached under Lon Kruger at UNLV in the 2004-05 season, Rick Pitino at Louisville from 2005 to 2007 and Steve Fisher at San Diego State from 1999 to 2003. Kunzer-Murphy said she spoke with all three coaches to get their opinions on who should be the Rebels' next coach.
"UNLV's obviously a brand name," Moccia said. "I know they're looking at big-name candidates and the sort of candidates that are attached to big names. So it doesn't surprise me that they were wanting to look at him."
If UNLV doesn't hire Menzies, here are other possibilities (in alphabetical order):
■ Chris Beard, 43, Arkansas-Little Rock. In his one season, he led the Trojans to a 30-5 record and an 85-83 victory over Purdue in the first round of the NCAA Tournament. That comes a season after Little Rock won just 13 games.
■ Randy Bennett, 53, Saint Mary's. Has made the postseason the past nine years and has appeared in five NCAA Tournaments in his 15 seasons. Bennett is 333-151 over that time, and this season the Gaels made the third round of the National Invitation Tournament.
■ Steve Lavin, 51, formerly of UCLA and St. John's. Went a combined 226-131 in 11 seasons at the two schools. He took the Bruins to one Elite Eight and four Sweet 16s, and led St. John's to the postseason four of his five seasons there, including two NCAAs. The Red Storm went 21-12 last season and appeared in the NCAA Tournament, and they were 8-24 this season under first-year coach Chris Mullin.
■ Frank Martin, 50, South Carolina. Just completed his fourth season with the Gamecocks, and combined with his five years coaching Kansas State, he has gone 187-117. He has appeared in four NCAA Tournaments, advancing once to the Elite Eight. Martin has been negotiating a contract extension at South Carolina.
Contact Mark Anderson at manderson@reviewjournal.com or 702-387-2914. Follow him on Twitter: @markanderson65
RELATED:
Cincinnati coach Mick Cronin turns down UNLV basketball job