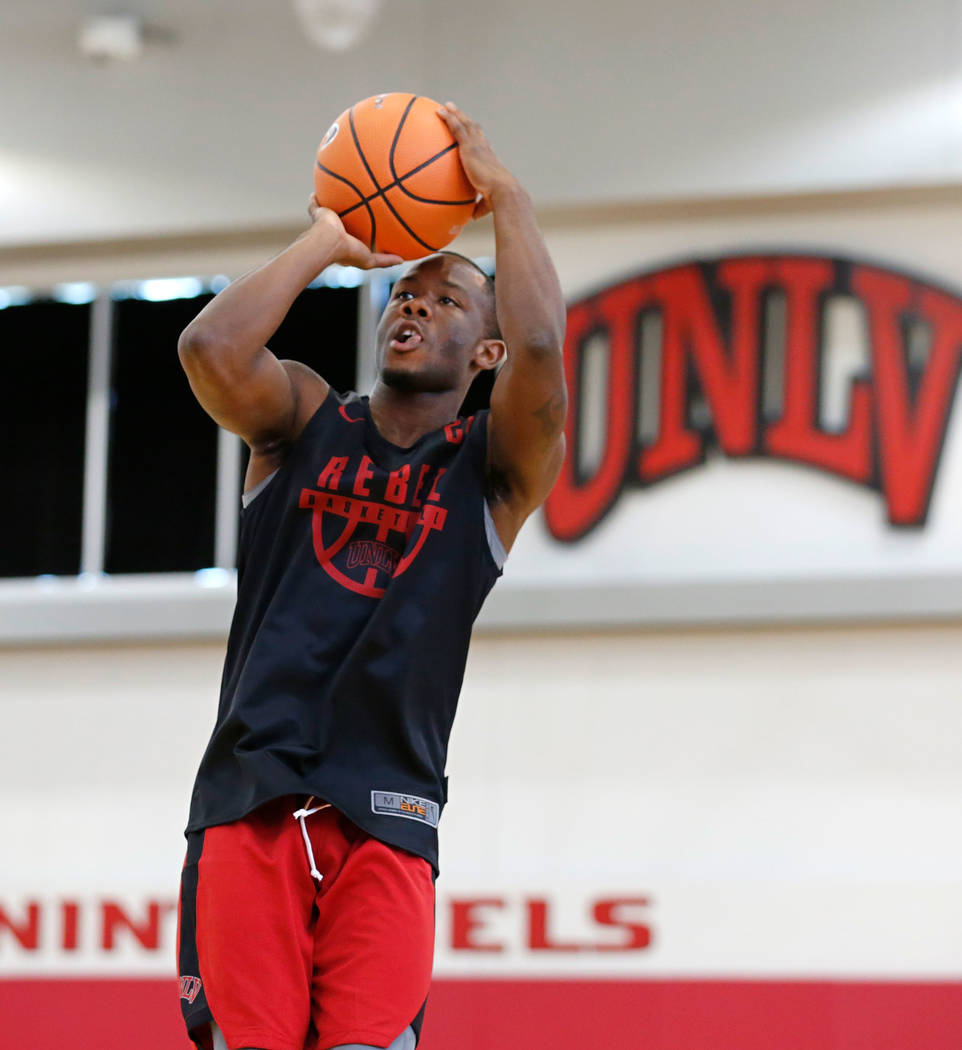 His voice was just a little louder than a whisper when UNLV senior Jordan Johnson met with the media Saturday.
Make no mistake, however, this is now his basketball team, his play expected to speak at a much higher volume.
"I am the leader," Johnson said. "These guys want me to lead them in the right direction, and I'll do the best I can."
Johnson is the point guard the Rebels missed so badly last season, with Jovan Mooring doing a respectable job playing out of position. Johnson is the one with the proven track record at point, a player the Rebels have waited a year to place at that position.
Johnson takes over a team with expectations of being a Mountain West contender this season. The Rebels, who come off an 11-21 record, open their season Nov. 11 against Florida A&M at the Thomas & Mack Center.
Mooring developed into UNLV's best player last season in averaging a team-best 12.6 points. He also led the Rebels in assists with a 4.0 average.
"He was out there trying to make plays, but he's a scorer first," Johnson said.
Without the direction of a natural point guard, the Rebels averaged 68.8 points. Only San Diego State's 68.5 was lower in the Mountain West.
Johnson (5 feet 11 inches, 175 pounds) finished second in the nation in assists two seasons ago at Wisconsin-Milwaukee. He totaled 267 assists, averaging 8.1, both numbers also setting school records.
"There's a lot to be expected of Jordan, but only because he's done it already," UNLV coach Marvin Menzies said. "He's proven it already. So we know what's he capable of. That's why we brought him. We brought him here to be a true point, to establish some leadership from that position. He's doing a good job so far, but the test is in games. We're excited to have him in that position, for sure."
Johnson, who averaged 12.5 points in his one season at Milwaukee, said having proven experience at the Division I level should help.
"I'm a good passer, and I know I can help in that direction," Johnson said. "I've been working on my jump shot a little bit, (so) now I can help a little bit with the scoring, too."
He transferred to UNLV after the 2015-16 season and sat out last year under NCAA transfer rules.
As UNLV struggled on the court, Johnson used that time to learn the system and prepare himself for this season.
"The year in the program helps me a lot because I know what the coaches are looking for," Johnson said. "But I'm still learning new things, and I can help the young guys learn faster in the long run."
With Johnson in place, Menzies is closer to running the offense the way he would prefer. He wants to get the Rebels back to running.
"(Johnson) pushes (the ball) with the pass, he pushes it with the bounce," Menzies said. "He'll cause a lot of concerns for teams in their defensive transition because of his ability to get out. He can make tough shots, too. He's a kid that understands what the flow of the game has been, at least the scenarios we have put him in, where we need him to do certain things."
More Rebels: Follow all of our UNLV coverage online at reviewjournal.com/Rebels and @RJRebels on Twitter.
Contact Mark Anderson at manderson@reviewjournal.com. Follow @markanderson65 on Twitter.
The Johnson file
Position: Point guard
Year: Senior
Size: 5-11, 175
Previous experience: Averaged 8.1 assists in the 2015-16 season at Wisconsin-Milwaukee, which was second nationally.