Rebels in Ruins: The decision that destroyed UNLV basketball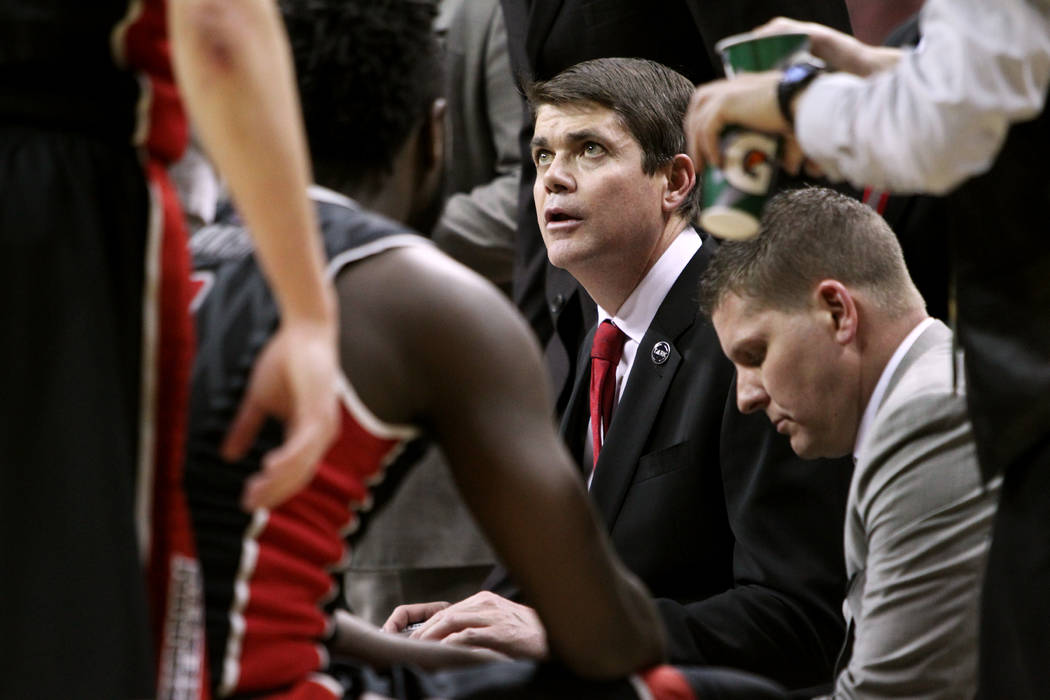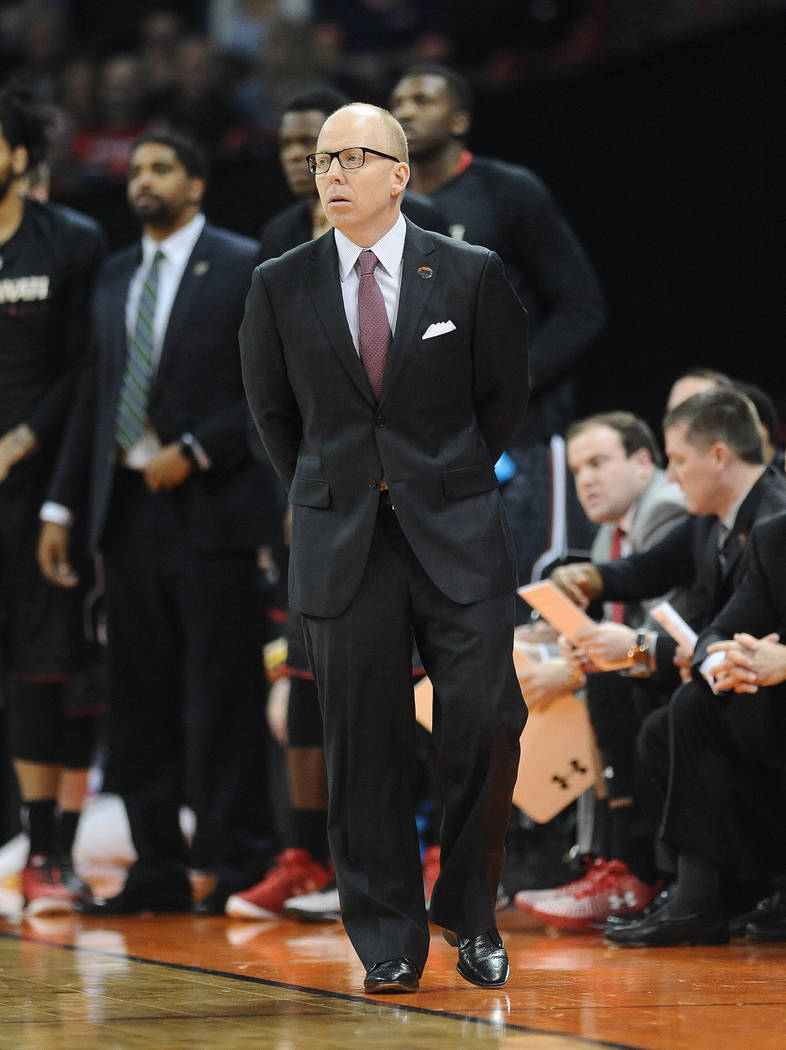 It was a frigid January evening in Laramie — is there another kind for the college town in southeastern Wyoming? — and parents of a few UNLV basketball players stood near one end of the Arena-Auditorium floor.
One wiped away tears. The other lowered his head.
Dave Rice emerged from the locker room and spoke to the two. His fate as Rebels head coach, to be officially decided the following day, was as good as determined after a 59-57 loss to the Wyoming Cowboys.
You weren't sure, at that point, who was consoling who more.
High above, those watching understood: Things were about to change.
Little could anyone have known the depths to which UNLV basketball would sink in the ensuing months and seasons, the sequence of unwise decisions and unforeseen results from that early 2016 move to fire Rice just three games into a Mountain West Conference schedule and midway through a fifth season leading his alma mater's premier athletics program.
The sport that for so long was a central source of revenue for UNLV athletics, which afforded the department a level of national relevancy, a brand Las Vegas prided itself on, is none of those things now.
There is no getting around this: The timing of Rice's firing and what resulted from it destroyed UNLV basketball as it was known.
As the Las Vegas Review-Journal examines UNLV athletics in a five-part series, Part 4 looks at the looming question: Can Rebels men's basketball find its way back, and how long might it take?
Coaching carousel
From the mouths of two of the program's leading boosters — Tom Jingoli and Bill Paulos — come some things you know and some you probably don't.
The Rebels had Lon Kruger, who returned the program to a level of national respectability and delivered four NCAA Tournament trips in seven seasons, including a Sweet 16.
Oklahoma then opened its checkbook to the tune of $16.6 million for seven years in 2011. Some, like former UNLV athletic director Brad Rothermel, believe the Rebels could have ultimately kept Kruger. Many don't.
"We could have matched Lon's salary," Rothermel said. "We could have raised it in a week. What you have to do is help big-time coaches in any way you can. Then you live off their laurels."
It never happened.
The Rebels had Ben Howland. Seriously.
Then-athletic director Tina Kunzer-Murphy considered making a change at head coach before Rice began what would be his final season. Jingoli and Paulos were among a small group who flew to Santa Barbara, California, and gauged Howland's interest. They then flew him to Las Vegas for a meeting with, among others, Kunzer-Murphy and then-president Len Jessup.
It lasted all day. Howland agreed to a deal.
It was done, and then it wasn't.
"We had all the financials worked out to where we could have paid off (Rice's contract) and hire Howland," said Jingoli, a UNLV graduate who has supported the program since 1994. "Tina stood up and said, 'I'm hiring him.' (Howland) wasn't asking for anything unreasonable. He just wanted back in coaching. He was coming. But it was stopped at the last minute at a level higher than the athletic director.
"There was a feeling that doing something that big and having to fire a UNLV alum (in Rice) so late in the summer wouldn't be received well."
Howland, who coached UCLA to three straight Final Fours, is in his fourth year as head coach at Mississippi State. His is a top 20 team this season.
They had Cincinnati coach Mick Cronin.
Jingoli and Paulos were in the room when Cronin accepted the job following the 2015-16 season. Paulos said he even offered Cronin a no-interest loan of $1 million to cover the buyout of his Bearcats contract.
Cronin flew back to Cincinnati and leveraged the UNLV offer to gain more years on his deal there. The Rebels never heard from him again.
They had Chris Beard.
It's ironic, no? Kunzer-Murphy actually made a terrific hire amid all the nonsense of the search — something Beard has proven in two-plus years at Texas Tech, where he took the Red Raiders to the Elite Eight last season.
He went there when he left UNLV less than three weeks after being introduced as the Rebels coach, this after a ridiculous delay to have his contract approved by the Nevada Board of Regents.
They have Marvin Menzies.
He went 31-34 his first two seasons and is now officially in his third since arriving from New Mexico State. But anyone who understands the pathetic and depleted state of the roster he inherited — current team managers are better players than some of those on scholarship when Menzies arrived in April 2016 — would rightly consider this his second.
"I'm not bitter," said Paulos, who graduated from the first class of UNLV's College of Hospitality in 1969. "I'm disappointed we're not in a much better place. I feel we have a foundation to move forward. Marvin is a terrific PR guy who genuinely cares for the kids. Now, he has to prove he can coach here. He hasn't done that yet. He did at New Mexico State, so we'll see."
Grand expectations
The town has changed.
Thirty years ago, 20 different casino owners might have reached into their pockets and come up with $1 million overnight for improving all facets of the basketball program. In today's corporate world, once you get past 13 layers of suits, you might have five casino owners putting up $500,000. Fundraising isn't the same.
The game has changed.
There have been a few notable exceptions to a rule that non-Power Five programs rarely make consistent deep NCAA runs since UNLV won its national title under Jerry Tarkanian in 1990. But even Villanova and Gonzaga are unfair examples when you consider the incredible financial commitment those schools made to basketball.
"Some of the expectations from the community here are unrealistic at times," said Jingoli. "I get that everyone wants to go back to the Tark era. Right now, that's not realistic. We have to first worry about being relevant in the Mountain West.
"Is it disappointing to walk into the Thomas & Mack Center and see 5,000 people? Sure it is. But, listen, I get it. People have just so much disposable income, and we haven't been great recently. Winning cures a lot. Winning will bring them back. But you have to win, and we haven't."
What now?
UNLV beat then-No. 1 North Carolina in 2011. It beat then-No. 3 Arizona in 2014. It beat then-No. 15 Oregon in 2015. It won 25 games in 2012-13. It all happened under Rice. Then he was fired three games into his fifth season, and the repercussions destroyed the program.
But it's not as if UNLV was that far away that long ago.
Menzies seems intent on recruiting more program players who remain at UNLV for several seasons before testing the professional ranks. He also needs to begin playing more of a national nonconference schedule to increase interest in what has become a mausoleum of red seats at the Thomas & Mack. And he needs to win. Fast.
"I've made 1,000 mistakes in my career," said Jim Livengood, the athletic director who hired Rice but had retired by the time he was dismissed. "To this day, I feel I could have helped (Rice) more just by talking things out when he needed an ear. Sometimes you have to tell them what they need to hear and not what they want to hear.
"I think there is reason for hope (in basketball). I really do. The old cliche that it takes a lot fewer players to turn (around) basketball than football is so true. I am just surprised things have reached this low a point. You just don't hear people talking about the program as much now. It's not anger or bitterness about losing. It's apathy.
"When things turn that way, it's really bad. It can kill you."
The question looms: How long before UNLV basketball lives again?
More Rebels: Follow at reviewjournal.com/Rebels and @RJ_Sports on Twitter.
Contact columnist Ed Graney at egraney@reviewjournal.com or 702-383-4618. He can be heard on "The Press Box," ESPN Radio 100.9 FM and 1100 AM, from 7 a.m. to 10 a.m. Monday through Friday. Follow @edgraney on Twitter.