Stanback's 3-point barrage fuels UNLV past Louisiana-Monroe
December 19, 2011 - 6:05 pm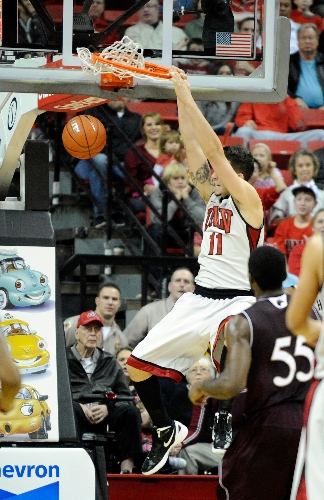 In two games last week, UNLV senior Chace Stanback pulled a disappearing act that could have made a magician jealous. It took him 28 seconds to reappear Monday night.
Stanback sank his first shot and didn't stop until he was 8-for-9 from 3-point range.
"I'm not going to turn down an open jumper," he said. "You can't really worry about the past. Focus on the present."
But this time, Stanback produced a performance worth remembering, scoring a career-high 29 points to push the Rebels to an 81-63 victory over Louisiana-Monroe at the Thomas & Mack Center.
UNLV (12-2) returned to the national rankings early in the day — at No. 21 in The Associated Press poll and No. 23 in the ESPN/USA Today coaches poll — and Stanback's shooting touch magically returned in the evening.
"There's no doubt that Chace was determined," Rebels coach Dave Rice said. "Chace bounced back after a tough shooting week."
The 6-foot-8-inch forward did not make a field goal Saturday in UNLV's 64-48 victory over Illinois in Chicago, and that was after he shot 2-for-8 against Texas-El Paso on Wednesday. He was 2-for-12 for the week.
But he was far from worried, and he shook off the slump in a hurry.
"You always look forward to the next game," Stanback said. "The important thing is to stay confident."
In Stanback's previous top game this season, he made four 3s and poured in 28 points as the Rebels stunned then-No. 1 North Carolina 90-80 on Nov. 26. Fans stormed the floor to celebrate the occasion.
The stage was nowhere near as big against the one-win Warhawks, who were 27-point underdogs yet proved tough to shake.
Stanback connected on all five of his 3s in the first half as UNLV struggled to build a 37-27 edge on Louisiana-Monroe (1-11).
The Rebels scored the first 11 points after halftime. Senior point guard Oscar Bellfield triggered the run with a steal and dunk, followed by a 3-pointer.
"It's remarkable what a good second-half team we are," Rice said. "We did a tremendous job to start the second half to open up a lead."
After Stanback hit a perimeter jumper, Bellfield lofted a pass to Mike Moser, who finished with a reverse dunk. In what seemed like an instant replay, Bellfield and Moser converted an almost identical lob pass-reverse dunk hookup on the Rebels' next possession to ignite the crowd of 11,515.
"We were trying to go out there with a lot of energy and just take it to them," Bellfield said. "I definitely feel like the second half is where we really just come out with full energy, like how we should at the beginning of the game."
Bellfield scored all of his 10 points after halftime. Sophomore forward Carlos Lopez finished with 12 points and nine rebounds to lead a strong effort by UNLV's reserves, as Kendall Wallace made three 3-pointers and Justin Hawkins added eight points, all on free throws.
Sophomore point guard Reggie Smith, a transfer from Marquette, appeared in his first game for the Rebels and drilled his first shot, a 3-pointer with 10:47 to go in the first half.
"Now that Reggie is with us, we're going to be even better," Bellfield said.
In his first game action in a year, Smith wound up with three points and three turnovers in nine minutes.
"It's tough to hit the ground running," Rice said, "but Reggie will be fine."
Rice said a game-day decision was made to hold out junior forward Quintrell Thomas because of a turf toe injury. Thomas played a key role in UNLV's win over Illinois.
Steven McClellan scored 16 points and Hugh Mingo 15 for the Warhawks, who trailed by 29 with seven minutes remaining.
Without Thomas and with Moser (six points, season-low two rebounds) only sporadically getting into the flow of the offense, the Rebels still had few problems.
UNLV shot 25-for-43 from the field, including 14 of 23 from 3-point range, and used smooth ball movement to total 20 assists. Stanback led the assault on Louisiana-Monroe's zone defense by hitting 10 of 13 shots.
"Some games are just better than others for guys," Rice said.
Contact reporter Matt Youmans at myoumans@reviewjournal.com or 702-387-2907.
UNLV 81, LA.-MONROE 63
■ KEY: Senior Chace Stanback hit 8 of 9 3-pointers and scored a career-high 29 points for the Rebels.
■ NEXT: California at UNLV, 2 p.m. Friday, CBSSN (333), KWWN-AM (1100)