UNLV rolls to 74-61 win over Oakland
Updated November 16, 2018 - 10:07 pm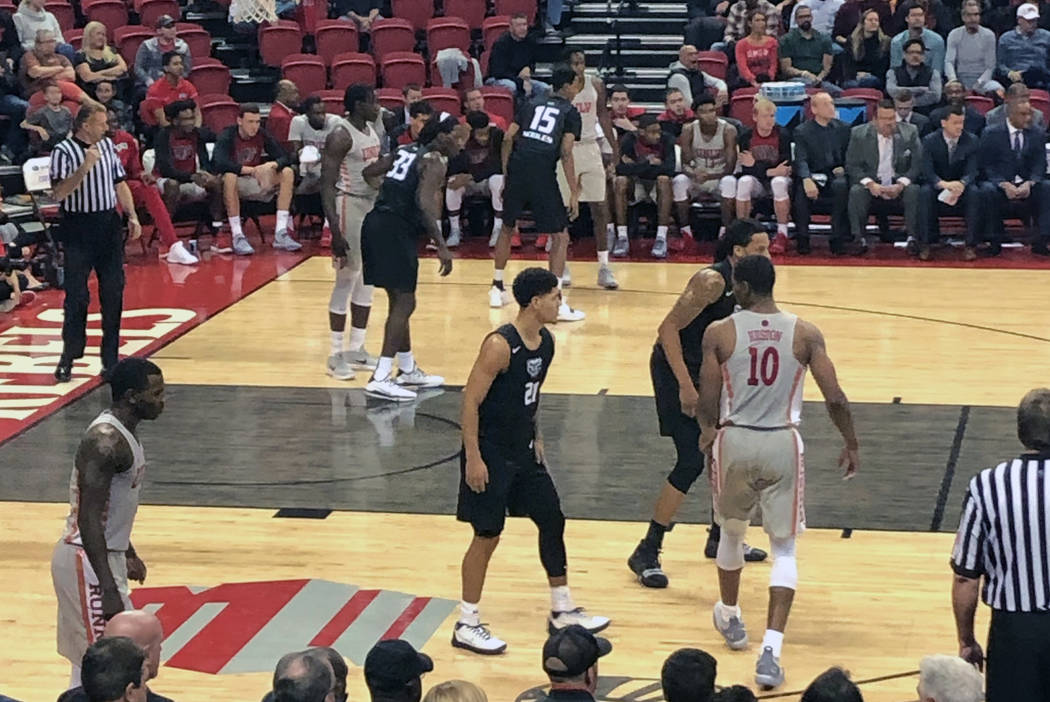 UNLV first bloodied Xavier Hill-Mais (unintentionally) and then bloodied his Oakland basketball team (intentionally).
The Rebels took full advantage of Hill-Mais' absence twice in the game, especially in the first half when they grabbed control and then cruised to a 74-61 victory Friday night at the Thomas & Mack Center.
UNLV (2-1) used a 24-2 run in the first half — most of it while Hill-Mais was out with a bloody nose sustained in a collision with the Rebels' Tervell Beck — to build a 24-7 lead. Hill-Mais went out again in the second half, and the Rebels turned a 46-35 lead into a 59-40 advantage.
It all added up to a fairly easy night for the Rebels, their second double-digit victory in a row.
"It was a step in the right direction," UNLV coach Marvin Menzies said. "They're continuing to grow, so from the second game to the third, I thought we got a little bit better."
Oakland (0-3), located in suburban Detroit, had the bad fortune of its best player missing long stretches, and UNLV made the Golden Grizzlies pay for it, showing a killer instinct that began with a commitment to defense.
"Coach has talked a lot about pressuring them," said UNLV forward Shakur Juiston, who made 8 of 13 shots and led the Rebels with 18 points and 10 rebounds. "We've been lackadaisical a lot. We've been watching film. They've been prepping us for this game and how effective we can be defensively to get our offense going. It worked out. We did it and completed the mission."
The only player the Rebels had trouble defending was Hill-Mais, but they are hardly alone. He was the Horizon League player of the week last week after averaging 23.5 points and 6.5 rebounds. Against the Rebels, Hill-Mais was the only Oakland player with a positive plus-minus rating at plus-1. He made 11 of 15 shots and scored 29 points.
"We played him as a team and guarded him as a team," Menzies said. "He's definitely one of the better players in that conference. He's a big-time player, and so we knew he was very integral in our scouting report."
UNLV also was aggressive on offense, regularly pushing toward the basket. After one made Oakland basket in the first half, UNLV quickly got the ball down the court, with Kris Clyburn flying in for a layup.
The Rebels made 52.5 percent of their shots.
Juiston picked up his first double-double of the season. Amauri Hardy and Mbacke Diong each scored 12 for UNLV, and Clyburn had 10.
Hardy made his first five shots, including two 3-pointers.
"A lot of people probably see that I've been struggling a little bit," Hardy said. "I think (the early makes) kick-started a good run for me. But it definitely felt good for sure. My teammates kept me going throughout the game, kept my confidence high, and I think that worked really good for me."
UNLV hosts Pacific on Tuesday.
More Rebels: Follow at reviewjournal.com/Rebels and @RJ_Sports on Twitter.
Contact Mark Anderson at manderson@reviewjournal.com. Follow @markanderson65 on Twitter.
Three takeaways
1. Defense, defense, defense. UNLV has played only one bad half of defense this season, and it cost the Rebels against Loyola Marymount. They locked down this victory and the one Tuesday over UC Riverside because of a commitment to shutting down the opposing offenses.
2. This was the Juice of last season. Shakur Juiston averaged 14.6 points and 10 rebounds last season, but entered this game averaging 9.0 points and 6.5 rebounds. He was a different player against Oakland, finishing with 18 points and 10 rebounds and throwing down two thunderous dunks.
3. Opening loss looks better. There was plenty of hand-wringing over UNLV's season-opening 61-50 loss to Loyola Marymount. But the Lions are 4-0 and defeated Georgetown 66-52 on Friday in Jamaica.
Mark Anderson Review-Journal