UNLV shocks No. 23 UNR behind Jovan Mooring's 31 points
February 7, 2018 - 10:20 pm
Updated February 7, 2018 - 11:21 pm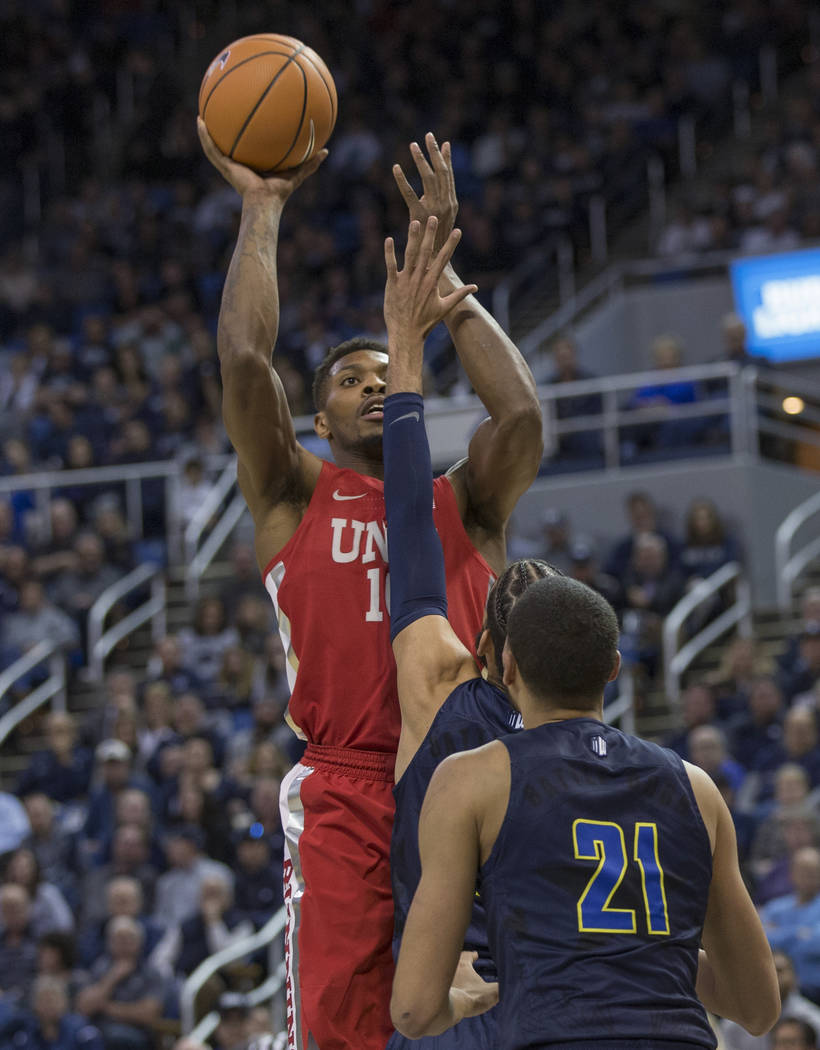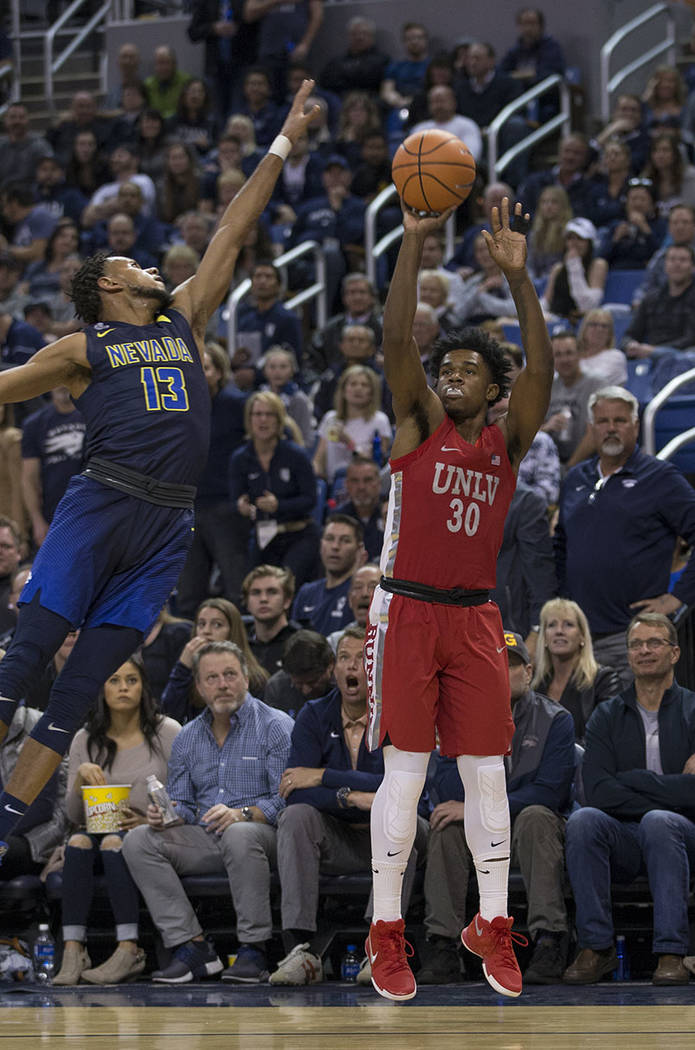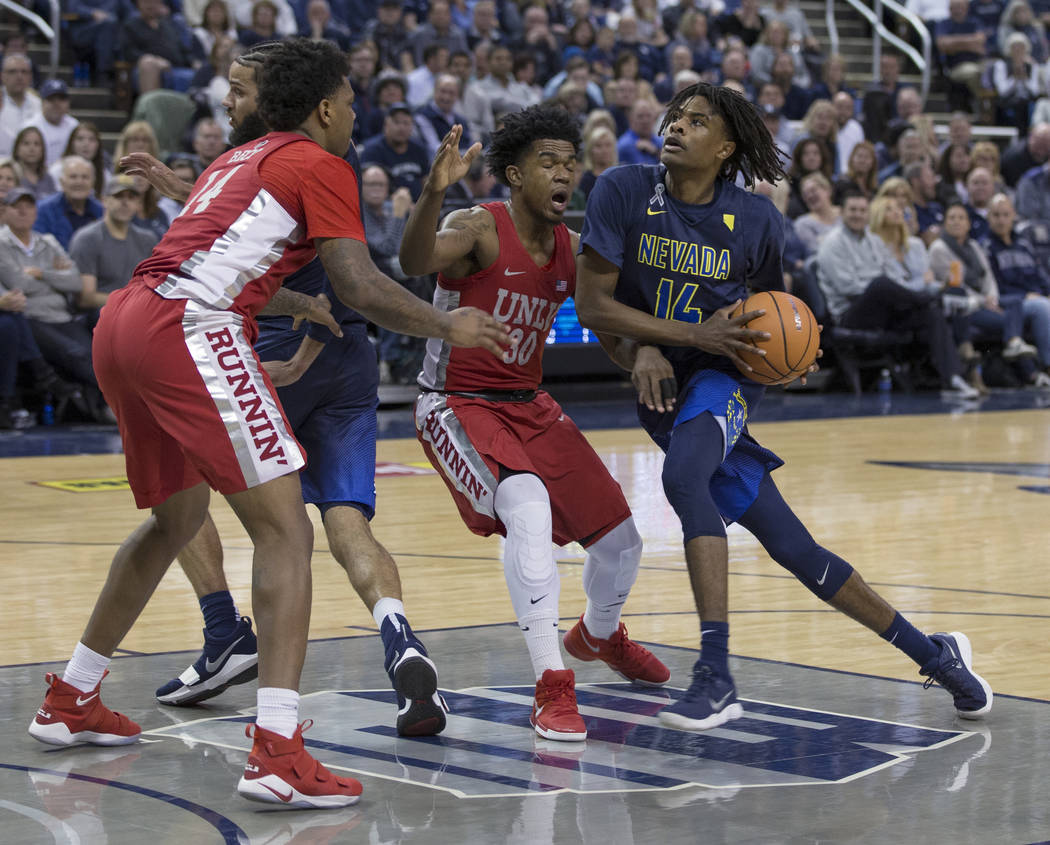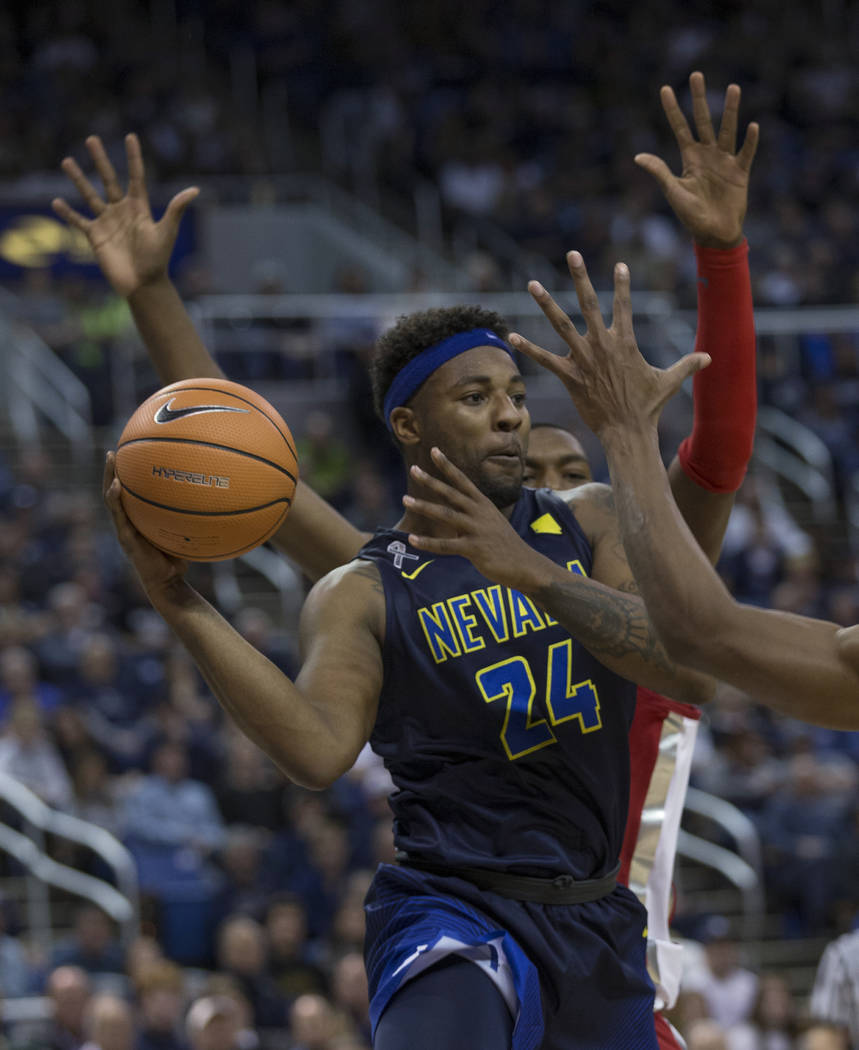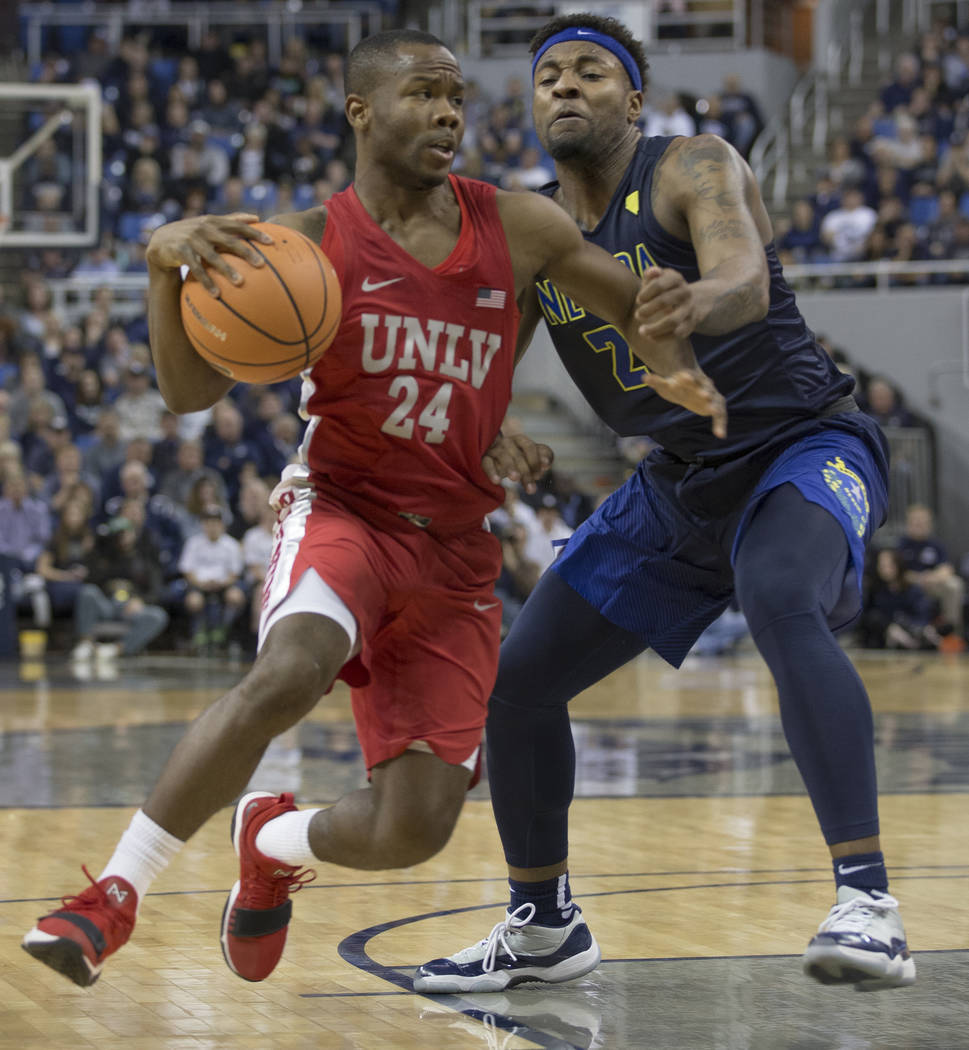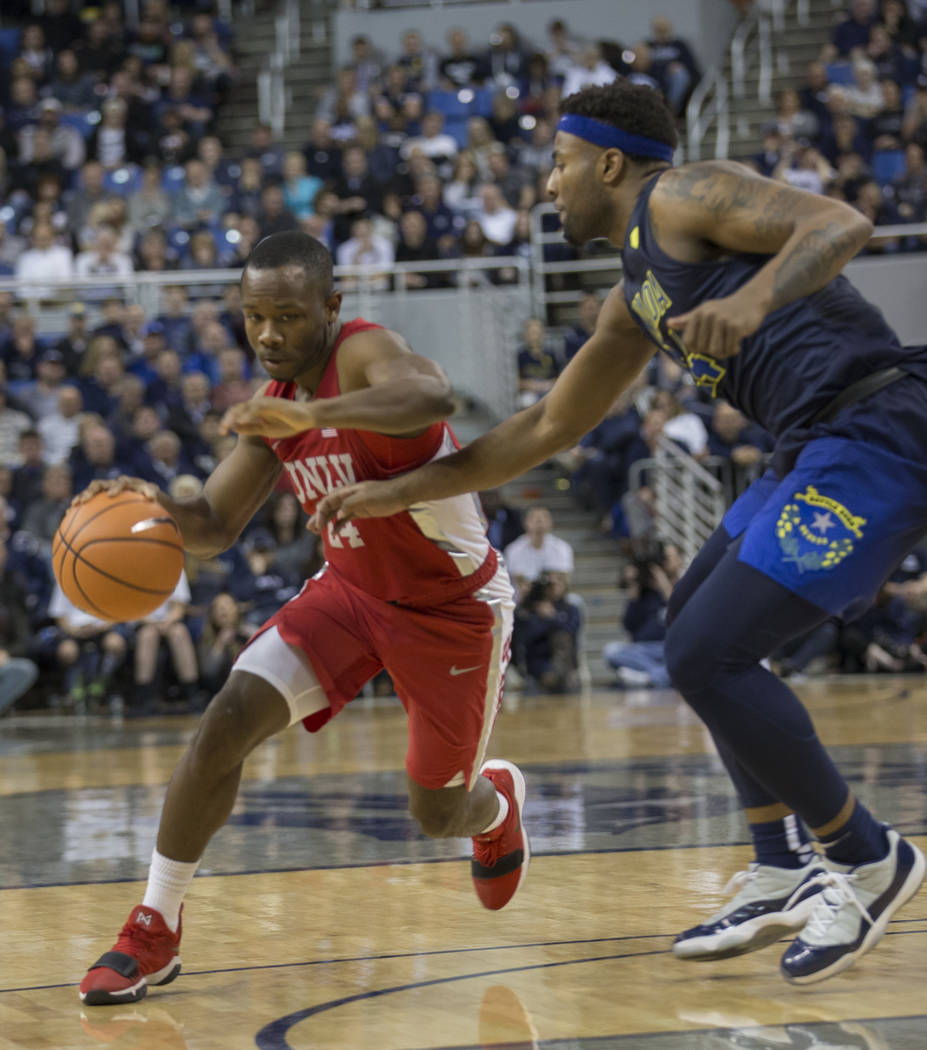 RENO — The fans packed Lawlor Events Center on Wednesday night, with Gov. Brian Sandoval and former UNR football coach and UNLV tormentor Chris Ault among those watching.
Wolf Pack supporters hoped this would be another show like last season, when they brought out Michael Buffer, noted voice in the boxing ring, to announce the starting lineups and then spent 40 minutes thrashing the Rebels.
This time was quite different.
This time it was the Rebels putting on the show, invading the home of their fierce intrastate rival and beating the No. 23 Wolf Pack 86-78.
Jovan Mooring and Shakur Juiston all but willed UNLV to this victory. Mooring scored 31 points, making 11 of 20 shots — including 6 of 12 from 3-point range. Juiston made 9 of 11 shots, finishing with 19 points and 12 rebounds.
"(The victory) means a lot especially considering the fact they haven't lost on their home court in a year," Mooring said. "I just wanted to get the guys up for this game, and they did a great job of responding."
UNR had won 16 consecutive home games, its last defeat on Jan. 21, 2017, against Fresno State.
UNLV (17-7, 6-5 Mountain West) made a strong statement with the victory, showing it has a chance to make some real noise in the regular season's final month. They also made sure this wouldn't be a repeat of last year's trip to Reno in which the Wolf Pack ran away for a 94-58 victory.
"It's a very good win for us because I think we're playing better, and that to me is the most important thing," UNLV coach Marvin Menzies said. "If we keep improving, the winning will take care of itself. Tonight was a good team effort."
The Rebels also knocked UNR (20-5, 9-2) out of first place in the Mountain West, with Boise State (20-4, 10-2) going into the top spot by a half-game.
The Wolf Pack was without leading scorer Caleb Martin, whose left foot was in a boot. He has been dealing with turf toe, and aggravated the injury Saturday at Colorado State. He averages 19.8 points and 5.3 rebounds.
Jordan Caroline led UNR with 18 points, Lindsey Drew scored 17, and Cody Martin and Kendall Stephens each had 16.
The game went back-and-forth until the final two minutes when UNLV went on a nine-point run to take a 41-31 lead. UNR's Martin answered with a 3-pointer with a second left to make the halftime score 41-34.
UNR came out strong to open the second half and quickly got Brandon McCoy in foul trouble. He picked up his second and third fouls in the first minute and his fourth with 16:38 left. McCoy didn't re-enter until 3:50 remained, but was instrumental down the stretch.
The Rebels absorbed the early push by the Wolf Pack, and the game was tight and intense the rest of the way.
After Mooring banked a 3-pointer and drew a foul with 8:35 to go, he yelled, "Let's (bleeping) go!" His shot gave the Rebels a 65-57 lead, but he missed the free throw, and the Wolf Pack then scored the next 10 points to take a two-point lead. The Rebels, however, answered with an 11-point run of their own to go in front 76-67.
UNR again came back, tying the game at 78 on Stephens' 3-pointer with 2:04 left. Brandon McCoy, however, made both ends of a one-and-one with 1:48 remaining to put the Rebels in front 80-78. Then Mooring dropped in a 14-footer with 1:19 left for a four-point lead, and UNLV made its free throws down the stretch to seal the victory.