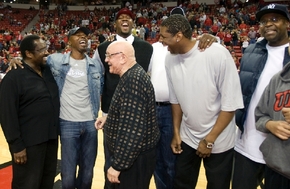 It's one of the most compelling questions in sports.
What if?
Those who follow sports at any level know how maddening that question can be. And Las Vegas has its share of "what if" moments.
Beginning today, the Review-Journal will run a five-part look at those crucial events that shaped the city's sports landscape:
The Review-Journal played out all of those scenarios, and the local sports landscape would have been considerably different.
That shows how one play or one decision can have ramifications that lasts years. If the call had gone the other way on Anthony, for example, the Rebels probably would have won a second national championship in a row and continued momentum for more than just another season.
Now that's a painful what if.
Today we look at the question what if UNLV guard Greg Anthony hadn't been called for a charge in the 1991 national semifinal against Duke?
What actually happened:
The Rebels dominated the 1990-91 basketball season, steamrolling opponents on their way to an expected national championship repeat. They went into the Final Four in Indianapolis facing Duke, the team the Rebels beat by 30 points in the title game a year earlier.
This time, the Blue Devils didn't go so quietly, showing early they were going to give UNLV all they had.
And then Duke received some help.
With 3:51 left and UNLV ahead 74-71, Anthony was called for a questionable charge. George Ackles stretched the lead to 76-71 with 2:31 remaining, but without an effective point guard, the Rebels struggled to find offensive rhythm.
Duke took advantage to pull off a 79-77 upset, depriving the Rebels of another national title and a place in college basketball history. UNLV could have been in the argument for the greatest team of all time, the beginning of a dynasty.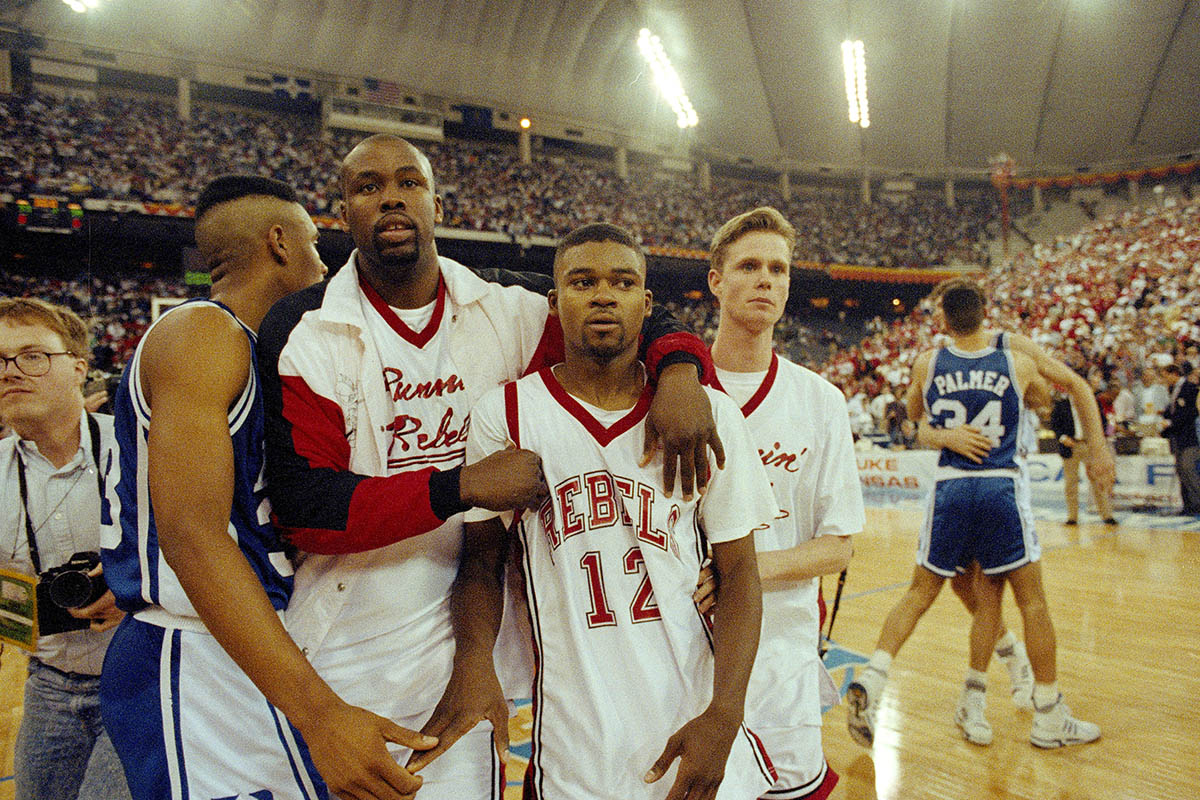 In this March 30, 1991, file photo, UNLV's Anderson Hunt (12) and unidentified teammates leave the floor after losing to Duke in the NCAA national semifinal game in Indianapolis.(AP Photo/Al Behrman, File)
What could have happened:
If the call were a block rather than a charge, Anthony also would have been awarded the basket since his shot went in. A three-point play would have extended UNLV's lead to 77-71, changing the entire complexion of the final four minutes.
With Anthony, an experienced point guard in the game, he would have known when to keep the ball and when to distribute, allowing the Rebels to maintain the lead and forcing Duke to foul late. UNLV would have been in control.
Then UNLV would have been on high alert for the championship game against Kansas and rolled to victory.
With a second national championship in hand, all the momentum would have been with the Rebels' basketball program and not university president Robert Maxson. But coming up short provided Maxson with enough of an opening to force out coach Jerry Tarkanian, who agreed to leave after the 1991-92 season, in which the Rebels went 26-2 but were ruled ineligible by the NCAA for the postseason.
That's not to say Maxson, under pressure from the NCAA, wouldn't have prevailed in his battle with Tarkanian, but his task would have been much more difficult.
Had Tark stayed, he would have continued welcoming championship-level recruiting classes. An extended run under Tarkanian would have kept the Rebels in regular conversation for the Final Four.
Maybe even until this day.
Contact Mark Anderson at manderson@reviewjournal.com. Follow @markanderson65 on Twitter.