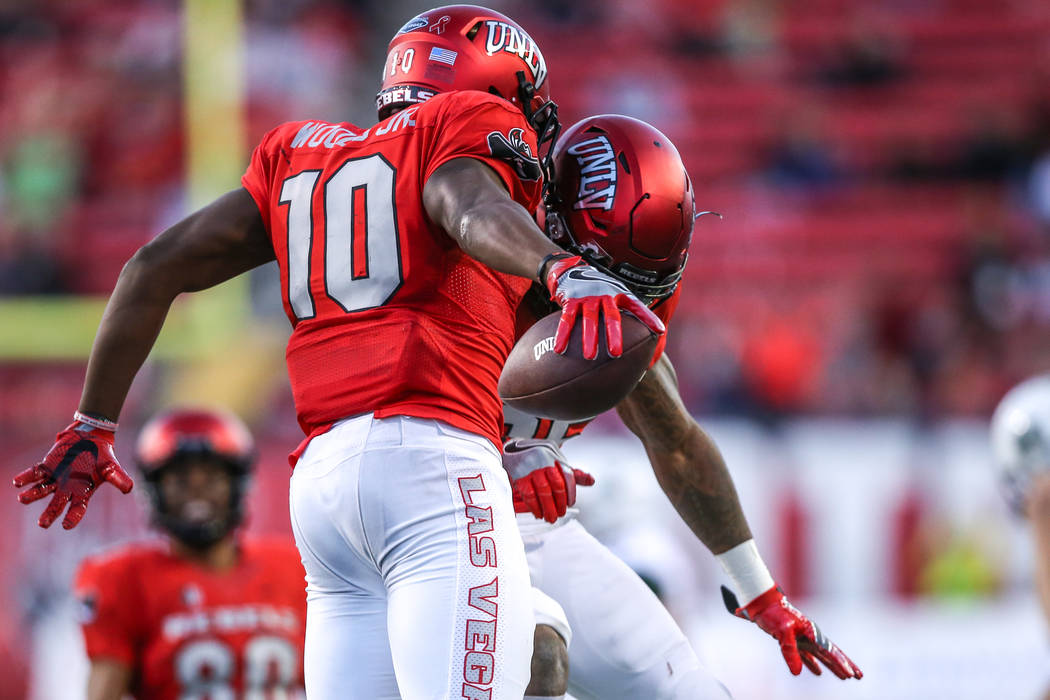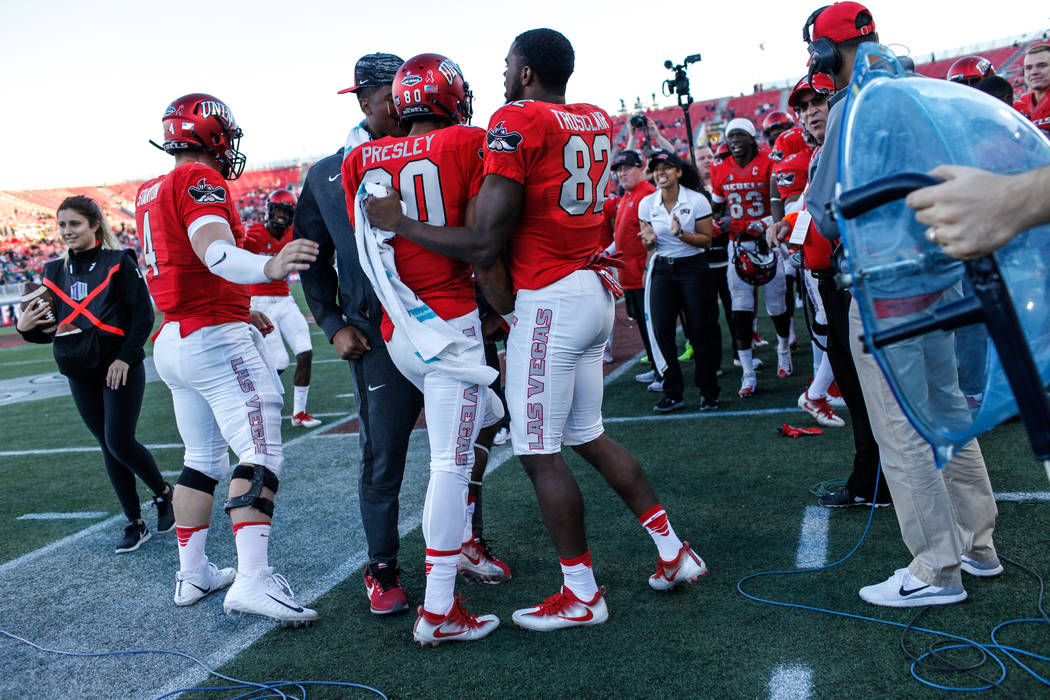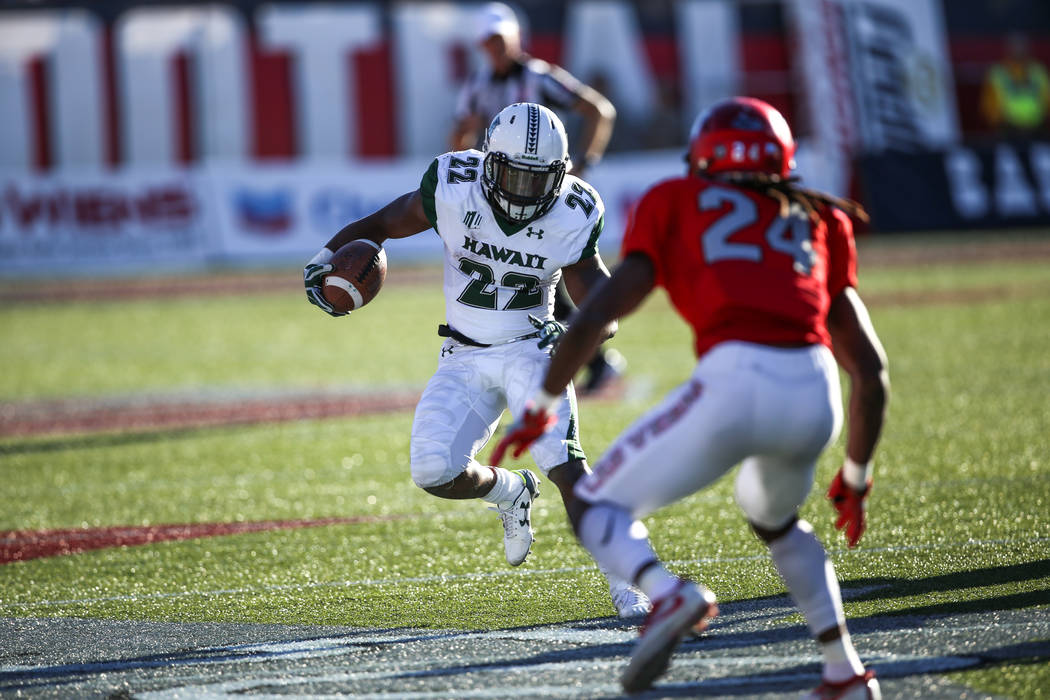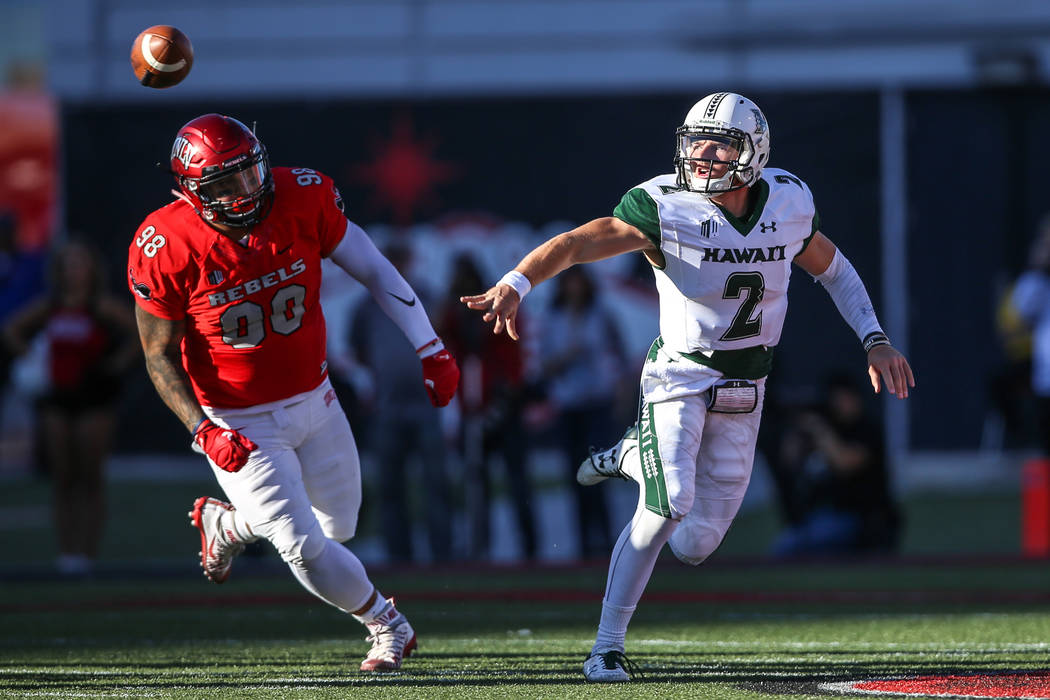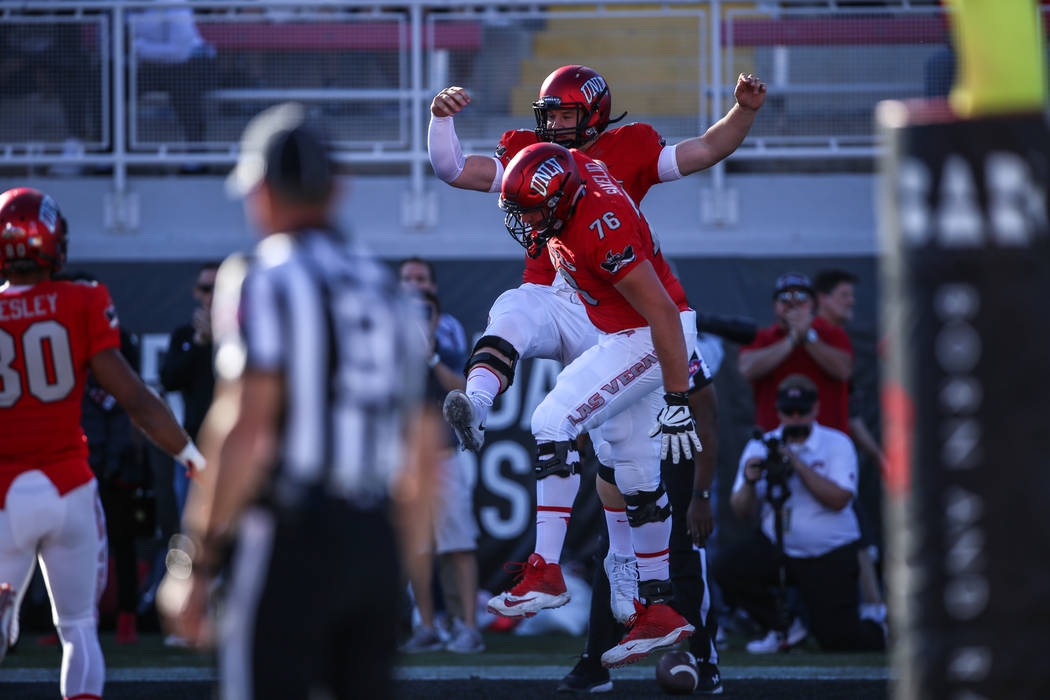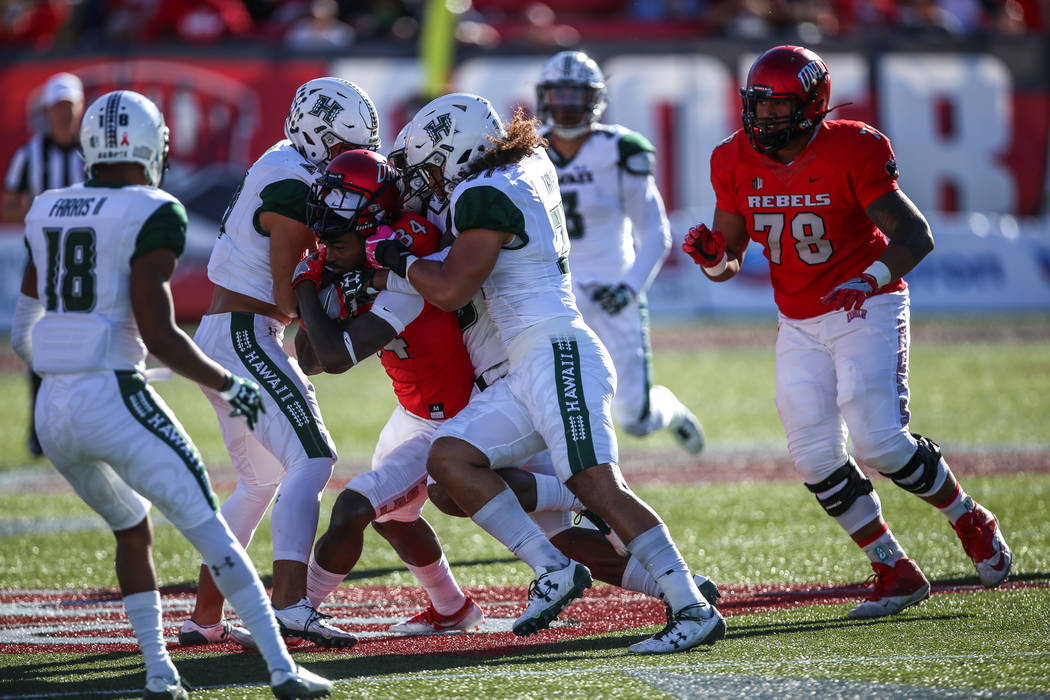 Beau Bell, one of the greatest linebackers in UNLV history, was back at Sam Boyd Stadium on Saturday.
He watched the Rebels' 31-23 victory over Hawaii from the press box, sitting next to seven NFL scouts. Bell is taking part in The Scouting Academy, where is learning details of the job.
"Coming here to UNLV, I wanted to come back home for one, and then getting the opportunity to mirror the scouts and see what they do," Bell said. "I was just talking to some of the scouts here, and every team's different. So I'm learning the general base of it and getting my feet wet to understand more about it. I'm getting real excited because I'd love to get a job like this."
He recently retired from the Arena Football League, going out on a high note. He was named the league's Defensive Player of the Year after leading the AFL with 15 tackles for loss and 13 sacks, and was instrumental in the Philadelphia Soul winning the championship for the second season in a row.
Now, after seven seasons in the AFL, Bell has moved on to the next phase of his career and is the defensive coordinator of the expansion team in Albany, New York.
"There are not many people who can leave on their own terms, and I'm blessed enough to do that," Bell said. "I'm telling myself it's time to go because you don't need to keep banging your head against other men because there's no benefit to it."
Bell was the Mountain West Defensive Player of the Year in 2007, leading the conference with 126 tackles and five forced fumbles. He also made 9½ tackles for loss, including three sacks, and four interceptions.
Hawaii, UNLV each good with onside kick
UNLV and Hawaii each successfully executed onside kicks.
The Rainbow Warriors opened the second half with kicker Ryan Meskell recovering his own kick at his team's 46-yard line. UNLV's defense forced a three-and-out.
"We planned it this week," Hawaii coach Nick Rolovich said. "We weren't sure when we were going to use it, but we wanted to have it ready."
UNLV came back with its own after taking a 21-13 lead with 1:40 left in the third quarter. A Hawaii penalty moved the kickoff to the 50, and UNLV's Darren Woods Jr. recovered the onside kick at the Warriors' 35. Three plays later, UNLV scored to go up 28-13.
"I don't know why people around the country don't do it," Rebels coach Tony Sanchez said. "A lot of times, they line up on the 50 and they kick the ball in the end zone. To me, it's a wasted play because if you don't get it, they get the ball at the 35. So if my gamble is a chance for a possession or give them the ball at the 35, I'm going to take that risk 100 percent of the time."
Guard Caldwell to miss rest of season for Rebels
UNLV sophomore left guard Jaron Caldwell is out for the season after undergoing surgery on his big toe.
The Rebels also were without linebacker Bailey Laolagi and cornerback Jocquez Kalili, who have shoulder injuries. Kicker Daniel Gutierrez was limited because of a quad injury, and Evan Pantels handled extra points and field goals.
UNLV continues stretch of dominating Hawaii
UNLV and Hawaii often play close games, but the Rebels have had the upper hand recently.
They have won four of the past five meetings and five in a row against the Warriors at home.
More Rebels: Follow all of our UNLV coverage online at reviewjournal.com/Rebels and @RJRebels on Twitter.
Contact Mark Anderson at manderson@reviewjournal.com. Follow @markanderson65 on Twitter.