Fremont Cannon turns red as UNLV celebrates tradition
Updated November 26, 2018 - 6:11 pm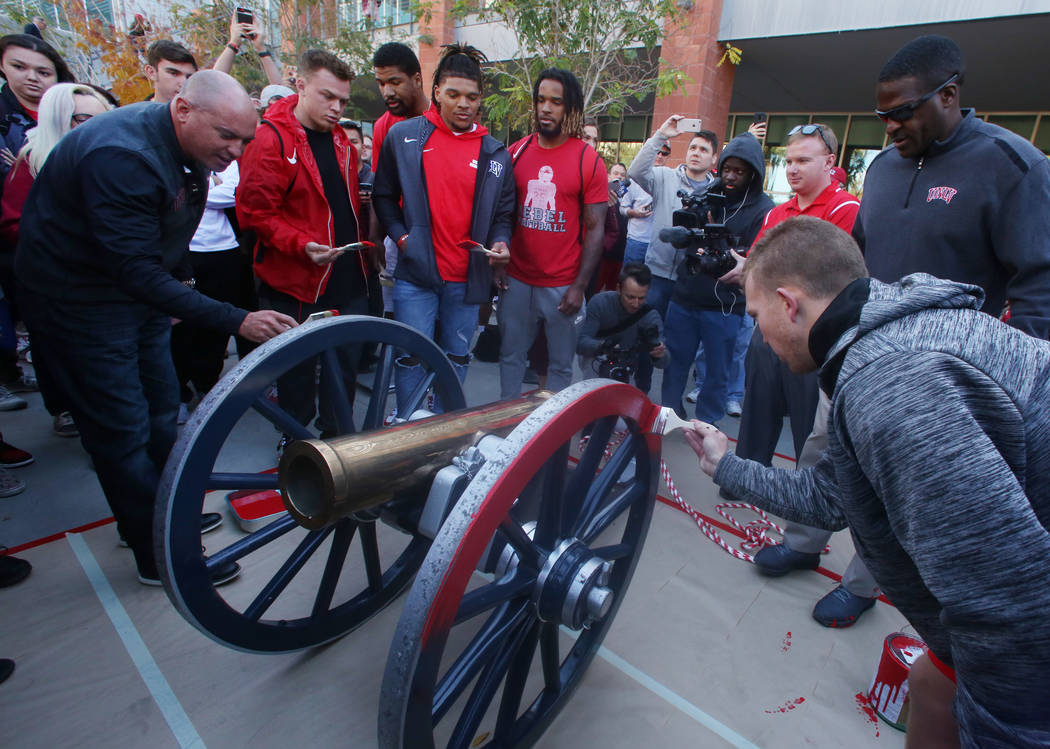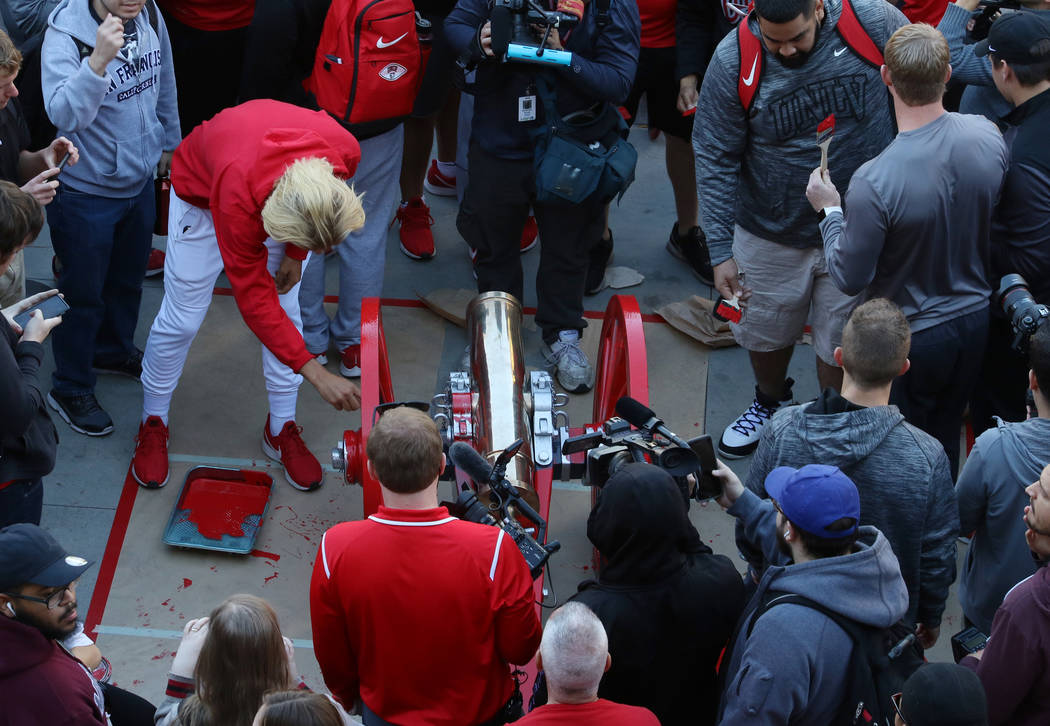 UNLV's seniors were called on to paint the first strokes red.
And so the transformation of the Fremont Cannon from blue began Monday as about 300 people crowded the Student Union with camera phones snapping by players, students and faculty members.
The cannon was now UNLV's after the Rebels rallied to beat UNR 34-29 on Saturday at Sam Boyd Stadium. UNLV ended its season at 4-8.
"This moment is everything," senior defensive end Jameer Outsey said. "You wouldn't want to end it any other way. The season didn't go as we wanted to go, but you know all that hard work and all that effort that we put in all season finally pays off. To give back to this community and the students and everybody that supported us through thick and thin is really an honor."
The 15-minute procession with the cannon began at Lied Athletic Complex, with a UNLV Police vehicle following the team to the student union.
This is the second time in four years the Rebels have painted the cannon red. Temperatures hovered near 60 degrees on this clear, sunny morning as the UNLV band played the fight song and other familiar refrains and cheerleaders made themselves heard.
UNLV won two of its final three games, coming back from 23-0 down to beat the Wolf Pack. It's the largest comeback in program history.
"It shows the toughness and the courage of really the whole program," fourth-year coach Tony Sanchez said. "They understood the situation. They knew that we were a little banged up. We just had to fight through it. It's the best group since I've been here as far as finishing, not running out of gas."
Junior linebacker/safety Javin White made two fourth-quarter interceptions that were critical to UNLV's victory.
"We didn't have the season that we wanted and a lot of people thought we should've had, but we at least got one thing right," White said. "We got the cannon back. That's the best thing we could do right now."
Junior linebacker/defensive end Gabe McCoy said he felt the love from the fans at the game and then at the student union. A crowd announced at nearly 20,000 attended the game.
"To see that many Rebel fans on the field Saturday night meant a lot," McCoy said. "I didn't know we had that much of a fan base, but we do. I hope even more come out and support us next year."
UNLV opens next season Aug. 31 against Southern Utah at Sam Boyd Stadium.
More Rebels: Follow at reviewjournal.com/Rebels and @RJ_Sports on Twitter.
Contact Mark Anderson at manderson@reviewjournal.com. Follow @markanderson65 on Twitter.
Sanchez status 'for later discussion'
UNLV athletic director Desiree Reed-Francois would not comment directly on the status of football coach Tony Sanchez.
"Today is about celebrating our student-athletes and the return of the cannon," Reed-Francois said Monday as the Fremont Cannon was being painted red. "Anything further on personnel is for a later discussion."
The Rebels won two of their final three games and ended their fourth season under Sanchez at 4-8. He is 16-32 overall.
Indications are Sanchez will return next season.
Mark Anderson Las Vegas Review-Journal