UNLV's bowl hopes officially dead after Buffalo comeback victory
Updated December 2, 2022 - 5:58 pm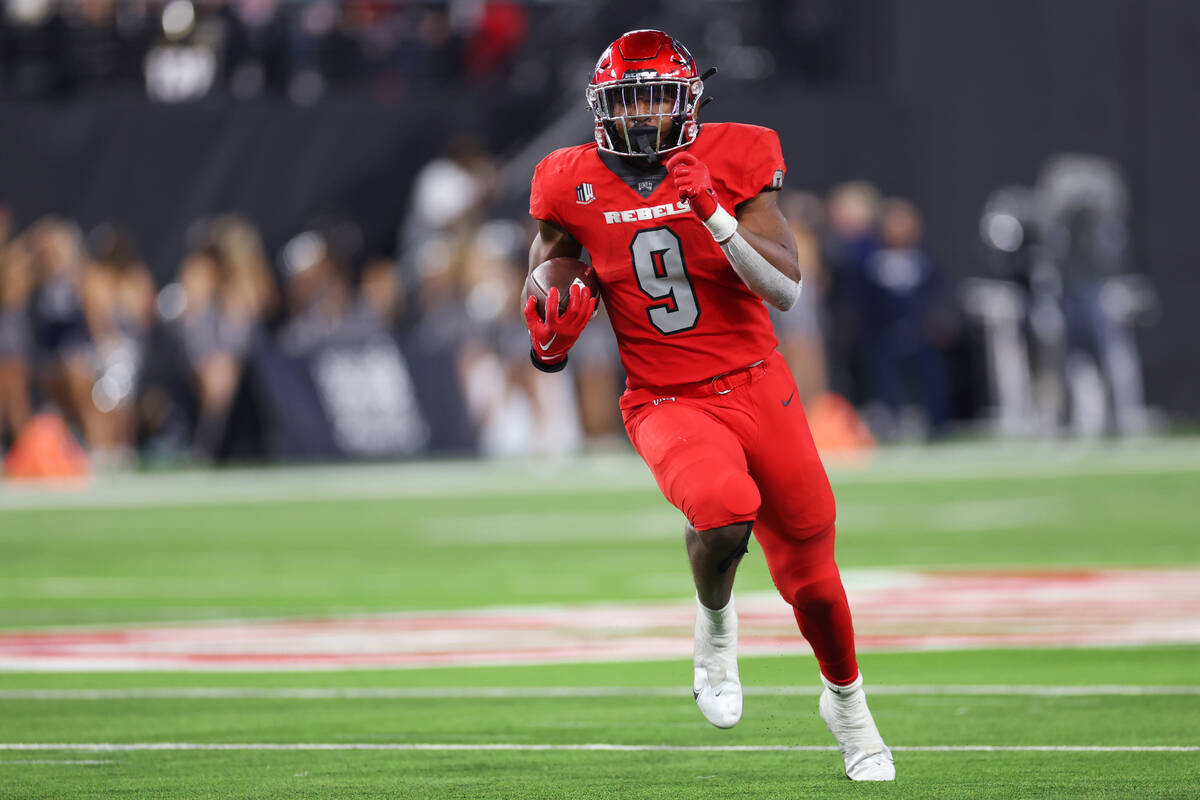 UNLV's slim bowl chances rested about 2,000 miles away Friday, on the arm of the Akron quarterback Jeff Undercuffler Jr.
If Undercuffler led the Zips down the field to score in the final 1:15 against Buffalo, UNLV was going bowling for the first time since the 2013 season.
On the first play, Undercuffler was sacked, and he almost fumbled. The next play, he was intercepted by Buffalo safety Marcus Fuqua, crushing UNLV's hopes of ending a turbulent season with a silver lining.
UNLV was officially eliminated from bowl eligibility Friday, as Buffalo stormed back to secure a 23-22 win against Akron. The Bulls are now 6-6, which earns them an automatic berth for the postseason and means there are now 81 bowl-eligible teams in college football for 82 spots.
The remaining bid will likely go to Rice, the 5-7 team with the best academic progress rate at 994, just ahead of UNLV's 984.
The Rebels (5-7) seemed to eliminate themselves from bowl contention on Nov. 19, after a catastrophic 31-25 loss to Hawaii ensured UNLV wouldn't reach six wins. However, a loophole kept the door slightly open.
There are 41 college bowls that require 82 teams to reach the six-win threshold to appear in them. However, after Week 13 of the college football season, there were only 79 teams who had won at least six games.
The tiebreaker among 5-7 teams to determine who gets to fill the final bowl berths is APR, a number released every year that attempts to hold institutions accountable for the academic progress of their student-athletes.
APR is calculated fairly simply. Each scholarship athlete earns one point for staying in school and one point for being academically eligible. The team's total number of points is then divided by points possible, and then multiplied by 1,000. Each team at an institution gets an individual APR score, and the team's four-year average must remain above 930 to compete in NCAA championships.
UNLV's 2021 APR was 984, tied for third-best in the Mountain West with UNR. Among 5-7 teams, the Rebels were second behind only Rice.
Entering the final week of the regular season, it looked like three five-win teams — Rice, UNLV and Auburn — had a chance to earn bowl bids.
However, there were some stragglers who had chances to earn bowl bids the traditional way. Auburn was eliminated when New Mexico State was given a waiver to earn bowl eligibility with a 5-6 record.
The Aggies played only 11 games this season because their game with San Jose State on Oct. 22 was canceled after Spartans freshman Camdan McWright, 18, was killed in a traffic accident. San Jose State never rescheduled, and New Mexico State argued it exhausted its options after several schools, including UNR, turned down a potential game for Nov. 5.
UNLV then got good news when Army's appeal to include two victories against Football Championship Subdivision teams in its six-win total was denied.
UNLV still needed Buffalo, then 5-6, to lose its rescheduled game against Akron, which entered Friday 2-9. The Zips took an early 9-0 lead, but the Bulls' late touchdown and subsequent defensive stand officially eliminated the Rebels.
Contact reporter Andy Yamashita at ayamashita@reviewjournal.com. Follow @ANYamashita on Twitter.