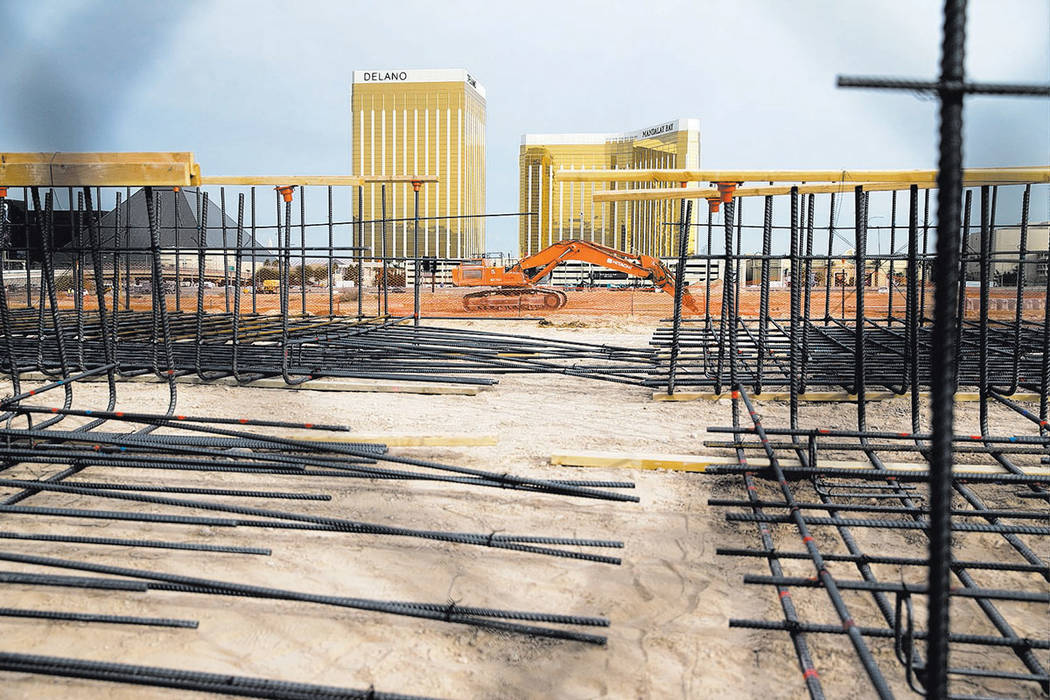 Construction timelines were accelerated for three freeway projects in Las Vegas, including an improvement aimed at relieving traffic congestion near the Raiders stadium site.
The Regional Transportation Commission of Southern Nevada's board of directors Thursday formally agreed to advance the projects as part of an update to a long list of local road improvements planned through 2040.
Just as the Raiders prepare to kick off in 2020, construction is scheduled to start simultaneously on two direct-access ramps that will connect a new carpool lane on Interstate 15 to Harmon and Hacienda avenues.
Those $32 million carpool offramps were to be built in 2035, according to a report released in October 2016 recommending at least $899 million in Las Vegas freeway improvements that should be fast-tracked to accommodate the Raiders stadium.
The domed venue is under construction on a 62-acre plot northwest of Russell Road and Interstate 15.
"Knowing that those probably have some sense of connectivity to the Raiders stadium, and if the county is able to keep the timeline on that season of 2020, isn't that a little late?" Las Vegas Mayor Carolyn Goodman asked during the RTC board meeting.
The construction timeline could be adjusted further, depending on when the ongoing environmental reviews are completed, said Tracy Larkin Thomason, a deputy director for the Nevada Department of Transportation.
Another high-profile project advanced Thursday calls for starting work this year on three more freeway ramps at the Centennial Bowl interchange in northwest Las Vegas. Rather than splitting the work into two phases in 2021 and 2023, the $55.1 million project will be completed in a single phase, RTC and NDOT officials said.
Plans call for building a flyover ramp carrying vehicles from northbound U.S. Highway 95 to the westbound 215 Beltway, a flyover ramp connecting southbound U.S. 95 to the eastbound Beltway and a third ramp linking the eastbound Beltway to southbound U.S. 95, officials said.
The project was accelerated with help from a fuel revenue index tax extension approved by Clark County voters in November 2016.
A third project, previously unscheduled, calls for building the southbound U.S. 95 ramp extension to City Parkway in downtown Las Vegas in 2019 for $16 million. Federal approval is pending, NDOT spokesman Tony Illia said.
As part of the regional roadwork update, the RTC board also increased the cost of two other projects in Clark County.
New ramps to complete the I-15 interchange with the 215 Beltway in North Las Vegas nearly tripled in price from $40 million to $113.6 million, with construction set for 2019.
Plans to widen Blue Diamond Road in a 4-mile area surrounding Mountain Springs Summit, scheduled for construction later this year, increased from $43 million to $60.5 million.
Contact Art Marroquin at amarroquin@reviewjournal.com or 702-383-0336. Follow @AMarroquin_LV on Twitter.