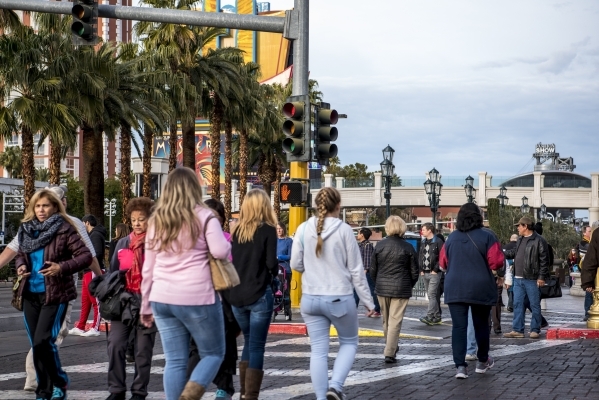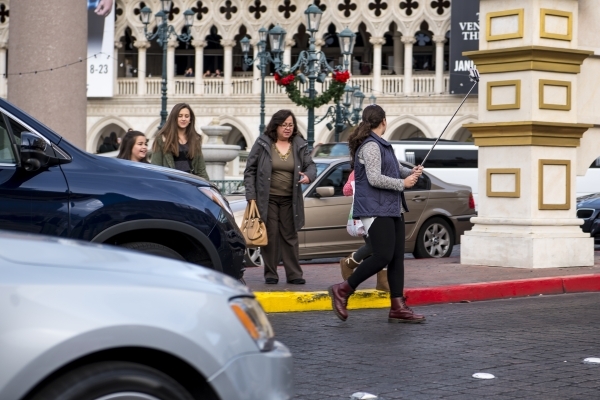 You've heard about all those big-ticket items that are a part of the Regional Transportation Commission of Southern Nevada's Transportation Investment Business Plan.
The light-rail system that would connect McCarran International Airport to the Strip and to downtown Las Vegas.
The possibility that said light-rail system could go underground at least part of the way along Las Vegas Boulevard.
The new stops and extension of the Las Vegas Monorail to connect the city's major convention centers.
The construction of a multimodal transportation center near McCarran.
The transformation of Maryland Parkway into a "complete street" with wider sidewalks, dedicated bicycle lanes, a mass-transit line — possibly another light rail — and landscaping in support of mixed-use street frontage.
But there are other, less expensive solutions embedded in TIBP, the acronym boosters of the plan call it.
Action this month
Policymakers from the Transportation Commission, Clark County, the city of Las Vegas and the state, via the Southern Nevada Tourism Infrastructure Committee, will debate aspects of the plan this month, hoping to find common ground on what ideas make the most sense, which projects are the most pressing and what plans can be effected efficiently with minimal disruption and spending.
Detailed presentations are scheduled before multiple boards and legislative bodies, including the Las Vegas Convention and Visitors Authority this week.
"As with any plan that embodies an ongoing course of work and envisions a journey, this plan is intended to be a 'living' document," Regional Transportation Commission General Manager Tina Quigley says in the plan's introduction.
"The plan serves as a foundational framework that contemplates and embraces continued exploration and development," she wrote. "I am incredibly proud of our community's vision for transformational mobility planning. It promises to contribute a new chapter to Las Vegas' inspiring history … elevating our community as a better place to live, work, play and do business and ensuring our city's greatness for generations to come."
The plan's origins came from a series of meetings by a group assembled by Las Vegas Convention and Visitors Authority President and CEO Rossi Ralenkotter, who brought together transportation and tourism industry stakeholders to consider the consequences of failing to keep up with strides taken by global competitors.
"Rossi told everybody to check their own interests at the door and to keep the whole community's needs in mind during our discussions," Quigley said.
After the committee provided direction, the Transportation Commission staff and consultants took it from there. The result was a 2,365-page document filled with charts, maps and documentation spelling out how Southern Nevada's transportation needs could best be met.
In some cases, the plan offers multiple alternatives and why some options are better than others. The report explains that one project won't fix the entire problem. It also offers return-on-investment analyses to prioritize projects.
And, it also addresses the ramifications of doing nothing.
"Taken alone, any one project will not accomplish the overall goal," the plan said. "Only when strategically implemented with interconnected, complementary projects will we achieve success."
Possible courses
The list of projects is divided into seven "suites" of action:
— Enhancing visitor mobility between McCarran, the resort corridor and downtown. That's the piece that has gotten the most headlines. With building a light-rail system, expanding the Bonneville Transit Center and building a McCarran station to accommodate rail, the plan proposes improving pickup and drop-off points for shuttle buses, taxis, limousines and ride-hailing companies. It also proposes the "Koval-Swenson elevated couplets," a pair of one-way elevated express lanes to McCarran along Koval Lane and Tropicana Avenue and from McCarran on Swenson Street. (The Tropicana portion would be submerged below ground level because it's near the end of two McCarran runways.)
— Improving pedestrian safety and mobility along Las Vegas Boulevard. The plan considers seven new pedestrian bridges over the Strip, including a circular structure at Las Vegas Boulevard and Sahara Avenue — the gateway between downtown Las Vegas and the Strip — and an arced X-shaped bridge with arms to The Cosmopolitan of Las Vegas, Bellagio, Paris Las Vegas and Planet Hollywood. New bridges also would cross the boulevard at Riviera Boulevard, Resorts World Drive, in front of The Linq, in front of the Flamingo, and at the Hard Rock Cafe and MGM Grand. There's also a plan to widen sidewalks to 18 feet where possible and to elevate the sidewalks in heavy traffic areas, particularly where pedestrian traffic conflicts with vehicles turning into resorts. Elevated sidewalks are eyed on the west side of Las Vegas Boulevard at Treasure Island, Caesars Palace, between Caesars Palace and Bellagio, and between Bellagio and CityCenter. On the east side, they would be between the Flamingo and the Venetian and between the Plaza (McDonald's) and Harmon Avenue. The pedestrian safety suite also includes plans to design a wayfinding system that would direct visitors to "districts" within the resort corridor.
— Improving connections between convention and event facilities. The proposed monorail extension, from the MGM Grand to Mandalay Bay, and adding a monorail stop near the Sands Expo and Convention Center, are part of the plan. So are street connectivity and pedestrian enhancements that would include the widening of Koval Lane to include Giles Street and Reno Avenue along the periphery of McCarran; an extension of Howard Hughes Parkway between Flamingo Road and Tropicana Avenue; and the extension of the Swenson-Paradise one-way couplet north to Sahara Avenue, eventually connecting them farther north to the Main Street-Commerce Avenue one-way couplets that are under construction. A "complete streets" makeover also is envisioned for Harmon Avenue and for both pedestrian and transit circulation on Convention Center Drive and Riviera Boulevard.
— Improving connectivity between the core area and workforce population centers. That means high-capacity transit — that could be light rail, bus rapid transit or regional express routes — on Maryland Parkway north and south, Flamingo Road and Charleston Boulevard east and west, North Fifth Street to the north, Valley View Boulevard and U.S. Highway 95, Las Vegas Boulevard South to Blue Diamond Road and the entire Las Vegas Beltway. The plan also considers new park-and-ride facilities at Downtown Summerlin, the Beltway and Flamingo Road, the Beltway and South Decatur Boulevard (Beltway Business Park), North Fifth Street and Centennial Parkway and at Meadows mall.
— Improving core area access from Interstate 15. Three key street connection projects are considered: Valley View Boulevard to Harmon Avenue over the Union Pacific railroad tracks; Meade Avenue to Resorts World Drive; and Martin Luther King Boulevard to Meade Avenue. The plan also endorses the previously announced reconfiguration of the I-15 Tropicana Avenue ramp. It suggests special high-occupancy-vehicle ramps at Meade, Harmon and Hacienda avenues and a direct HOV connection ramp from Interstate 215 to the airport through the unused center bore of the Airport Connector tunnel.
— Improving downtown circulation and access. The plan recommends a downtown trolley circulator, a rail system smaller than conventional light rail. Several street improvements already are in planning by the city of Las Vegas and as part of Project Neon. Road improvements include the "Neon Gateway" HOV drop ramp, a connection between Grand Central Parkway and Industrial Road and an extension of Martin Luther King Boulevard to Oakey Boulevard. The plan also suggests new exits off U.S. Highway 95 near downtown, at Maryland Parkway and at City Parkway.
— Supporting transportation infrastructure coordination and implementation. The plan suggests formation of a Resort Corridor Mobility Association, an organization dedicated to suggesting transportation improvements to the proper government entity for consideration. One of its first priorities could be to develop a transportation navigation program to assist tourists — and locals — with transportation and way-finding options, parking and mobility matters. The plan also suggests breaking up "superblocks," long stretches of blocks along Las Vegas Boulevard, with easements, pedestrian corridors and new roads to reduce congestion.
While the plan is ambitious — and expensive — the plan addresses what happens if nothing is done, which is an option.
"The cost of doing nothing is steep," the plan said. "It means more rush hour traffic at all hours, more time wasted in stop-and-go traffic and more crowded sidewalks in the resort corridor that trigger bad experiences."
The plan estimates allowing the already strained transportation infrastructure to be pushed beyond its breaking point would result in economic losses as visitors find trips more pleasant in other places where it's easier to get around.
The economic damage: $266 million to $2.7 billion on average per year over 30 years.
"These are staggering economic losses," the report said. "Southern Nevada has grown into what it is today thanks to a history of investment in its highways, airport and other key transportation infrastructure that sustain its primary industry. To fully realize its economic potential over the next half century, Southern Nevada must retrace that history and invest in the critical infrastructure so vital to its success."
The Review-Journal is owned by a limited liability company controlled by the Adelson family, majority owners of Las Vegas Sands.
Contact reporter Richard N. Velotta at rvelotta@reviewjournal.com or 702-477-3893. Find him on Twitter: @RickVelotta