McCarran airport envisions glitzy future as hub for international flights
October 2, 2016 - 10:40 pm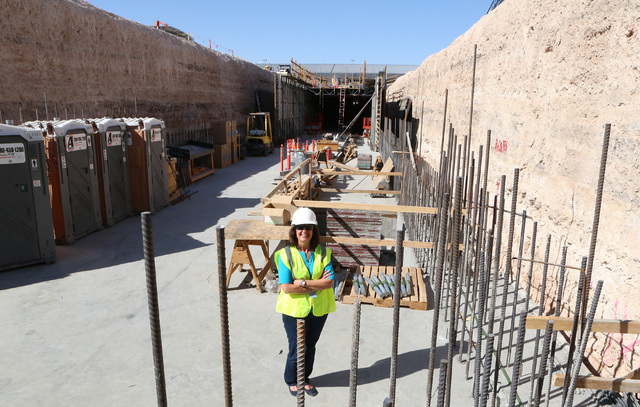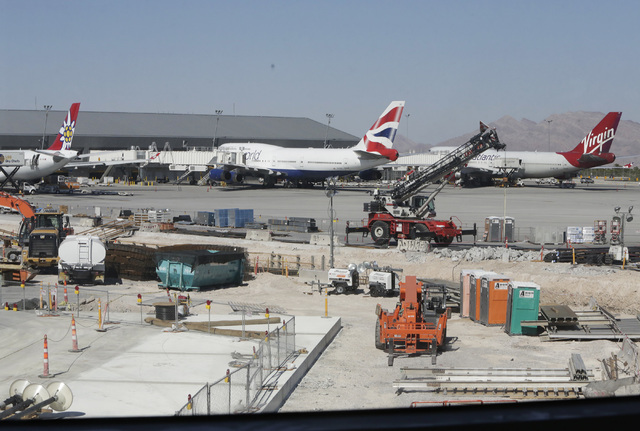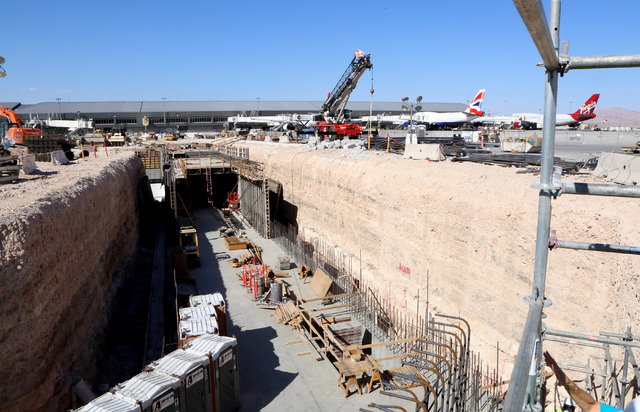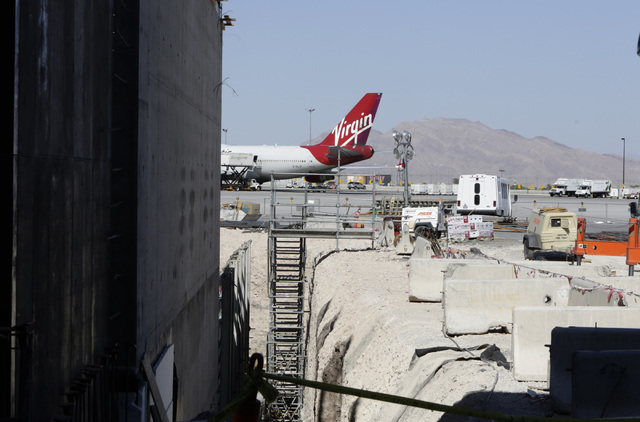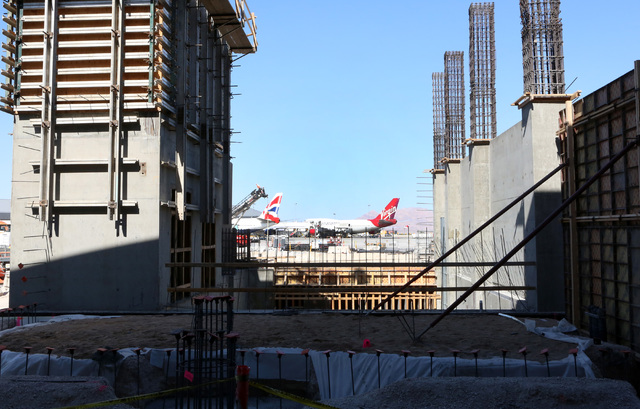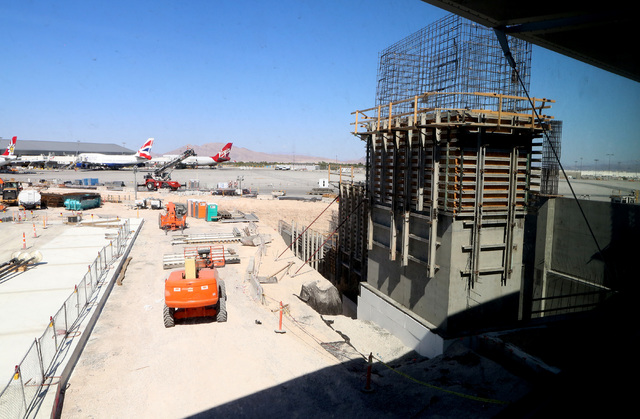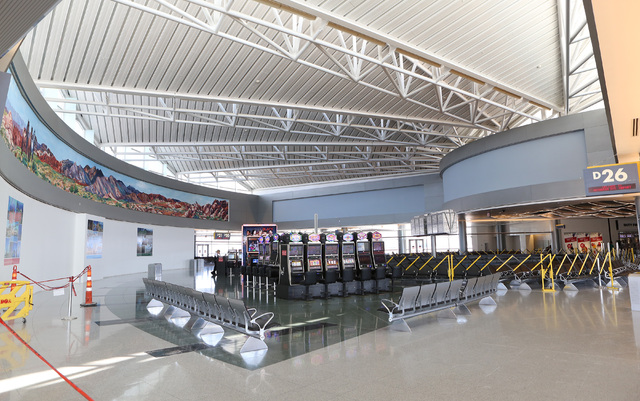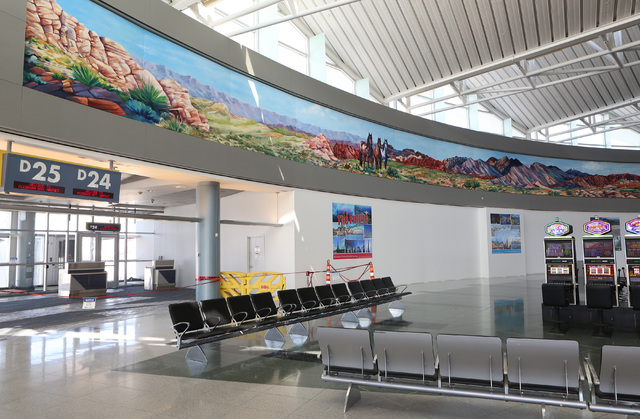 A gust of wind whips through Rosemary Vassiliadis' shoulder-length brown hair as she strolls down a long, dark tunnel under construction deep below the airfield at McCarran International Airport.
The director of aviation for Clark County gestures toward what she envisions as a glitzy future, marked by overseas travelers walking past vintage photographs of Frank Sinatra, Elvis Presley and the Strip gracing the a new, 995-foot-long corridor that will link seven new airline gates to the airport's U.S. Customs and Border Protection station.
McCarran is in the midst of a $51 million project that will double the number of gates available to international air carriers, aimed at attracting additional visitors from around the globe who tend to stay longer and spend more money than domestic travelers.
The hope, Vassiliadis said, is that international carriers will bypass major hubs in Los Angeles, San Francisco and Seattle, thus allowing passengers to start their West Coast trips in Las Vegas.
"This is the best way to get new international gates without building an entirely new terminal," Vassiliadis said during a recent tour of the construction site.
"The demand is here," Vassiliadis said. "I think, right now, this was a very easy project for us to decide to do."
Eight gates that previously accommodated smaller planes within the D Concourse are being converted into seven so-called "swing gates" capable of handling domestic and international passengers.
When completed in May, the seven reconfigured gates will be able to handle wide-body jetliners typically used by international carriers, including the Boeing 787 Dreamliner. One of the gates will be fitted with a dual-level bridge to potentially handle the double-decked Airbus A380.
Glass-paneled walls will keep the area "sterile" for international passengers, who will be guided to the tunnel leading to the Customs inspection area inside Terminal 3.
John Jackson, Korean Air's vice president of the Americas, said McCarran's new gates will give international carriers "a lot of flexibility." In December, the carrier will launch a fifth weekly, nonstop flight between Las Vegas and Seoul aboard Boeing 777-300 jetliners.
"The increase in international gates is important to us and to all the other major global airlines," Jackson said. "It's especially significant to us since they'll now be able to accommodate every wide-body aircraft type that we fly."
International travel is taking off in Las Vegas. More than 3.5 million overseas travelers passed through McCarran last year, a significant jump from 2 million international passengers reported in 2009, airport officials said.
That number is expected to take another giant leap forward next year, with expanded service anticipated from Norwegian Air, Interjet, Volaris and Korean Air, along with Hainan Airlines' new direct flights from Beijing.
Overseas travelers generated an $8 billion impact with hotel stays, dining, shopping and gambling in Las Vegas last year, said Michael Goldsmith, vice president of international marketing for the Las Vegas Convention and Visitors Authority.
"Hopefully those new gates will be full of international flights, which we see as a huge growth market for us," Goldsmith said. "It's very exciting to be involved in international tourism in Las Vegas because the future is very bright."
Las Vegas remains a popular destination in the U.S., with a significant increase in Chinese tourists expected over the next decade, according to a report released last year by Global Market Advisors, a hospitality consulting firm in Las Vegas.
While domestic travel continues to steadily grow, the report said international travel is expected to "increase at a far greater rate."
"With more of these flights, Las Vegas would be on its way to becoming a gateway city for international business activity, goods movement and foreign investment," said Jonas Peterson, president and CEO of the Las Vegas Global Economic Alliance. "More wide-body flights to and from McCarran could be a shot in the arm for economic activity in our region."
Domestic travelers aren't being left out at the nation's eighth-busiest airport. McCarran's Terminal 3 opened four years ago with 14 new gates, while Terminal 1 is undergoing a $30 million renovation with new terrazzo flooring, refurbished restrooms, smaller ticketing counters and other improvements.
Additional upgrades call for covering the famous "McCarran mauve" with sleek silver-colored panels inside the building.
"We always say this is it when it comes to improvements," Vassiliadis said. "But it never is."
Contact Art Marroquin at amarroquin@reviewjournal.com or 702-383-0336. Follow @AMarroquin_LV on Twitter.