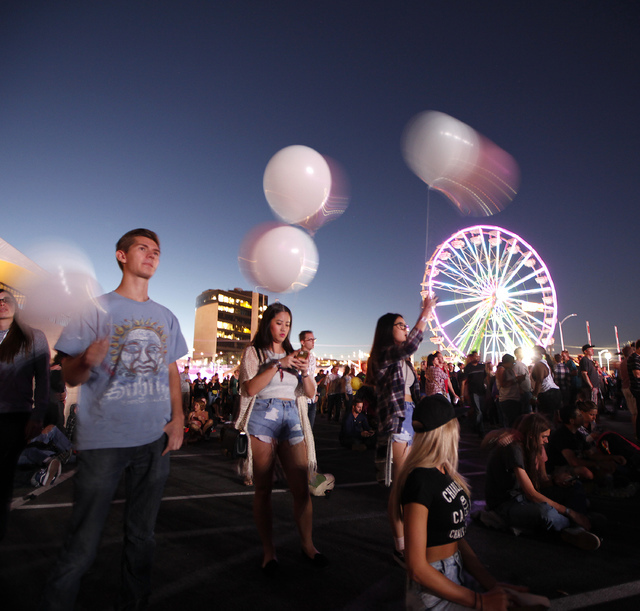 Life isn't going to be so beautiful for downtown commuters, as preparations for a massive music, food and arts festival are prompting the closure of several streets nine days before the event begins.
Starting at midnight Wednesday, downtown streets will be closed in six phases leading up to the opening of the fourth annual Life is Beautiful street fair Sept 23. More than 100,000 people are expected during the three-day event, encompassing 18 city blocks bounded by Mesquite and Bridger avenues and Sixth and 11th streets. The entrance will be at Fremont and Seventh streets.
The first set of closures will cover Mesquite Avenue between Las Vegas Boulevard and Eighth Street, while Seventh and Sixth streets will close between Stewart Avenue and U.S. Highway 95, Las Vegas city spokeswoman Margaret Kurtz said.
Organizers are erecting stages, fences and booths along the closed streets to prepare for the festival, which will feature performances by Mumford &Sons, the Lumineers, Jane's Addiction, J. Cole, G-Eazy and others.
All the streets will reopen in phases over the course of a week after the festival as organizers tear down the stages and booths.
Organizers for the event did not return an email seeking comment.
"It's just a matter of remembering what parts will be closed so it's not a problem for commuters," Kurtz said. "Find an alternate route, and you'll be fine with getting to where you need to be."
Those attending the event can purchase three-day shuttle passes for $45, with pickup offered every 30 minutes at TI and UNLV's Thomas &Mack Center. Information: lifeisbeautiful.com. A cheaper alternative is taking a public bus or the Deuce into downtown, according to the Regional Transportation Commission of Southern Nevada.
Contact Art Marroquin at amarroquin@reviewjournal.com or 702-383-0336. Follow @AMarroquin_LV on Twitter.