Classic stars merit classic automobiles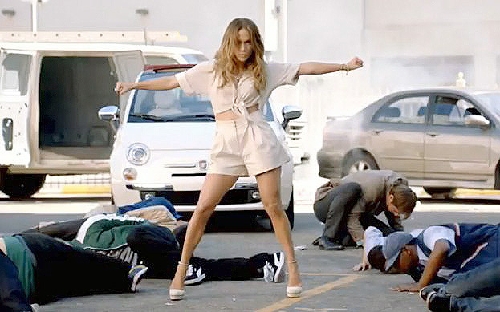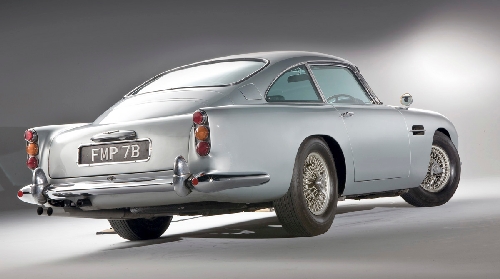 As a girl from the Midwest who grew up on racetracks, loving horsepower and the sound of big engines, I must admit that my heart is still with the muscle cars and classics and likely always will be.
To me, those rides set the tone for what we see today. They are truly art on wheels and completely nailed it as far as aesthetics go. From the vehicles that represent American nostalgia to the European classics, those are the rides that I believe really made a statement and will always have a special place automobile history … just like many stars of the silver screen.
So, when I watched the Academy Awards back in February, I couldn't help but imagine the presenters and the actors driving some of my favorite muscle cars and classics.
Call me crazy, but come along for a little road trip … inside my head.
Yes, he's French, but I see Jean Dujardin, the actor who took home the award for his outstanding performance in "The Artist," in a very British Aston Martin DB5. Although the role he played in movie was all about silence, I think he needs an engine that makes some noise and a ride with charisma to match his. He would be cruising along the Amalfi Coast in southern Italy, showing off that radiant smile, maybe even wearing a scarf, enjoying the breeze with the windows down, waving to his fans (and dodging swooning girls), as he thoroughly enjoys the drive … with the little dog Uggie riding shotgun, of course.
Next up, we all fell in love with Octavia Spencer and the movie "The Help." In her role she exudes a genuine sweetness and innocence, but also a confidence that comes with a drop of the best kind of attitude. The car that keeps coming to mind for her is the 1959 Cadillac Eldorado. This long ride with the famous tailfins and twin taillights is the icon of 1950s Americana. It just owns the road and it's special in its styling and ties in to the era of Octavia's amazing role in "The Help."
I imagine her hard on the throttle with all her friends aboard, making every drive an adventure, and proudly blowing past anyone in her vicinity who succumbs to road rage or is anything but kind.
Moving on to the ever-stunning Jennifer Lopez, we're used to seeing her in commercials for the Fiat 500, which actually kind of suits her. But I think there needs to be more room for her to be completely comfortable. So if I had to choose a classic for her, it would be a charming 1973 Bentley Corniche convertible. This Bentley is my dad's favorite car and the image J.Lo. driving it kept popping into my head. It's glamorous, just like she is, an ultimate classic, and it exudes a drop of diva. I envision her car in pearl white with loads of attention-grabbing chrome. It's perfect, too, because she could either drive or be driven.
Speaking of hotties, Angelina Jolie oozes confidence, and she is fearless and undeniably sexy. While I could see her in many different vintage cars, she really needs to be behind the wheel of something that owns the road, has sex appeal, beholds a hint of darkness and has enough room for that right leg. OK, if you did not catch the Oscars or the buzz it generated afterward, just Google "Angelina Jolie's right leg." Anyway, in my opinion the car for her would be a 1971 Plymouth Hemi 'Cuda in black with a black interior and some sexy 20-inch wheels. And, of course, she needs those four headlights, a distinguishing style feature of the '71 model, to make sure everyone sees her coming.
From hot women to hot guys, Tom Cruise just reinvented himself, looking as young as he did in "Top Gun" 25 years ago. This handsome man on a mission that's not so impossible needs a high-performance car with torque, good looks and a long, proven track record. I could definitely see him in a deep-green 1967 Shelby GT 500. He's a daredevil who insists on tackling his own movie stunts, and he drives fast cars and boats and would undoubtedly want a car that tests the limits. I could see him with that radiant smile and wife Katie Holmes in the passenger seat, taunting the guy beside them at the stoplight in a Ferrari 458 Italia … and blowing his doors off.
In rounding out this story, it seems appropriate to save the best for last. Meryl Streep is an actress whose phenomenal career has spanned decades while remaining consistently strong. She took home a third Oscar this year for Best Actress in "The Iron Lady." I picture Meryl behind the wheel of a vehicle that reflects her classy, beautiful image, one that has spunk and defies time. A car that we never grow tired of. The 1956 Mercedes Benz gullwing 300 SL would totally be the ride for her.
Do you have any other others to add to this story? If so, I would love to hear them. What would you see Cameron Diaz driving? What would Oscar host, Billy Crystal drive?
Among her numerous accomplishments, Courtney Hansen is the author of her own book, the host of Spike TV's "Power Block," the former host of TLC's "Overhaulin' " and a writer with Wheelbase Media. You can email her by logging on to www.shiftweekly.com and using the contact form.