Early voting in primary election begins Saturday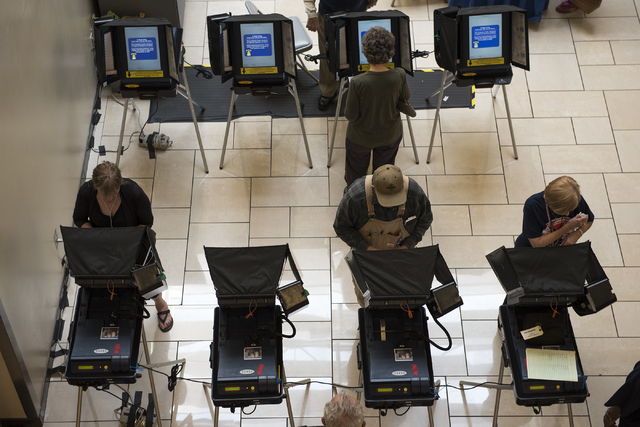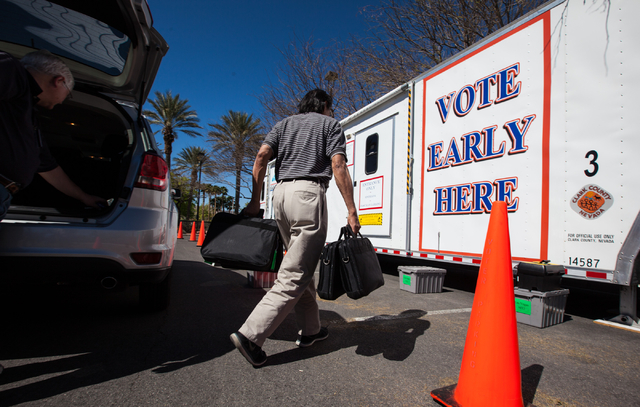 Early voting in Southern Nevada starts Saturday in advance of the June 14 primaries, giving registered voters a chance to weigh in on which candidates should make it onto the November ballot.
Early voting lasts through June 10 and is available at 92 voting sites throughout Clark County. A schedule of early voting times and locations is on the sample ballots that voters receive and available at the county Election Department website: www.clarkcountynv.gov/vote
County officials say more people have voted before Election Day in every election since 2000 and officials expect that upward trend to continue.
Voters who don't cast ballots during early voting can do so on June 14.
Voters can submit a request to the County Election Department for a mail/absentee ballot by 5 p.m. June 7. The request forms are at the Election Department offices and on the department's website.
Only registered voters can cast ballots in the primaries. To see if you're registered to vote, check your registration status by entering your name and date of birth in the "registered voter services" box on the Election Department website.
If the Internet isn't your thing, that's OK. Just call the Election Department at 702-455-8683.
Voter guide coming Sunday
The Review-Journal's Voter Guide will be distributed in Sunday's newspaper.
The Voter Guide, which the RJ has been publishing for decades just before local elections, contains the names, photos, basic background information and stands on important issues of candidates running in the primary election, which is June 14.
It also will be posted online Friday at www.reviewjournal.com/voterguide as part of the newspaper's online examination of the candidates., which includes their answers to RJ questions on three key issues in each race, as well as higher education accomplishments and significant endorsements.
For more information: (702)455-8683