Nevada AG Adam Laxalt opposes gun background check ballot measure
August 17, 2016 - 5:05 pm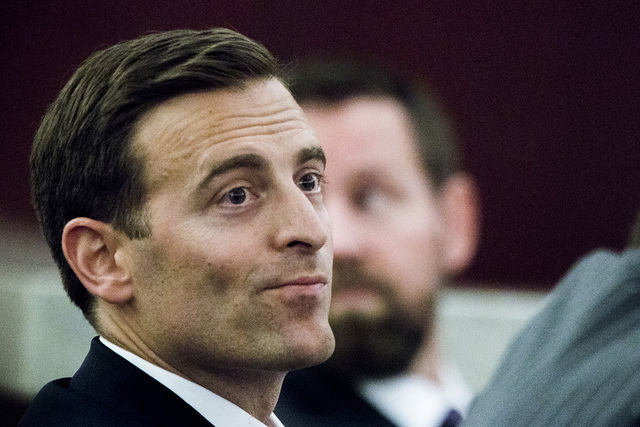 Laxalt opposes measure on background checks
Nevada Attorney General Adam Laxalt on Wednesday announced his opposition to Question 1, a state ballot initiative proposing to expand firearm background checks to private-party sales and transfers.
"As the state's chief law enforcement officer, I take seriously my duty to ensure that my fellow Nevadans are safe," Laxalt said in a statement. "I have carefully reviewed the Question 1 initiative and have concluded that it would not prevent criminals from obtaining firearms and would instead cost Nevadans time, money, and freedom."
Laxalt joins Gov. Brian Sandoval and most Nevada sheriffs in opposing Question 1.
"We are honored that Laxalt would join our grassroots coalition fighting for freedom in Nevada," said Robert Uithoven, campaign manager for the National Rifle Association's Nevadans for Freedom. "Laxalt has always put service to his country and fellow Nevadans first. He knows that Question 1 is part of larger political agenda aimed at restricting our Second Amendment rights and has nothing to do with public safety."
Nevadans for Background Checks said Laxalt's opposition was no surprise.
"Adam Laxalt has been in lock-step with the gun lobby so this comes as no surprise," said Jennifer Crowe, spokeswoman for Nevadans for Background Checks. "However, the research and facts are clear: background checks work, and they have blocked more than 5,300 sales to dangerous people in Nevada in recent years. The vast majority of Nevadans support Question 1 because we take personal responsibility seriously — and that includes the responsibility to keep guns out of the hands of bad guys."
Contact Wesley Juhl at wjuhl@reviewjournal.com and 702-383-0391. Find @WesJuhl on Twitter.