Nevada Blind Children's Foundation summer camp lets kids be kids
August 15, 2011 - 11:20 pm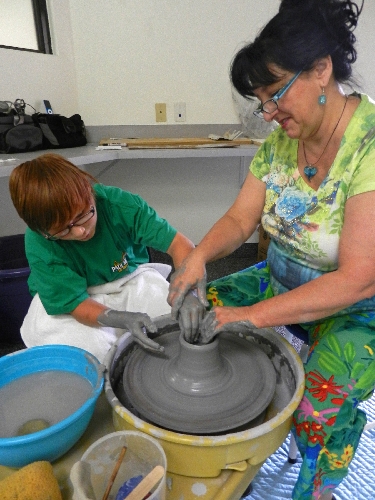 Summer camp includes the fun stuff for children — games such as pingpong and activities such as yoga — and it's no different at this camp, except changing rooms for the next activity means white canes coming out and hands reaching for assistance from sighted helpers.
The Nevada Blind Children's Foundation offers the summer camp to any of the 350 visually impaired children it services in Southern Nevada. This year, 11 attended. Some are totally blind, and some have visual impairments.
Idyll Bishop, 11, is one of the latter.
"I didn't think it would be this fun," he said. "I thought they'd treat me like a little baby, but they don't."
Siblings are encouraged to attend the camp and act as helpers. Brooke Schultz, 11, assisted her sister Breya, 8, who lost her vision at 6 months old.
"Camp is fun for us both," Brooke said. "It's a chance to do stuff that's made for her to do."
Megan Bolton, 15, is totally blind. She sat at a pottery wheel, hands covered in gray clay, grinning as she worked to shape it.
Pottery instructor Valarie McKenzie warned her of a loud sound coming up, which was the clay being thrown on the wheel.
That done, she took Megan's hands and guided them until, together, they had formed a bowl. McKenzie said the children might need a little bit more instruction than sighted children but that the fun factor was just as high.
"They're hungry to learn new things," she said. "Just touching it and working with it is a new experience."
What would Megan be doing if not at the camp? Her shoulders dropped.
"I'd be home being bored," she said.
In another room, yoga was being taught. Like McKenzie, instructor Aileen Epstein-Ignadiou donates her time and talent to the four-day camp. She asked what pets the children owned, then had them do poses such as downward dog. Epstein coached them with verbal cues on where to place their feet or hands, going from child to child to help them out. One pose had the children bending at the waist.
"Like you're going to vomit?" one asked, giggling.
There also were computer games and Braille Twister to play, movies to "watch" and lessons in speaking Chinese. They also learned a bit of history behind Braille writing — it was created during the French Revolutionary wars to avoid becoming an easy target in candlelight.
"So it really is a secret code," Lori Moroz-White, executive director of the foundation, told the children.
Another activity was Power Showdown, a sort of pingpong-meets-air hockey game. The game was donated by a company that came to Las Vegas for a convention. It donated the $3,000 apparatus after it learned Nevada is one of only four states without a school for the blind.
The foundation owes much of its programming to donations. The camp, for example, was offered to the children free.
The Nevada Blind Children's Foundation was formed in 2006 and soon will begin a capital campaign to build a school. It's estimated the school will cost $4 million to build and include way-finding features such as a trail rail, angled walls to enable sound location, textured materials to help delineate areas and resonating wood floors.
The following day, the children were set to be bused to Opportunity Village, where the activities room would become a goalball court. Goalball is a Paralympic sport where the ball has a bell.
Moroz-White said other summer camps for the blind taught cooking, sewing and skills for self-sufficiency. She purposely did not include such things on the curriculum.
"These are kids," she said. "They need to have fun."
For more information, visit nvblindchildren.org.
Contact Summerlin and Summerlin South View reporter Jan Hogan at jhogan@viewnews.com or 387-2949.
Nevada Blind Children's Foundation
For more information about the Nevada Blind Children's Foundation, visit nvblindchildren.org.