North 5th Street arterial unveiling pushed to 2015
November 1, 2013 - 1:05 pm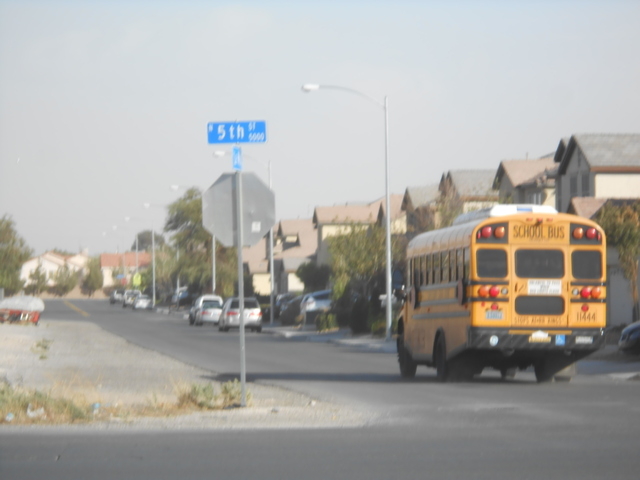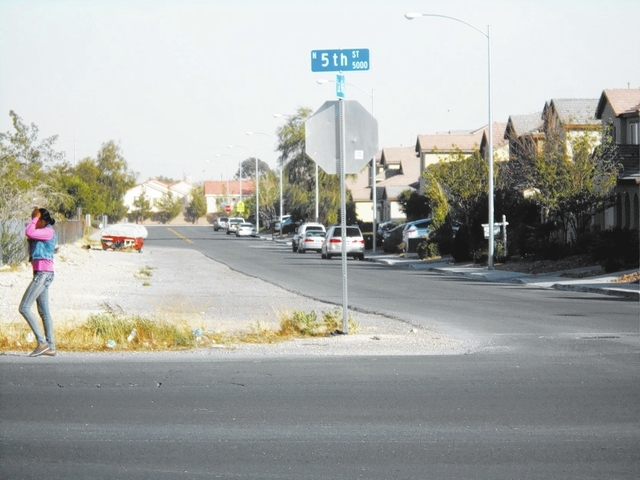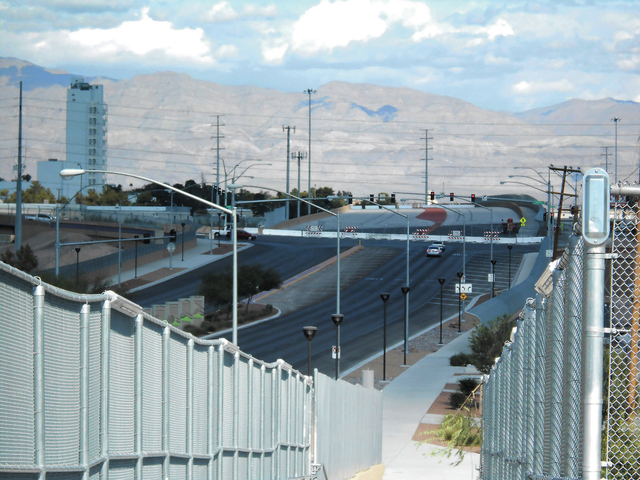 North Las Vegas' nine-figure expenditures on a new City Hall, wastewater treatment plant and regional park have grabbed a lot of headlines over the past few years.
Meanwhile, through slashed budgets and trimmed blueprints, the city's $135 million North 5th Street project has managed to plow ahead more or less unnoticed and just about as planned, according to city Deputy Director of Engineering Randall DeVaul.
That doesn't mean construction on the street, which serves as home to everything from Deer Springs Town Center to RC Farms, hasn't hit a few speed bumps.
Workers wrapped up construction on the first phase of the city's largest-ever roadway improvement project in 2010 but haven't pushed the project beyond the city's downtown redevelopment zone since.
City officials are still in the process of bidding out construction phases set to extend the effort north of Carey Avenue to Cheyenne Avenue, pushing back the projected unveiling of a beautified and widened North 5th Street until 2015.
DeVaul blames a series of state and federal budget cuts for the setback, explaining similar belt-tightening measures have also forced planners to axe a proposed link-up between North 5th Street and the Las Vegas Beltway, as well as a bridge planned to span Losee Road.
The largely state-funded project — once aimed at turning a humble, mostly two-lane stretch of commuter asphalt into a six-lane transport behemoth to rival Interstate 15 — will likely fall short of expectations for a six-mile-long "super arterial" first outlined by Regional Transportation Commission planners in 2004.
But DeVaul said the project still counts as a bargain for city taxpayers, with savings on residents' vehicle operating and maintenance costs expected to quadruple the city's $600,000 investment within just a few years.
"I just think it's a fantastic project," he said. "It is very much still needed, especially with that (Veterans Affairs Medical Center) now operating. We expect to see that support a lot of traffic."
City Economic Development Administrator Terri Sheridan, who was on hand to unveil the project's completed downtown phase three years ago, said the economic impact of two redevelopment district restaurants and a downtown medical office could cover the city's share of costs associated with the North 5th Street revamp.
Of course, those businesses haven't been built yet, though Sheridan expects they won't be long in coming once RTC begins running bus routes up the widened arterial in 2015.
That bus traffic, coupled with thousands of commuters headed to the Veterans Affairs Medical Center — or, one day, a proposed University of Nevada, Las Vegas northern satellite campus — have Sheridan counting the road overhaul among the city's top five development-boosting efforts.
"We know North 5th (Street) will be a driver for original business downtown," Sheridan said. "We know it has increased visibility for Jerry's Nugget, and we know it's going to be one of the focal points in looking at (redevelopment grants) from Southern Nevada Strong.
"I think the city leadership knows that, and so I think it's probably fair to say it's one of the city's top (capital improvement projects) as far as development opportunities."
A lot has changed since the one-time fastest-growing city in the state set out to make North 5th into a street set to handle an expected 100,000 daily commuters.
Even DeVaul admits the street won't soon need to handle all those daily drivers but said the city has long needed a second route to ease congestion on Interstate 15 and Lamb Boulevard, North Las Vegas' only other major route running north from downtown.
He, like Sheridan, said projects the size of the super arterial can often make their own economic weather.
If he's right, city leaders will be glad they saw it through.
"I'm a big fan of building it, and they will come," DeVaul said. "We're building the infrastructure, and I believe that will go a long way to encourage mixed-use development all along the (North 5th Street) corridor."
Contact Centennial and North Las Vegas View reporter James DeHaven at 702-477-3839 or jdehaven@viewnews.com.