Strip retail thriving, becoming more competitive
September 14, 2013 - 6:23 pm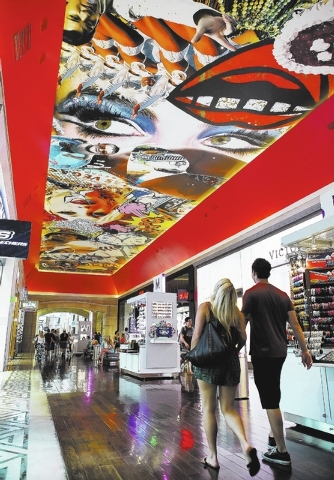 At one stop, you're greeted by strolling Carnevale characters while perusing Herve Leger. At another, a blue sky shines overhead. Down the street, an indoor rainstorm catches shoppers unaware.
Welcome to retail on the Strip.
As Treasure Island plans to begin construction of its new shopping center Oct. 21 and The Linq rolls along, Strip retail is becoming even more competitive. The new center at Treasure Island will be wholly owned by the hotel and is expected to be completed by fall 2014. The entire first floor will be devoted to CVS Pharmacy, the mall's first and only tenant thus far.
Strip-based retail centers are unique in that they cater to a tourist clientele yet attract a strong local contingent. According to a report from the Las Vegas Convention and Visitors Authority, the average visitor spends about $150 on shopping per visit. In 2012, 39.7 million people traveled to the city, and 2013's numbers through July are tracking closely to 2012.
Through June, Clark County taxable sales for clothing retailers were up 4.1 percent from a year earlier to $294.3 million. Bar and restaurant sales were up 0.7 percent to $762 million, while sales in general merchandise stores, including department stores, were up 1.6 percent to $257 million.
"Retail along the Strip is doing very well. Visitors have been spending a lot of money on retail," said Stephen Brown, director of the Center for Business and Economic Research at UNLV's Lee Business School. "A property really can't compete for the upscale visitor if it doesn't have shopping. High-end retail is really what's propelling the growth in taxable sales in Las Vegas."
Visitors don't travel up and down the Strip much because of the distance — except for their first visit, he said.
"Basically, properties that don't have shopping lack a revenue source," Brown said. "Visitors probably won't make that up going to another property."
Janet LaFevre, senior marketing manager for the Grand Canal Shoppes and the Fashion Show mall, agreed that retail is thriving. The former is owned by General Growth Properties and TIAA-CREF, a financial services organization; the latter is owned by General Growth.
The Fashion Show, she said, has transformed into a sought-after retail destination that brands turn to when looking to expand to the West Coast. Meanwhile, both centers have recently welcomed new shops. Grand Canal, for example, is opening Steve Madden, Teavana and Uno de 50. LaFevre has said there's so much demand for the Strip-based shopping centers that finding space for the retailers that want to be here is the biggest challenge.
Enter the new players.
The as-yet unnamed Treasure Island center has a gross leasable area of 46,000 square feet. The hotel is not releasing the project cost, said Michelle Knoll, Treasure Island's senior vice president of communications.
By comparison, the Fashion Show has 1.9 million square feet of leasable space, Miracle Mile offers 475,000 square feet, the Forum Shops has 675,000 square feet of gross leasable area and the Grand Canal Shoppes has 875,000 square feet.
While the first floor of the Treasure Island mall is fully leased to CVS, the other two floors are still available. Knoll said the hotel is entertaining any opportunity, but no, a car dealership is not expected to enter the space.
The Linq, owned by Caesars Entertainment Corp., is an outdoor dining, retail and entertainment district that is expected to open in February with more than 300,000 square feet of retail space. Coming tenants include the Polaroid Fotobar store and museum, Chilli Beans sunglasses, Vanity Style Lounge, The Stomping Grape wine bar, and a Ghirardelli ice cream and chocolate shop.
"I'm always in the mindset to welcome and recognize retail activity on Las Vegas Boulevard in a positive way," said Maureen Crampton, director of mall marketing and business development for The Forum Shops at Caesars. "I really do think it's exciting to see growth. It speaks volumes for the market and the excitement that we bring to the destination."
Crampton said The Linq will add a different flavor to the overall retail mix since it will have more of a festival atmosphere than the luxury experience most of the other malls provide.
Town Square's marketing director, Jaimesen Mapes, agreed: "I think that it's a great thing. It shows the economy is coming back and developers are confident. It's good for everybody."
Town Square has a few large tenants coming soon: Sugar Factory is opening an outpost in the fall in the old Meatball Spot location and GameWorks is scheduled to open this winter, possibly in early 2014. Look Style Society, a 9,000-square-foot day spa and salon, also is slated to open in February near Texas de Brazil.
The center as a whole is performing well, Mapes said. The Container Store and Whole Foods both attract a large contingent of tourists, and Town Square has been able to maintain relationships with time-share developments to the south, which helps.
"It's been mutually beneficial," Mapes said.
From Crampton's perspective inside the Simon Properties-owned Forum Shops at Caesars, the outlook is positive. The center's sales have increased by double-digit percentages this year, and was recognized by Shopping Center Today as the world's top-performing enclosed shopping center, based on sales dollars per square foot.
International visitation to the center is strong, and Crampton has seen an increase in visitors hailing from the United Kingdom and Australia in the last five months.
Shoppers seem to be in a spending mood.
On a Sunday afternoon, shopper Jason Snyder and his wife, Celeste, visited the Forum Shops to take in Las Vegas' sights. The duo from Los Angeles visited Victoria's Secret and planned to eat at Carmine's, an Italian restaurant fairly new to the center.
"We're planning on walking around some more after we eat," Jason Snyder said. "Maybe we'll buy a few things."
The Forum Shops recently opened new-to-market stores including L.K. Bennett, Sandro, M Missoni and Valentino Accessories. Sergio Rossi and Van Cleef &Arpels have opened; RED Valentino is coming this fall. Tod's remodeled and Tory Burch is expanding.
With just a week on the job, Jerry Irwin is the new general manager of the Miracle Mile Shops. He comes to the center from the Fashion Show, where he held the same position. He replaces Russ Joyner, who left to join Federal Realty Investment Trust as vice president and general manager of Assembly Row, a mixed-use development in Somerville, Mass.
In 2012, 26 million people visited Miracle Mile, garnering the center $865 in sales per square foot. Sales per square foot weren't available for the other centers.
"I think there (are) some great opportunities at Miracle Mile," Irwin said. "We're kind of on the corner of Main and Main."
The center aims to be accessible to the masses, instead of focusing on the high-end shopper such as other Strip-based centers such as Via Bellagio, the Shops at Wynn and Crystals that feature stores such as Hermes, Alexander McQueen and Manolo Blahnik.
This fall and winter, Miracle Mile will welcome new tenants Ketchup Premium Burger Bar, Meatball Spot, Shoe Palace and Tervis. Other stores already at Miracle Mile recently have reinvested in their space, including Tommy Bahama, Victoria's Secret, Wyland Galleries and ABC Stores.
As for the state of Strip retail, Irwin said he's optimistic there's enough to go around.
"It's just going to get stronger. … I think it just builds on to the critical mass we're seeing," he said.
Contact reporter Laura Carroll at lcarroll@reviewjournal.com or 702-380-4588. Follow @lscvegas on Twitter.