Summerlin-area residents share their love stories and tales of finding 'the one'
February 11, 2016 - 4:45 pm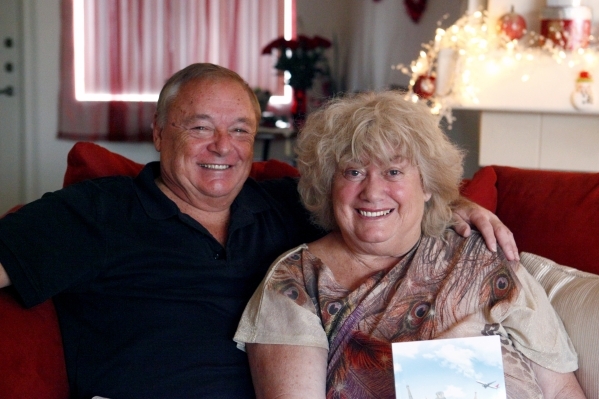 Valentine's Day is Sunday, so View continues its tradition of bringing readers stories of their friends and neighbors who found the right person for them.
Kristen Rocco is the founder of Love Notery, which documents couple's stories of how they met and fell in love.
"Even if you think your love story is straight forward, it isn't," Rocco said. "After documenting countless love stories, I can say that every love story has its own twists and turns that makes it unique and special and worth remembering. That's why putting it into words is so very important. Your love story is the foundation of your life together and creates a meaningful legacy that can be shared for generations to come."
INSEPARABLE FROM THE START
Local residents Rena and Alex Davis had their story documented through Love Notery. Rena arranged to have it done as a surprise fifth anniversary gift for Alex, whom she met when they both lived in Topeka, Kan. Alex's friends came to pick her up for another friend's Kansas City wedding reception. They hit it off so well that their first date, which took place the next day, was longer than most.
"He was going to take me back to my car, which was still parked at the KC Plaza, but he first took me back to my apartment so I could change clothes, and then we ended up grabbing a hangover lunch at Outback Steakhouse, grabbed coffee at the Starbucks in Barnes & Noble at the KC Plaza, then did some shopping at Banana Republic and J.Crew before he dropped me off at my car later that evening," she said. "We pretty much spent the entire next day together."
They continued seeing each other, getting together often.
"Three weeks after we had been dating, we were at a club, and he said to me, 'I think we should date.' I said, 'Isn't that what we are already doing?', where he then said, 'No, I mean only date one another.' "
She agreed, and Alex ended up proposing to her at sunset at Monterey Beach, Calif. Their wedding was a destination one in Ocho Rios, Jamaica. They moved to Las Vegas in May 2014.
NEAR ACCIDENT LED TO ROMANCE
Bruce Cluff and his wife, Jerry, met in 1965 during the Vietnam War when Bruce was in the Air Force for four years.
Jerry drove a brand-new 1962 Oldsmobile Jetfire in the little Colorado town where Bruce was based. They met after he almost hit her with his vehicle three different times in one day.
"I stopped and let this young lady cross the street in front of me, and she said, 'That's the third time you almost ran me over,' " Bruce said. "She was cute."
A couple of days later, Jerry was at the drive-in theater with her friend, and who pulled up next to her but Bruce.
Their first date was also a drive-in movie.
"He's a great kisser," she said.
Bruce was sent to Vietnam in 1966 for six months. Jerry wrote him five or six times a day, but he never answered back.
"I knew he loved me; I knew it was none of this 'out of sight, out of mind stuff,' " she said.
It turned out her father didn't initially approve of Bruce and was intercepting and hiding his letters before she saw them.
But true love endured, and they ended up getting married in October 1966.
The couple, who live near The Lakes, have since made traveling a big part of their marriage. They had a 1969 Chevy Impala and put 400,000 miles on it as they traveled around the country. They ended up visiting all 50 states and 130 countries and islands. Jerry has written a travel book of their adventures called "Jerry's Travel Tips."
HIT-AND-MISS ROMANCE FINALLY RESULTED IN 10-YEAR UNION
Elaine Ruda and her husband, Benny, of Sun City Summerlin have been married for 10 years, but theirs was a reunion punctuated by hit-and-miss moments.
They met in 1981 when they both lived in Chatsworth, Calif. They were living in the same apartment complex and dated, but it was nothing serious. They went their separate ways when she bought a condo and moved out of the complex. Sometime later, she was retrieving her mail at the condo mailbox, when who did she see?
Seems Benny had bought a condo in the same complex.
Elaine said, "I wasn't sure if he remembered me, but I remembered him. Our paths kept crossing like it was fate."
Benny leaned in, adding, "She was stalking me."
That time, they were friends but still nothing serious, as both had children of similar age and both were involved in group activities. Then Benny moved to Florida for five years, renting out his condo.
But when he returned five years later, he and Elaine grew their friendship into more of a romance. Benny said he'd always found Elaine outgoing and caring.
"She was always in the back of my mind," he said. "It was just that there was always something else going on in my life."
Things got serious between them, and he wanted to move to Las Vegas, but Elaine had a job. Fate stepped in again, as Elaine's employer closed its doors, taking her job with it.
The couple decided to "window shop" for a home in Sun City Summerlin and came upon one with a for sale sign outside. Turns out, it was the same home that a friend in Las Vegas had told them they needed to come see. Benny ended up buying it right away, and they moved in together.
"We lived in sin for four years," joked Elaine. "There wasn't a lot of sin, just once in a while."
But the reason they got married was less romantic: that way Elaine could be on his health insurance, and they could also be buried together by the Veterans Administration.
"Forget diamonds, forget furs — I needed a prescription plan," Elaine quipped.
"Hey, I've always been this romantic," Benny said.
"Third time's a charm," Elaine added, referring to Benny's number of marriages.
'THERE WAS JUST THIS ELECTRICITY HAPPENING BETWEEN US'
Summerlin-area resident Rejj Smooth, and his lady love, Al-Yasha Anderson, met at the jazz club Charisma about a year ago during an after-hours jam session. She is a professional singer, and he is a jazz show producer and crowdfund organizer.
They were introduced by a mutual friend.
"I was intrigued by her being from Germany," Rejj said. "She has this beautiful smile and so much joy and light in her face."
When they met, each thought the other was already involved in a relationship. Seems the mutual friend, whom they identified only as "Queen," was giving them erroneous information. But the attraction was evident.
Why did he catch Al-Yasha's eye?
"He was just a gentleman," she recalled. "He looked good, dressed well and was involved with music."
They moved in the same circles and found themselves both working to reopen the Moulin Rouge.
"We were sitting opposite one another, and there was just this electricity happening between us," Al-Yasha said. "We still didn't know that the other was single."
Soon after, when an event called for carpooling, Al-Yasha said she thought she'd be sharing a ride with Rejj. Then, Queen showed up to carpool with them.
"It was really awkward to have them both at my house," Rejj said. "They were nice to one another but kind of an 'icy' nice."
All three ended up taking their own cars, but the evening evolved with Rejj and Al-Yasha having an amazing time getting to know each other after they discovered the other was single.
Things have progressed to them enjoying various activities: They cook together, teach each other foreign languages and are planning a trip to North Carolina where they each have family. After that, it's off to Germany as Al-Yasha will be on tour.
Their next trip? To Puerto Vallarta, Mexico, where they plan to be married.
"Every time I look at her, she's more beautiful," Rejj said.
READER SHARES MOTHER'S EXAMPLE OF TRUE LOVE
Summerlin resident Kwan Yin contacted View with this love story about her parents:
"Growing up in a traditional Asian family, I had never heard my parents say 'I love you' to each other or even seen them holding hands in public. Yet, when my father slowly lost himself to Alzheimer's, I came to understand the workings of love from my mother. For six years, she took good care of him at home through his illness. When I suggested that she admit him into a nursing home, she shot down that idea in a heartbeat. She bathed him, changed his clothes and groomed him every day.
I asked her, 'Why do you do this every day, why not bathe him and change his clothes on alternate days? He doesn't know and doesn't particularly care.' To which she replied, 'But I know and I care.'
This, in spite of the fact that their marriage was not perfect even when he was healthy.
My mother missed the first half of my nephew's wedding because she was trying to get my dad dressed and ease his confusion as to where she was taking him.
It might have been easier on her to leave him at home with hired help. But she wanted my dad to see the wedding of their only grandson even though he probably would forget it soon after.
What should one do when there are no roses, no perfumes, no chocolate, no candlelit date nights, no hugs and no romantic poems? Should one cut loose in search of greener pastures? Or try to make the best of what one does have?
Throughout my dad's losing battle with Alzheimer's, my mom was always cheerful; she bought gorgeous roses, both for herself and for her prayer rituals; she made tasty sweets for the family, enjoyed listening to poetic songs and bought herself perfumes.
Even on days when taking care of my dad made her tired, she would make his coffee just the way he liked it and handed it to him with a smile.
Love means sacrificing for the higher good and being present for those who depend upon our unconditional love. My mother showed me what love is, through her actions, not words."
— To reach Summerlin Area View reporter Jan Hogan, email jhogan@viewnews.com or call 702-387-2949.