Trapeze Las Vegas founders honor circus school pioneer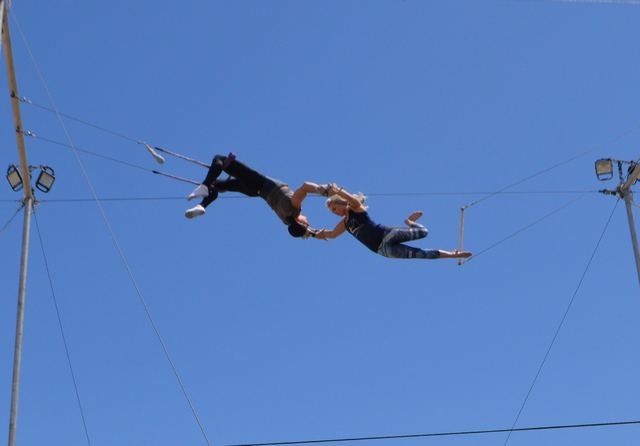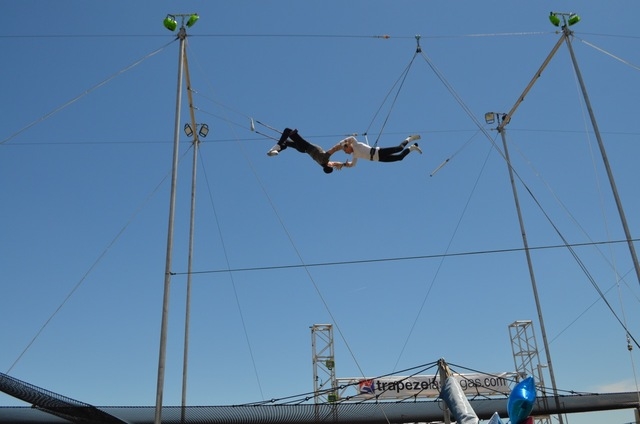 Professionals and amateurs alike owe a debt of gratitude to flying trapeze pioneer Bob Christians. According to Trapeze Las Vegas co-founder Stephan Cote, Christians was the father of flying trapeze schools all over the world.
"Originally, to become a professional, you pretty much had to be born into a flying trapeze family, and Dad would teach you how to do it," Cote said. "So, all the acts were family acts."
Christians broke that mold. He was a Colorado state champion in gymnastics high bar. He spun those skills into a fling with an amateur trapeze troupe in Denver and went on to train in circus arts at Florida State University.
"He was such a good trapeze artist, he made it all the way to the Ringling Bros. and Barnum & Bailey Circus," Cote said.
But what made Christians special was that he didn't stop at performing.
"One day, when Club Med, a chain of resorts all over the world, approached him about bringing flying trapeze to their resorts so that the staff could perform for the guests, Bob thought, 'We could do a lot better than this.' "
Christians had seen an act at Circus World in Orlando where performers would bring people out of the audience to participate in the show. He decided he could do something like that at Club Med.
"So he told them he would bring flying trapeze over there, but he would do it only if he could teach the guests," Cote said. "Everybody going on vacation at a resort would have a chance to fly on the trapeze, something that had never really been done before."
Club Med launched its first program in the Bahamas around 1985.
"That was the first time that someone could fly on the trapeze and experience in a very safe way the same things they had seen in the circus," Cote said. "The program was such a hit that they wanted to open that up in many of the resorts."
Cote and his wife, Lisa, met thanks to the resort program. She was working as a physical education instructor at Club Med.
"When you work at Club Med, you're allowed to do all the sports when there's nobody in line," Lisa Cote said.
She was eager to try trapeze.
"I couldn't get enough of it," she said. "It was something that wasn't baseball. It wasn't badminton. It was something new I was kind of good at without even realizing. Not great but good enough."
The Cotes went on to perform and teach all over the world before settling in Las Vegas.
Stephan Cote said circus arts didn't just have an impact on his family: He is convinced the circus and Christians had an impact on countless lives.
"Not only did he put this program together, Bob was a man who believed that the circus could make a difference in everybody's life," Stephan Cote said. "He thought that everybody had a place in the circus. And he wanted us to make everybody feel very welcome and give them the confidence and have a chance to try something they never had a chance to do before."
The Cotes decided to give that chance to anyone who was interested as they joined with about 20 other trapeze schools around the world to put on a Bob Christians Day event May 1 in memory of the trapeze pioneer who died at 75 last August.
In Las Vegas, the event launched with Trapeze Las Vegas student and instructor demonstrations at Trapeze Las Vegas' outdoor location at 121 E. Sunset Road. The bulk of the school's classes are held indoors at its studio at 6280 S. Valley View Blvd., Suite 338. But the flying trapeze rigging at 2¼ stories high is too big for most buildings.
"Maybe RC Willey," Lisa Cote joked.
As commercial jets buzzed overhead at the outdoor location near McCarran International Airport and the Sport Center of Las Vegas, instructors and longtime students took to the trampoline wall and the trapeze. They also demonstrated juggling, stilts and tightrope walking.
Student stars included chiropractor Paul Green, who started classes at 65. Now 68, he trains two or three times a week.
"He has performed some pretty amazing tricks," Stephan Cote said. "A few weeks ago, Paul was probably the oldest amateur to ever catch a double back somersault, a very, very difficult maneuver that few amateurs have a chance to accomplish, let alone at 68 years old."
After the demonstration, the Cotes invited anyone in the crowd who was interested to sign a waiver and try out the trapeze free.
"We're going to do something Bob has done for us," Stephan Cote announced. "We're going to give back. We want to give back to you, the same way Bob has given to us."
Kids as young as 4, parents and even a grandparent or two scaled the ladder and swung out on the trapeze bar. One safety harness was used for the ladder climb, and another set was secured before each flyer left the platform above.
"Taking a swing is an amazing accomplishment by itself," Stephan Cote said. "So anybody who does that, in my book, has accomplished something. However, we're going to help them to see if they can get into the next phase, the next position, which is to hang by their knees and take their hands off."
After each flyer swung out a few times, they were encouraged to jump or even flip into the net waiting below. Many went up three, four or more times, getting better each time.
"Eventually, if they come back for one of our regular classes, they'll be able to do a catch, where one of us instructors will be up there on the catch bar waiting for them, and they'll be able to transfer from the fly bar to the catch bar," Stephan Cote said.
Trapeze Las Vegas offers high trapeze classes Tuesdays, Wednesdays, Fridays, Saturdays and Sundays. Inside the Valley View Boulevard studio, the school offers daily classes in a variety of circus disciplines from juggling and trampoline to kinder circus and circus summer camps.
Visit trapezelasvegas.com or call 702-551-4858.
Contact View contributing reporter Ginger Meurer at gmeurer@viewnews.com. Find her on Twitter: @gingermmm.
Trapeze Las Vegas
Address: 6280 S. Valley View Blvd., Suite 338; the outdoor location is at 121 E. Sunset Road.
Information: Visit trapezelasvegas.com or call 702-551-4858.