Trump takes Nevada GOP caucus
February 24, 2016 - 2:46 am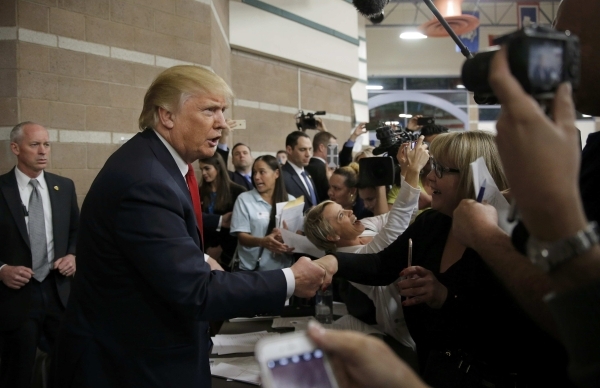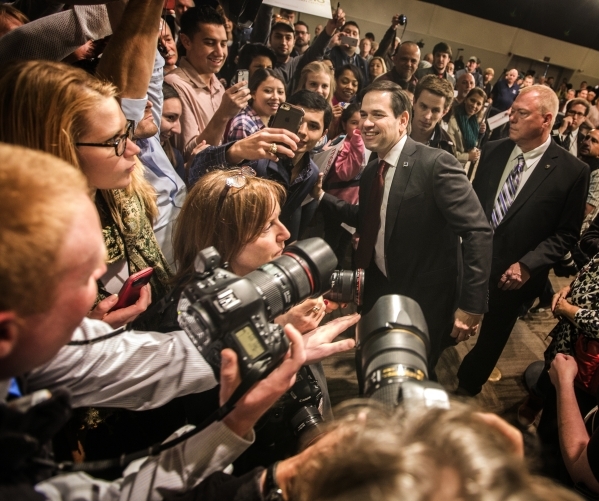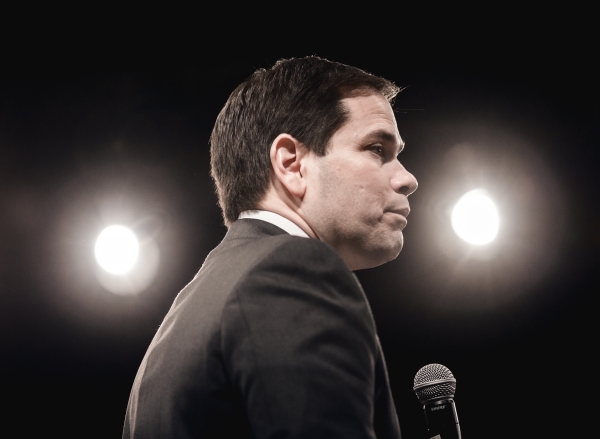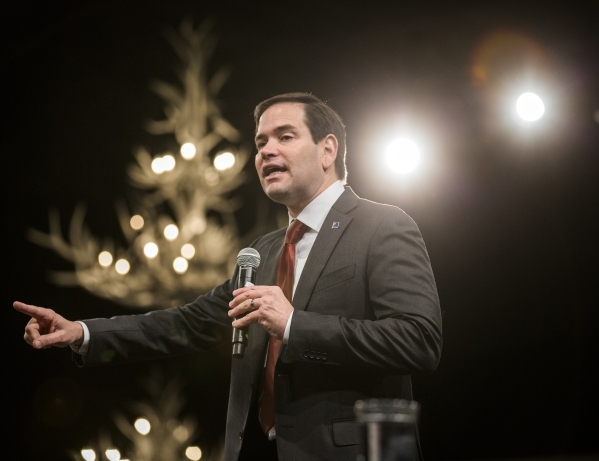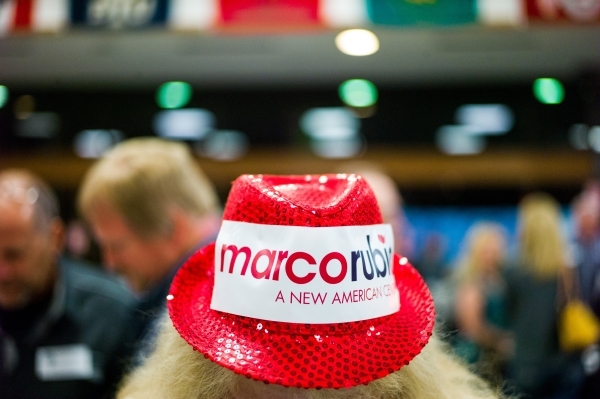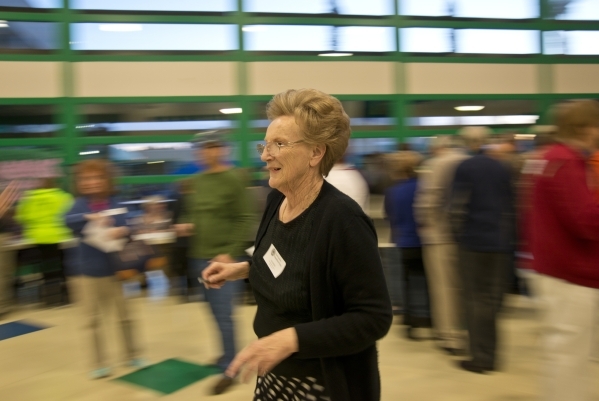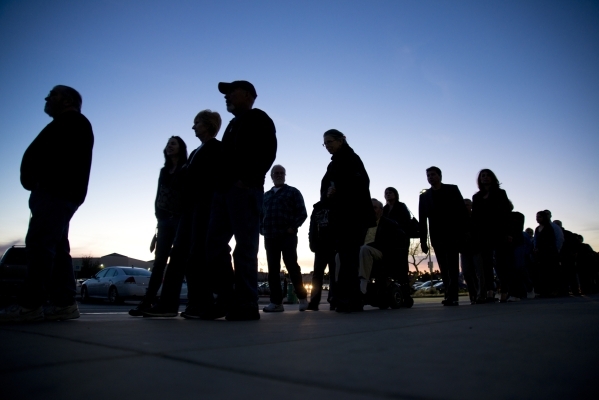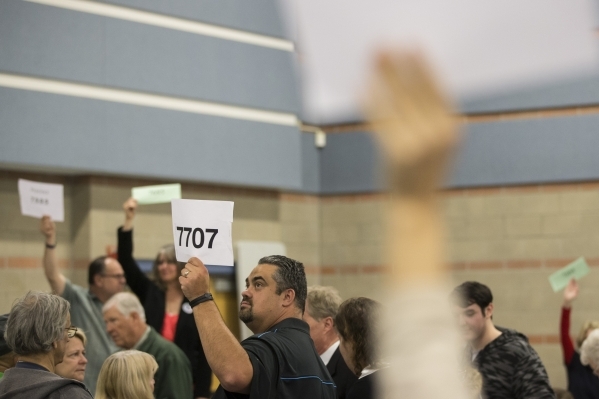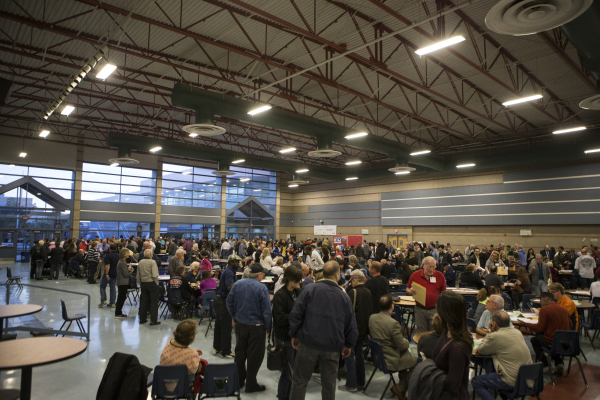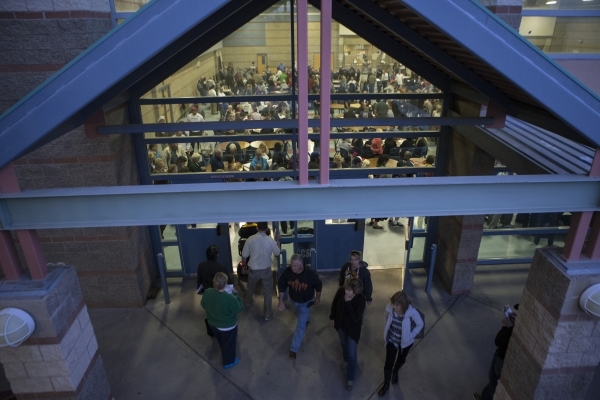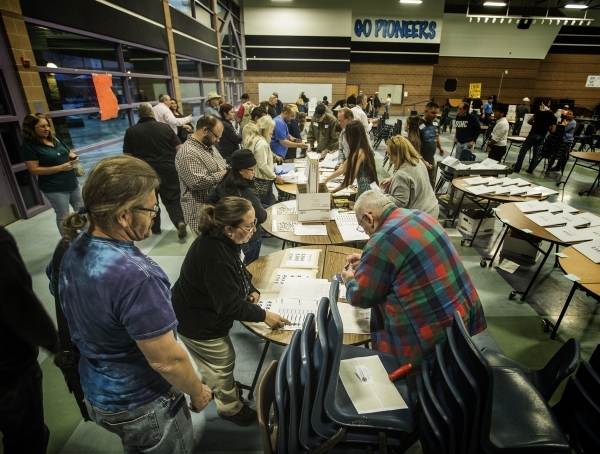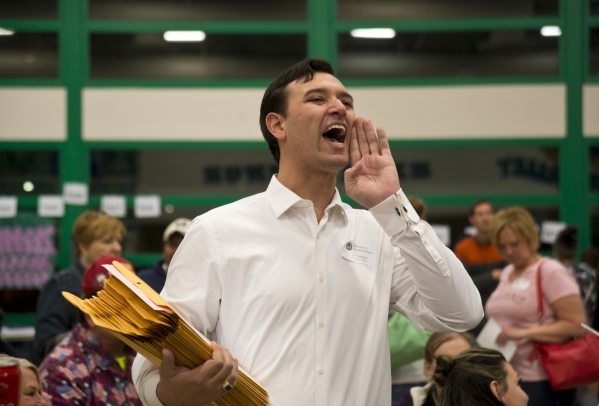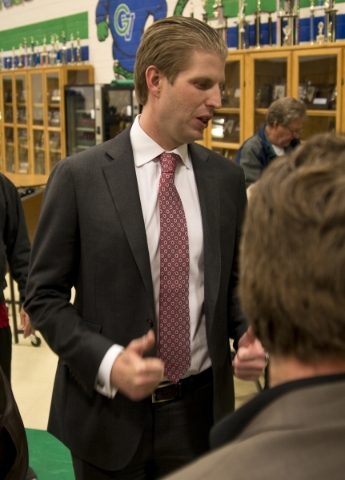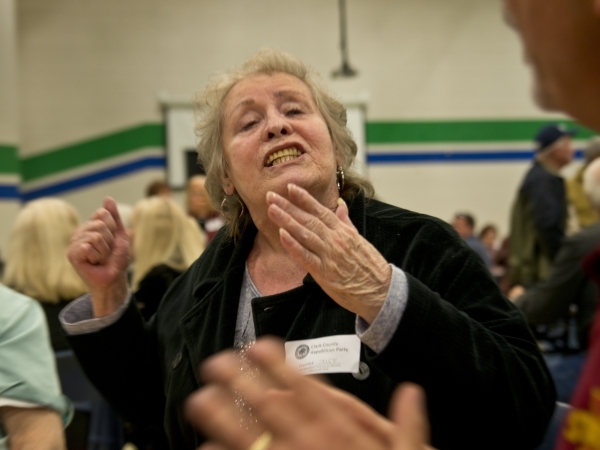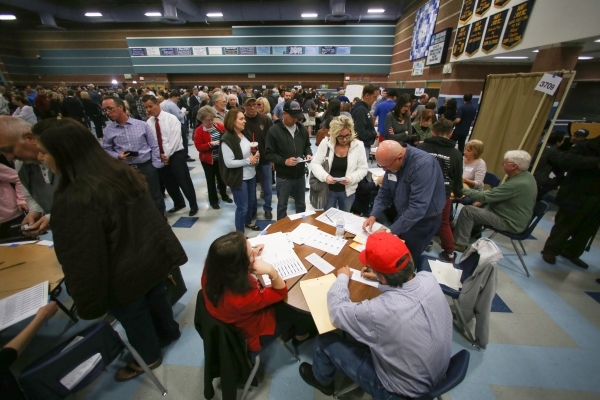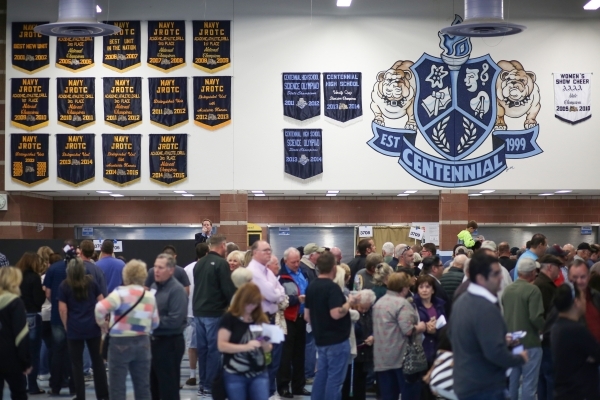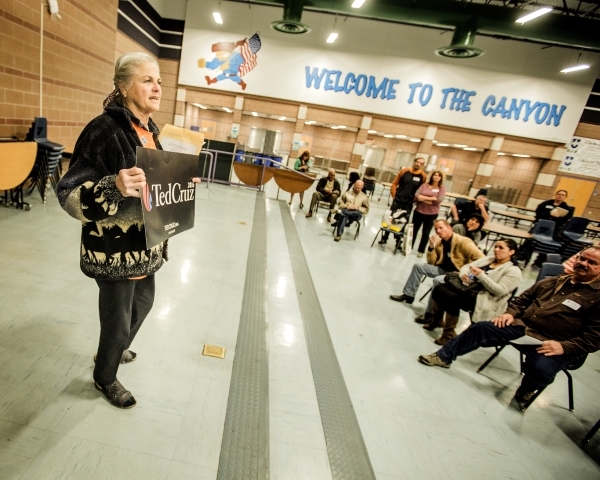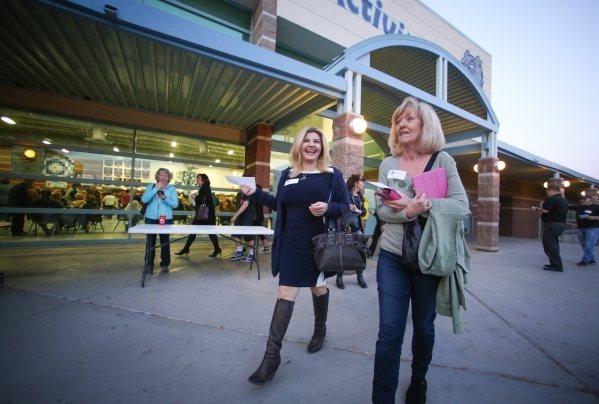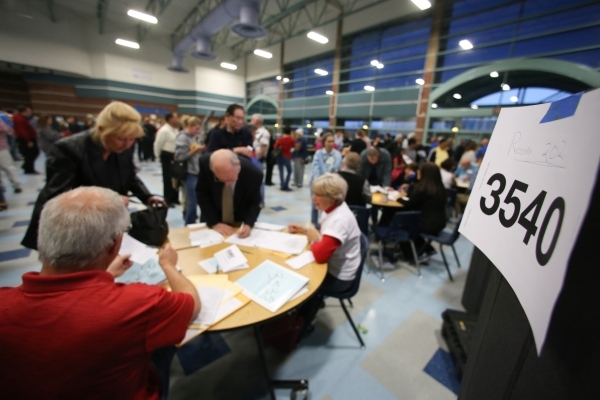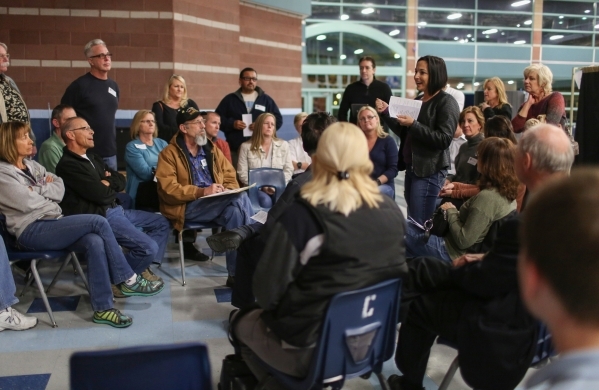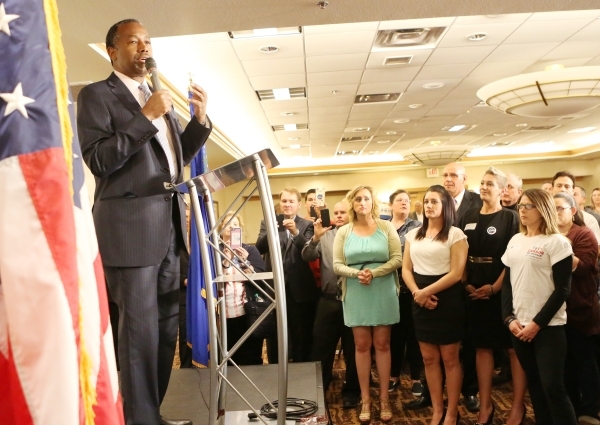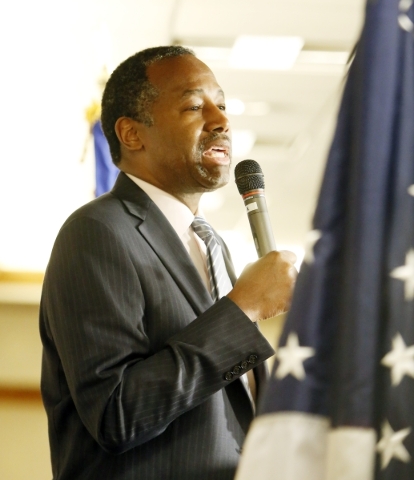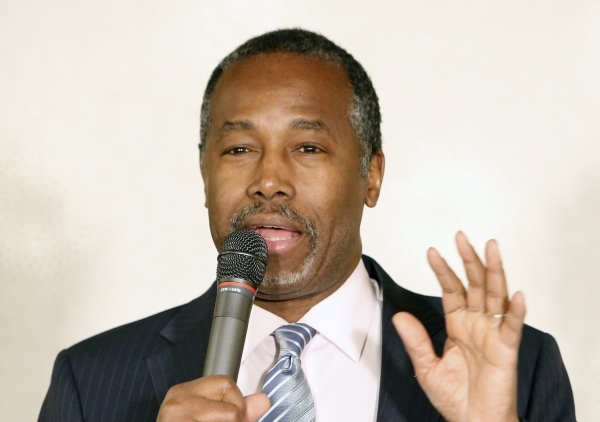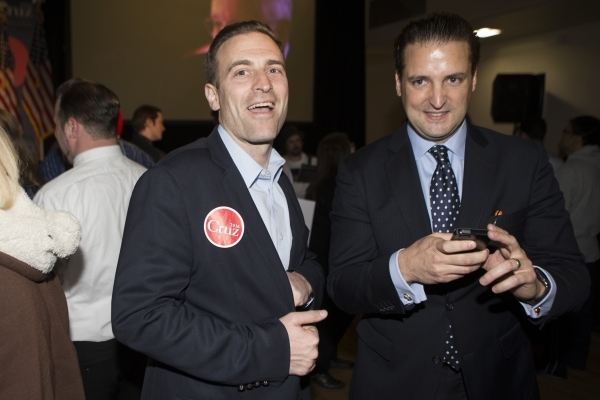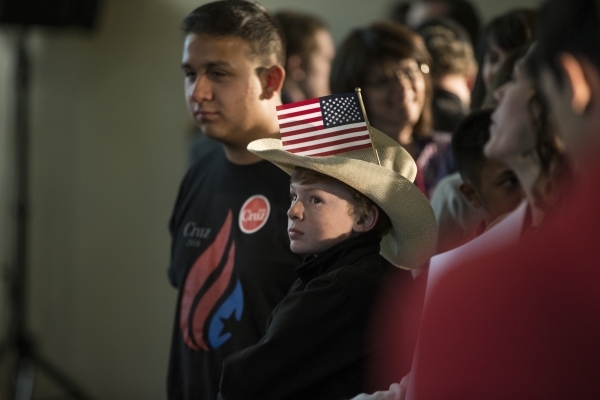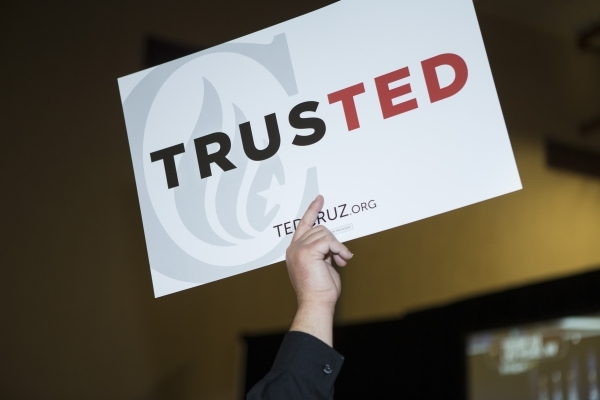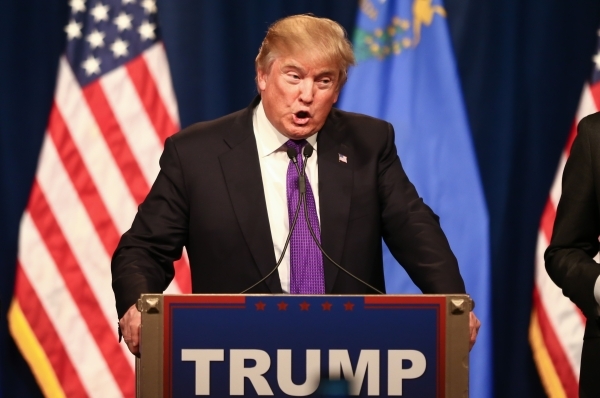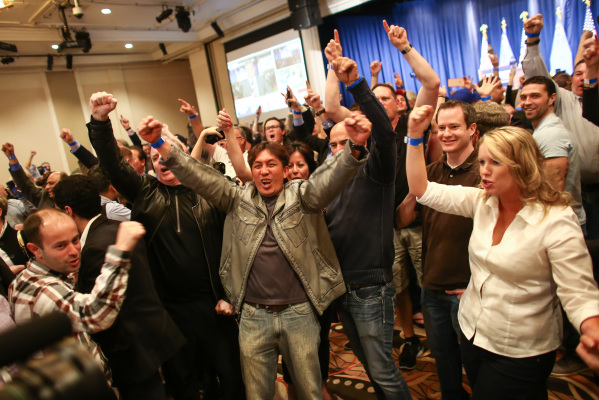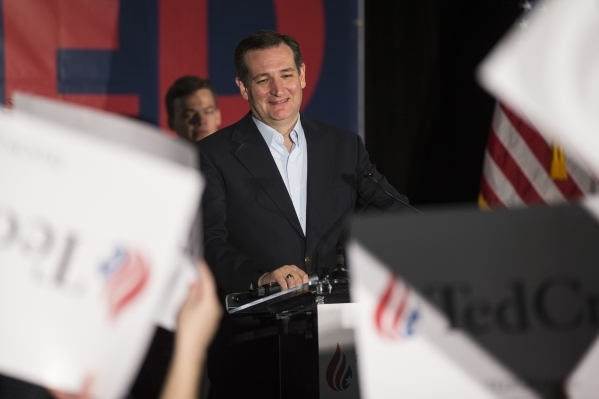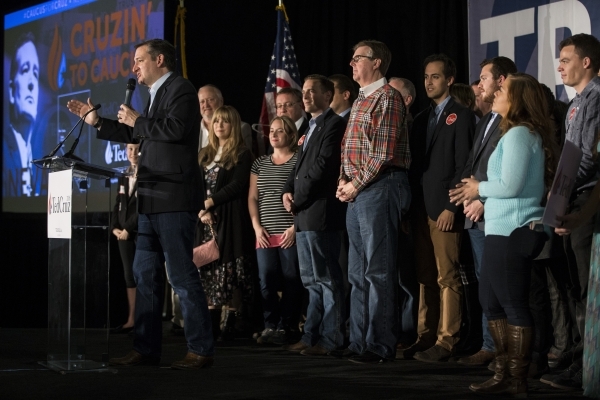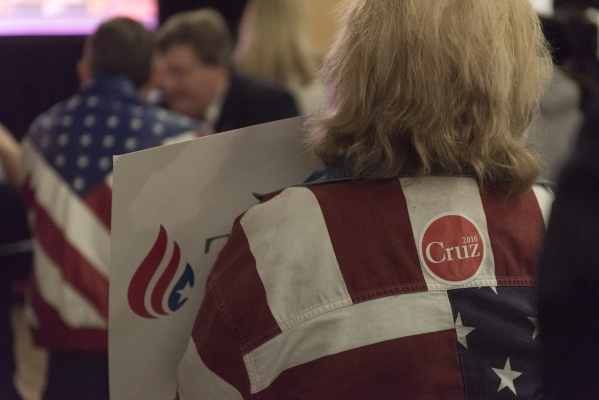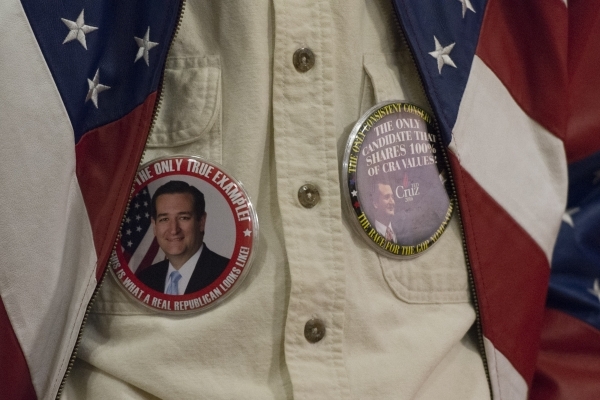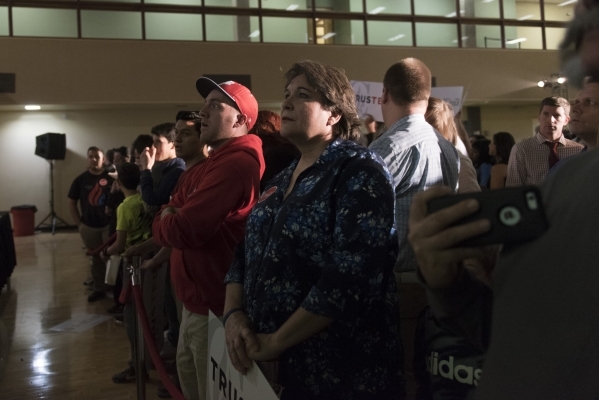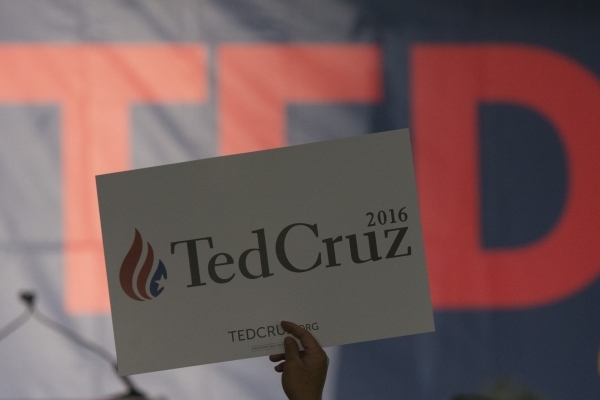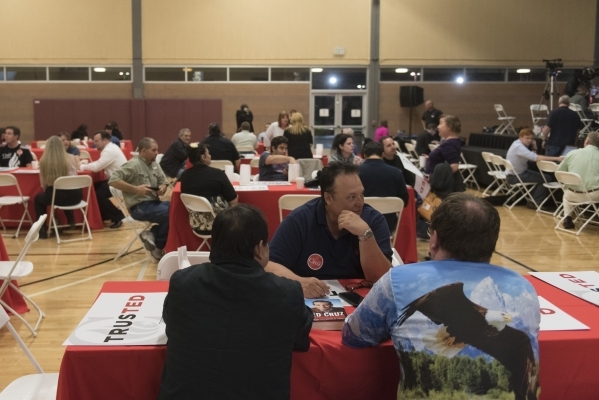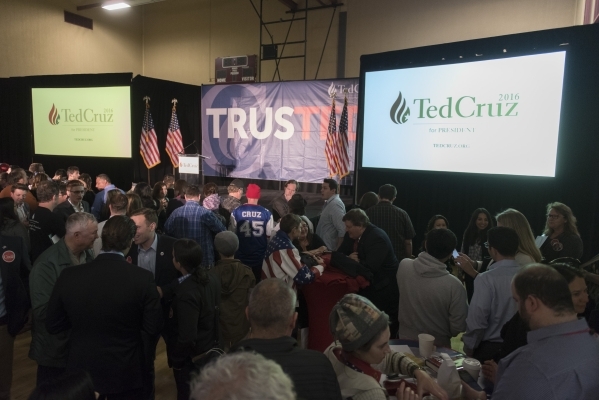 Minutes after the Nevada Republican caucus sites closed and hours before the votes were even counted, the result was already clear: Donald Trump won.
It wasn't even close.
Fox TV projected Trump beating U.S. Sen. Marco Rubio 42 percent to 22 percent at 9:02 p.m. Reuters, MSNBC, the Los Angeles Times and The Associated Press made similar calls.
A crowd in a packed ballroom at a Trump watch party at Treasure Island erupted into raucous cheers after CNN projected Trump the victor.
Around 2:30 a.m., with 100 percent of precincts reporting, The Associated Press had Trump winning 45.91% of the vote.
Following him were Rubio with 23.85 percent and U.S. Sen. Ted Cruz with 21.38 percent. Retired surgeon Ben Carson had 4.81 percent and Ohio Gov. John Kasich had 3.6 percent.
Trump dropped by to claim victory at 10 p.m.
"We love you, Nevada," Trump said as the crowded erupted.
He acknowledged friends in the audience, including TI owner Phil Ruffin and Wynn Resorts Ltd. CEO Steve Wynn.
It was the third straight win for Trump, coming after he won the New Hampshire and South Carolina primaries.
"You're going to be proud of your president, and you're going to be even prouder of your country," he said.
Trump also poked at naysayers who predicted his campaign would lose momentum. He repeated his oft-stated pledge to build a wall along the Mexican border and make Mexico pay for it.
"We're going to have our borders nice and strong," he said. "We're going to build the wall."
Heavy early turnout
Heavy turnout was reported at numerous caucus sites in the Las Vegas area early Tuesday night, though some shortages of blank ballots were reported. In most cases more supplies were quickly delivered.
Jeremy Hughes, a Nevada strategist for Rubio, said he heard about extensive problems at sites across the state. He said at his own caucus in Clark County, volunteers were checking in voters without seeing their IDs, including one member of the Rubio team. Hughes said he reported the violations to Sue Lowden, the former chairwoman of the Nevada Republican Party who happened to be at that caucus site, and she reprimanded the woman.
"We assume that situation was resolved," said Hughes.
Hughes later contacted the Review-Journal to say that after talking to others and the party he does not believe there was fraud.
The Nevada Republican Party, seemingly recovered after a three-day delay in vote counting in 2012, was happy to tweet that "There have been no official reports of voting irregularities or violations," it tweeted.
Trump visits caucus sites
Trump, considered the front-runner in the presidential race, visited several caucus sites, including Palo Verde High School. He came with a full entourage in several black SUVs, with security and a large mobile electronic billboard.
Summerlin resident Mark Greenberg, who stopped by the caucus with his son, a Palo Verde freshman, was one of the many who had a chance to chat and snap a photo with Trump.
Greenberg said he told Trump, "I've never seen anything like it — one of his expressions he always uses, and he said, 'Isn't it something? Everywhere I go it's like this."
"I said, 'Keep up the good work,' and he said, 'I won't let you down, man,'" Greenberg said.
Asked if he would support Trump, Greenberg said, "Don't know yet. Really don't know yet."
He didn't participate in Tuesday's caucus, he said, noting that "I did on the Democratic side."
One caucus day oddity involved two people dressed as Ku Klux Klan members wearing white robes and hoods quietly protesting in the parking lot of Cimarron-Memorial High School, where caucuses were taking place. They carried signs that mentioned Trump, but their intent was unclear. In one tweeted photo, police officers stood watch nearby.
The caucus was a closely watched contest key for GOP presidential candidates. It's the fourth early-voting state for the GOP, following Iowa, New Hampshire and South Carolina, and the first test in the West.
Nevada's Republicans came across as unhappy with the political establishment and ready to put an outsider in the White House.
Nearly 6 in 10 arrivals at the Nevada caucuses said they are angry at the way the government is working, according to an Associated Press report on entrance polls. Another third said they are dissatisfied with the government.
Those early arrivals are most likely to say the top issues facing the country are the economy or government spending, each listed by about 3 in 10, AP reported. Immigration and terrorism were each chosen by slightly fewer — about 2 in 10.
The other candidates
Rubio held a rally at the Silverton on Tuesday morning.
He said he'd work to unite and grow the Republican Party, stressing his roots as the son of Cuban immigrants who worked as a bartender and maid.
"It can't just be about electing the loudest person in the room because that alone won't solve the problem," Rubio said.
Trump covered the state, rallying Monday in Las Vegas, attending an event in Sparks on Tuesday and then jetting back to Las Vegas to work several caucus sites. Cruz also campaigned in Northern Nevada and returned to the Las Vegas area on Tuesday.
Carson at a Las Vegas town hall Tuesday stoked controversy by suggesting that President Barack Obama, the first African-American U.S. president, was "raised white."
"The love of our country, which is about to go off the cliff if we don't save it and traditional politics won't save it," Carson told the Review-Journal about what keeps him, "marching forward."
Gov. Brian Sandoval, who caucused at a Reno elementary school, voted for Rubio but said it was not an endorsement. He said Rubio is the best choice but still must address the proposed nuclear repository at Yucca Mountain, which Sandoval and others want to remain shuttered.
After finishing well behind Trump in Nevada, Cruz took heart in having won the Iowa caucuses.
Addressing supporters at his watch party Tuesday night, Cruz said, "History teaches us that nobody has ever won the nomination without winning one of the first three primaries and there are only two people who have won one of the first three primaries."
At stake were 30 delegates who will go to the GOP national convention. The Nevada Republican caucus awards delegates proportionally to candidates who receive at least 3.3 percent of the vote, while some states use a winner-take-all method. Nationally, the presidential nominee needs 1,237 delegates out of a total of 2,472.
Each of 1,784 precincts picks delegates who go on to their county convention. At the county conventions, delegates are picked to move to the state GOP convention in May. At the state convention, delegates and alternatives get elected to go to Cleveland for the Republican National Convention in July, when the GOP will officially nominate its presidential candidate.
Nevada Democrats caucused Saturday, handing Hillary Clinton a win over Bernie Sanders.
CNN, Reuters and Review-Journal writers Adelaide Chen, Carri Geer Thevenot, Sean Whaley, Marian Green, Alexander S. Corey and Pashtana Usufzy contributed to this report. Contact Ben Botkin at bbotkin@reviewjournal.com or 702-387-2904. Find him on Twitter: @BenBotkin1