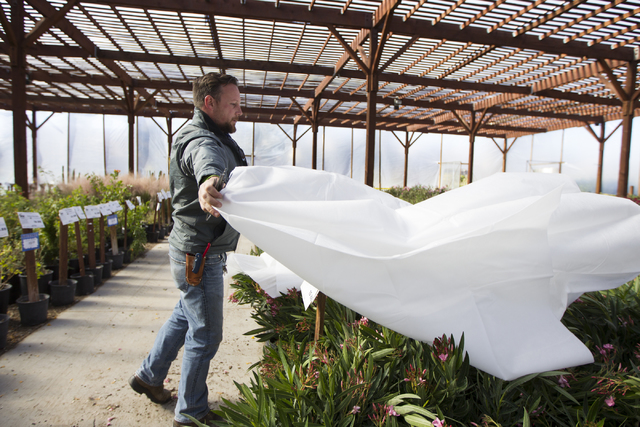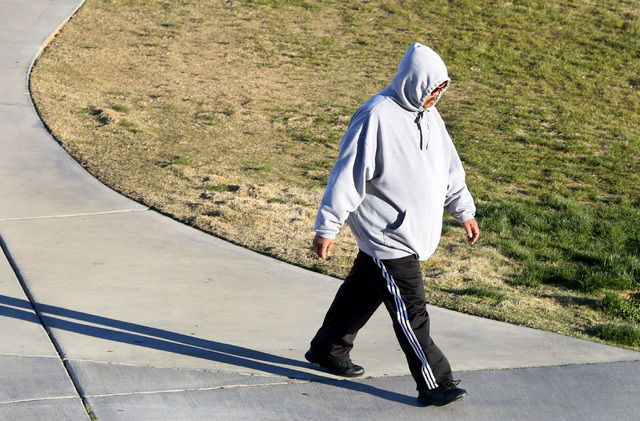 Parts of the Las Vegas Valley may see the first freezing temperatures of the season, according to the National Weather Service.
Tuesday will have a high temperature of 56 degrees with northwest winds between 10 and 20 mph. A freeze warning will be in effect from 2 a.m. to 8 a.m. Wednesday as freezing temperatures threaten parts of the valley and surrounding areas, according to the weather service.
The low during the freeze warning is expected to dip to 35 degrees at McCarran International Airport, but areas around the rim of the valley could drop below 32 degrees, meteorologist Barry Pierce said. The freezing temperatures could damage or kill sensitive plants and crops. Las Vegas residents should take precautions to protect pets, plants and pipes, according to the weather service.
The Gilcrease Orchard, 7800 N. Tenaya Way, welcomes the freezing temperatures for its produce.
"The freeze is good," orchard Director Mark Ruben said. "Peaches, apples and apricots need a chilling period."
Not all plants can survive such temperatures, however, so garden supply stores must take precautions to protect their plants.
Star Nursery, 9480 W. Tropicana Ave., uses plastic wrap to enclose its covered outdoor area and create a makeshift greenhouse, Assistant Manager Frank Macrae said. Workers also use burlap to wrap some of the nursery's plants and a protective spray to keep moisture in during the winter.
Las Vegas residents should be concerned about their plants once temperatures reach 32 degrees or lower, Macrae said.
Wednesday will see sunny skies and light winds with a high near 54 degrees. Clouds will move over the valley Wednesday night and stick around Thursday morning, Pierce said.
Thursday will have a high near 57 degrees, and Friday's high drops to 53 degrees as winds pick up, according to the weather service. North and northeast winds between 20 and 30 mph should be expected.
The Lee Canyon ski area on Mount Charleston got about 4 to 6 inches of snow over the holiday weekend, according to its Twitter feed, but the resort will remain closed until Dec. 9.
Contact Lawren Linehan at llinehan@reviewjournal.com or at 702-383-0381. Follow @lawrenlinehan on Twitter.