Warm on Tuesday, but clouds moving into Vegas Valley
October 27, 2015 - 7:55 am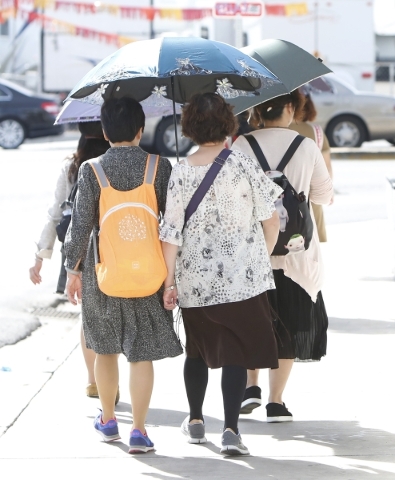 It may have felt a little cooler Tuesday morning, but temperatures in the Las Vegas Valley were still 10 degrees above where they should be.
The official low overnight at McCarran International Airport reached 58 degrees, according to the National Weather Service. Normally this time of year, temperatures dip into the 40s.
Sunny and clear skies are expected Tuesday, with increasing cloud coverage tonight, NWS meteorologist Justin Pullin said. Temperatures will top out at 82 degrees.
Valley temps should level out the rest of the week, Pullin said Tuesday.
High temperatures this week will be 78 degrees on Wednesday, 73 on Thursday and 75 degrees on Friday. Lows later in the week will hit the upper-50s.
This is a developing story. Check back for updates.
Contact Kimberly De La Cruz at kdelacruz@reviewjournal.com or 702-383-0381. Find her on Twitter: @KimberlyinLV.