9 most successful 'Shark Tank' businesses
February 21, 2015 - 3:23 pm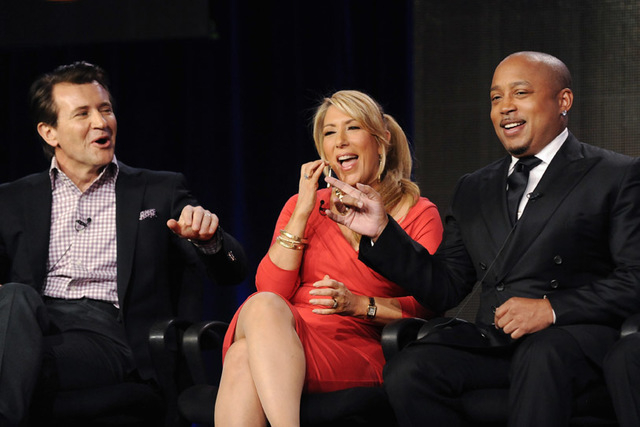 Entrepreneurs who land a spot on ABC's hit show "Shark Tank" get the chance of a lifetime: to showcase their products to more than 7 million viewers and pitch their businesses to a panel of potential investors. And if an investor, or Shark, likes their ideas, they try to negotiate offers and seal the deals with golden handshakes. More than 500 businesses have been pitched on the show over five seasons ("Shark Tank" is currently in its sixth season), but more than 50 percent of the ideas that are given the green light on the air don't end up closing the deal when the cameras turn off, according to The Richest.com.
The lucky few who have landed a coveted handshake from Sharks, such as Mark Cuban, Barbara Corcoran or Lori Greiner, form invaluable business partnerships and gain exposure that hopefully leads to a big boost in sales.
If you're a fan of the show and have ever wondered what resulted from some of the more successful "Shark Tank" pitches, then read on.
Scrub Daddy
Creator: Aaron Krause
Shark: Lori Greiner
Deal: $200,000 for 20 percent of the business
Concept: Scrub Daddy is a smiley face-shaped sponge that can outlast many average sponges. It also comes in a lemon scent and multiple colors. Scrub Daddy products can be used to clean household or outdoor items, as well as cars and boats. Its unique design tackles hard-to reach-places, like the bottom of a mug or shower corners, and won't scratch delicate surfaces.
Where are they now: After Greiner made the deal with Krause for 20 percent, Scrub Daddy became the biggest "Shark Tank" success to date, reports Business Insider. When Krause landed a spot on "Shark Tank," his company was struggling, reaching only $100,000 in sales in 18 months. Since its television debut, Scrub Daddy has raked in more than $18 million. Consumers can buy the product on QVC and in retail stores such as Target and Bed Bath & Beyond. Krause is on a mission to "reinvent the sponge," and the Scrub Daddy line has expanded to include various sizes.
In an interview with GOBankingRates, Krause shared a few tips on how other entrepreneurs can perfect their pitches. "Proper planning prevents poor performance," he said. "Before I went on 'Shark Tank,' I watched every episode twice and created a flow chart of potential questions based off each Shark's personality. There wasn't a single question I wasn't prepared for."
Krause gave another important piece of advice for when it's time to present the pitch: "It's important to come across as confident, not arrogant though. You want to act like a person someone wants to do business with."
Hold Your Haunches
Creator: Erin Bickley & Jenny Greer
Shark: Barbara Corcoran & Lori Greiner
Deal: $75,000 (plus a $100,000 credit line) for 40 percent of the business
Concept: Defining itself as "shapewear redefined," Hold Your Haunches is a fashion trouser that has an extendable waistband and integrated compression shell that extends from the waist down to the calf. This two-layer shapewear system shapes and smooths the customer's figure on the inside while remaining hidden by an outer layer of pants.
Where are they now: In the year leading up to its "Shark Tank" appearance, the company only had $165,000 in sales, reports the Daily Mail. Just six months after the episode aired, Hold Your Haunches saw more than $1.5 million in profits.
When asked about the product's surprising success, Greiner told GOBankingRates, "The Hold Your Haunches product helps women feel better about their bodies in leggings. Who doesn't want to look and feel better in their clothes? Plus, [Bickley and Greer] are real hustlers at getting the job at task done. That combination wins."
ChordBuddy
Creator: Travis Perry
Shark: Robert Herjavec
Deal: $175,000 for 20 percent of the business
Concept: Music teacher Travis Perry created ChordBuddy for his daughter, a novice guitar player. The device attaches to the neck of an acoustic or electric guitar and has colored tabs that help beginners learn the chords. Perry's daughter learned how to play so quickly that he knew he had a hit product on his hands.
Where are they now: ChordBuddy started with $150,000 in sales during its first month before "Shark Tank." In late 2014, Business Insider reported the company was on track to bring in $2 million in sales and had even secured John Rich, from the popular country duo Big and Rich, as a company spokesperson.
Kisstixx
Creators: Dallas Robinson & Mike Buonomo
Shark: Mark Cuban
Deal: $200,000 for 40 percent of the business
Concept: Robinson and Buonomo got the idea for Kisstixx after failing to hone their make-out skills during college. They turned their Utah Valley University dorm room into a makeshift chemistry lab and created Kisstixx, a flavored duo lip balm – customers can mix and match flavors to enhance their kissing experiences.
Where are they now: Immediately following its "Shark Tank" appearance, the company's website saw a 3,000 percent increase in traffic and sold more than 5,000 units (Strawberry Daiquiri & Piña Colada are popular flavors), reports The Richest. The lip balm is sold at various retailers, including Walgreens, Bed Bath & Beyond and Kmart. Customers can also buy the product online on Amazon, Drugstore.com and the company's website. The products have also gotten a little more popular with the ladies – country music artist Danielle Peck reportedly partnered with Kisstixx.
"I would say my luck with the ladies definitely improved after creating Kisstixx. Since then I have married my beautiful wife and had an amazing little girl. You could say I really lucked out in the ladies department," said Robinson.
Lollacup
Creator: Mark and Hanna Lim
Shark: Mark Cuban and Robert Herjavec
Deal: $100,000 for 40 percent of the business
Concept: Married couple Mark and Hanna Lim came up with the idea when they couldn't find a good straw cup for their 9-month-old daughter. So, they made a new and improved version of their own. Lollacup is valve-free and comes with a special straw that's designed to suck up every last drop of liquid.
Where are they now: According to Business Insider, Lollacup is the most successful children's product to come out of "Shark Tank." Before their appearance on the show, the Lims had only 50 accounts. Now, they have more than 650, including retail giant Walmart, and nearly $1 million in sales.
As for a plan for future Lollacup products, Hanna told GOBankingRates, "My oldest daughter is now 7, and we also have two younger daughters, so we are surrounded by inspiration. We do have plans to expand into other products. We've actually moved in the other direction, and developed a fun and functional glass baby bottle that is scheduled to hit store shelves in April 2015."
Cousins Maine Lobster
Creator: Sabin Lomac and Jim Tselikis
Shark: Barbara Corcoran
Deal: $55,000 for 15 percent of the business
Concept: Cousins Lomac and Tselikis are from Maine, and they wanted to create a food truck in Los Angeles called Cousins Maine Lobster. The company is famous for its lobster rolls, which are made from lobsters they ship in from their home state.
Where are they now: Right after its "Shark Tank" episode premiered, Cousins Maine Lobster hit an impressive $700,000 in sales. Since then, the cousins have franchised their truck in the U.S., and the company has exceeded $8 million in sales.
Ava The Elephant
Creator: Tiffany Krumins
Shark: Barbara Corcoran
Deal: $50,000 for 55 percent of the business
Concept: Ava the Elephant was one of the first and most successful products to come out of "Shark Tank." Krumins got the idea from her experience as a nanny. Ava the Elephant is a medicine dropper disguised as a talking elephant head, and it helps kids take their medicine in an "elephant-friendly" way.
Where are they now: Wall Street Insanity reports Ava the Elephant is currently sold in 10 countries and can be found in more than 10,000 retail outlets, including CVS and Walgreens. Krumins cites her close relationship with Corcoran as a key to her success.
Corcoran told GOBankingRates, "Most young entrepreneurs have great instincts but defer to the seasoned investor for many of their business decisions. But the best role of the investor is to stay close to the entrepreneur and encourage their self-confidence and lend emotional support through the ups and downs of building the business. That's the role I play for my entrepreneurs."
Drop Stop
Creator: Marc Newburger & Jeffrey Simon
Shark: Lori Greiner
Deal: $300,000 for 20 percent of the business
Concept: Newburger and Simon, best friends and "heterosexual life mates," developed this product while Newburger lived on Simon's couch for five years. Drop Stop is a car seat gap filler. Using a built-in slot, the product attaches to the seat belt catch and blocks the gap between the seat of your car and the center console. The high-grade neoprene contracts and expands to whatever size gap the car has and prevents items such as keys, phones, change and food from falling in between your car seat and the center console.
Where are they now: Newburger and Simon spent weeks getting their website ready before their "Shark Tank" experience, and all that work paid off. Simon told SharkTankBlog in 2013 the site saw 145,000 page views the night it aired. They also did an appearance on "The View," which brought in $122,000 in sales. "Shark Tank" brought in $230,000, and two QVC shows brought in $250,000. They aren't stopping there, though. "Those are like video game numbers," Simon told the blog, "they don't count yet. Right now we're putting everything back into inventory."
Notehall
Creator: Sean Conway, Justin Miller, DJ Stephan and Fadi Chalfoun
Shark: Mark Cuban & Barbara Corcoran
Deal: NO DEAL
Concept: Notehall was originally an online marketplace where students can buy and sell class notes and study guides for college courses.
Where are they now: The Notehall creators were initially offered $90,000 from Corcoran, and it seemed like they would seal the deal…until it reportedly fell apart off the air.
After the Season 1 episode ran, Venture Beat ran a story on Chegg.com's acquisition of Notehall (Chegg is a student hub that offers scholastic materials, including affordable textbooks, to millions of high school and college students). It's unknown how much cash Chegg paid for the company. But according to the form D on the company's SEC filing, Notehall received $3.7 million in equity. It looks like playing hardball might have paid off.
Related Stories:
–See how the Shark Tank's Mark Cuban became a big fish
–Find out how to keep your kid from becoming a broke college student
–Discover 6 unexpected ways spring cleaning will save you money