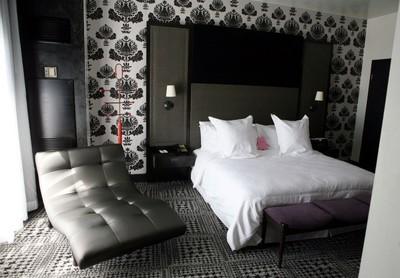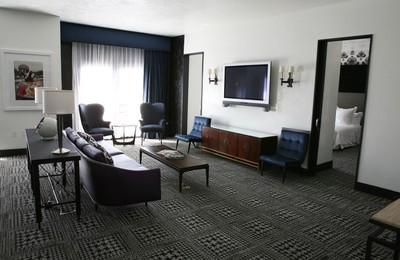 The $600 million evolution of the Hard Rock Hotel is beginning in a series of suites on the 11th floor.
The property's 64 suites are receiving a renovation and upgrade ahead of the property's major expansion scheduled to begin in October.
"They've never taken a major renovation,' property President and Chief Operating Officer Randy Kwasniewski said. "We're redoing the suites soup to nuts."
He added the new room designs are "chic, upscale, rock 'n' roll" and overdue.
The rooms, designed by New York-based architect Mark Zeff, are a change in direction for the property and a sneak peak of what's to come.
"The idea was to come up with a new language for the hotel, to start to experiment with different imagery and different ideas," said Zeff, founder of Zeffdesign.
Zeff was tapped by the new owners of the property, Morgans Hotel Group, to design all the space for the entire property, from the casino to the pool area, and the new spaces slated for the expansion.
"We're sort of looking at Hard Rock becoming the rock 'n' roll manor house rather than a place full of memorabilia," Zeff said. "A place where you can really hang out and take some time."
Three suites were finished this month. Zeff said the remodeled rooms were designed around rock 'n' roll ideas of gothicness and hedonism.
This is the first project in Las Vegas for Zeff.
He has renovated West Village residences for actress Hilary Swank and photographer Annie Leibovitz.
His résumé also includes working with a variety of hotels, retail stores, restaurants and media companies including Hampshire Hotels in New York, Town Hall Restaurant in San Francisco and the MTV Video Music Awards.
He said he wanted to move the Hard Rock away from the "very gaudy" look found at many Strip hotels toward a more elegant look.
"I looked at it very differently because I'm not embedded in that (Las Vegas gaming) industry," Zeff said. "I come at this with a very different point of view. I want to really make this an elegant, young vibe."
Morgans took over operations of the Hard Rock Hotel in early February after closing on the $770 million purchase.
The following month it announced a major renovation and expansion that will add 1,000 hotel rooms, new convention and meeting space, and a larger The Joint concert venue.
Zeff is conceptualizing the new suites under four separate feminine mystiques; domme girl (dominatrix), glamour girl, biker girl and party girl.
He said he is testing different ideas in the old suite redesigns to gauge customer reaction before the new hotel towers are built.
"Let's test the waters and see how people like it," Zeff said. "It's not necessarily cast in stone it's the direction we're going with."
Matt Armstrong, Morgans senior vice president for business development, said the new room inventory will target the boutique hotel customer that currently visits the Hard Rock but may stay at more upscale Strip properties.
The expansion, which is scheduled to be completed by mid-2009, will also add restaurants, retail shops and a spa.