Airline flier count slips again
December 3, 2008 - 10:00 pm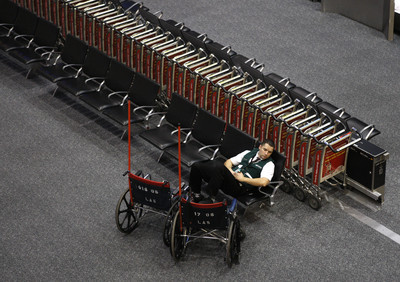 What a difference a year makes.
Passenger traffic at McCarran International Airport in Las Vegas fell 12.8 percent in October to about 3.6 million arrivals and departures.
After adjusting for an extra Leap Year day in February, it marks the 12th consecutive month of decline for McCarran, the longest-such streak since a 15-month stretch from October 2001 to December 2002.
The longest downturn on record before that was 11 consecutive months of decline from October 1997 to August 1998, although that streak was mild in comparison since passenger traffic was just nearly flat for many of those months.
So far this year, about 37.7 million passengers have arrived and departed via McCarran, a 6.4 percent decline from 2007.
The current downturn coincides with a national recession that started in December 2007 and a summertime spike in energy prices that drove up the cost to travel to Las Vegas by plane or car. Energy prices have waned but the recession lingers, meaning passenger traffic is likely to worsen before it gets better.
"The real question is whether some combination of lower hotel prices and lower fuel prices can fill (Las Vegas) hotel rooms and keep all the casinos in business," said Robert Ashcroft, a former airline analyst who is now vice president of planning for Las Vegas-based Allegiant Travel Co.
Allegiant is one of the only significant airlines at McCarran to show an increase in October, albeit a modest 4.1 percent to 142,670 arrivals and departures.
The major airlines all posted big declines for the month.
US Airways posted 488,849 arrivals and departures for the month, a 29.9 percent decrease from October 2007. The Phoenix-based airline is the second-largest carrier at McCarran and was nearly brought to its knees this past summer when oil prices topped $140 per barrel.
A major cost-cutting initiative that was already in place contributed to a near 50 percent decline in the number of available US Airways seats in the Las Vegas market compared with the airline's peak service levels in fall 2007.
Southwest, the largest McCarran carrier, flew about 1.3 million passengers in and out of Las Vegas in October, a 5.5 percent decrease.
United was down 5 percent for the month, Delta was down 7 percent and Continental was down 4 percent.
Traffic at Terminal 2, which hosts most international carriers, fell 31.1 percent to 138,520 arrivals and departures. Only Aeromexico and Virgin Atlantic Airways appeared to buck the trend, posting increases of 39.6 percent and 5.9 percent, respectively.
Ashcroft says Allegiant, which specializes in noncompetitive routes from small towns to Las Vegas, Florida and Arizona, expects to keep growing by finding new markets and perhaps reviving long-haul routes it dropped when fuel prices peaked.
But he says it will take even more price-cutting at resorts to revive visitation during the recession some say will likely grip the region until at least 2010.
"If people don't have as much money in their pockets, then hotels, as a whole, are probably going to have to reduce room rates to keep their casinos full," said Ashcroft, whose company uses agreements with Las Vegas resort operators to package airline tickets with hotel room specials. "We've heard at least one hotel operator say that the important thing is to keep the rooms full and that room price is a secondary concern, and that's a sentiment with which we agree."
Contact reporter Benjamin Spillman at bspillman@reviewjournal.com or 702-477-3861.
McCarran passenger traffic