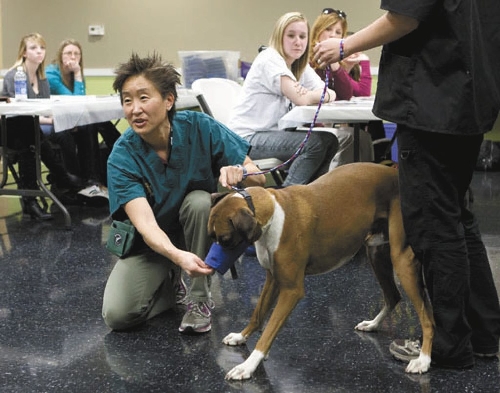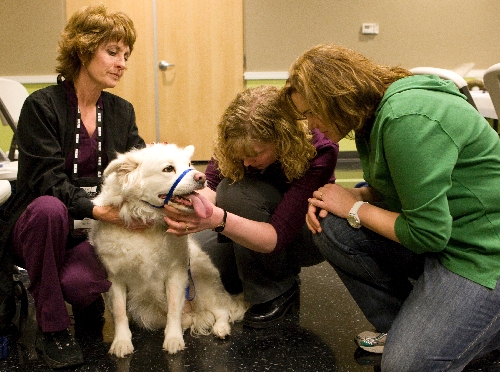 Even before their annual conference ends today, leaders of the Western Veterinary Conference were proclaiming themselves the cat's meow of the industry.
This year's estimated attendance surged to 14,500 after several slow years, pushing Western Veterinary about 500 ahead of the rival North American Veterinary Conference convention in January. Last year, North American finished about 300 people larger and led by about 2,800 as recently as three years ago.
"We are now the largest veterinary conference in the world," said Western assistant CEO David Little.
Western is one of the rare groups that not only stages its annual convention in Las Vegas but is based here as well. It moved south from Utah in 1963 and has since reoriented its program and exhibits from farm animals to pets.
Little attributed the attendance gain of nearly 12 percent in the past two years to an improving economy that has started to provide a tailwind for much of the city's meeting industry. In the next few years, he projects the growth rate will slow.
But Western has also taken several steps to revamp the conference itself as the numbers started to fall even before recession set in. The nonprofit organization adopted a new logo, printed up a wire bound convention guide, created a lounge area on the exhibit floor and included the seminar notes as part of the registration fee after charging $65 last year.
"We're trying to boost attendance by providing more value," said Little, acknowledging that dropping the notes fee cost some revenue. "We don't want to charge people a la carte for this and that."
After having a waiting list last year of companies that wanted to rent booths but could not for lack of space, Western took a risk by moving to a different section of the Mandalay Bay Convention Center that nearly doubled the size of its exhibit floor to 320,000 square feet. However, said Little, Western managed to lease all of the area and boosted its exhibitor count by more than 100 to 550, selling products ranging from dietary supplements to cat-sized CT scanners.
By far the biggest change came with the opening two years ago of the Oquendo Center east of McCarran International Airport, which not only houses the Western offices but conference rooms, a theater-style lecture hall, medical training suites and pens for large animals.
In an interview one year ago, Western CEO Dr. Guy Pidgeon said the group saw the conference potentially losing ground to webinars and convention hall managers increasingly reluctant to deal with the health issues posed by bringing in large numbers of animals. The conference generated three-fourths of Western's $9.6 million in revenues during the year ended July 31, 2009, the most recent numbers available.
Oquendo, which cost $14.9 million to build plus $2.5 million to equip, stages hands-on demonstrations for techniques such as dog tooth cleaning, small animal abdominal surgery and reptile hematology. Western directors decided that this would attract conference attendees as the number of medical theaters has declined across the country.
North American puts out a schedule of hands-on training sessions, but has also pushed to draw an increasing number of foreign attendees. North American managers could not be reached for comment.
With an annual cost of nearly $2 million, including debt service, Oquendo would be a heavy expense for just the conference alone. Little, with a background in marketing that contrasts with the medical training of Pidgeon and the board of directors, was brought in to fill it up the rest of the year.
"Scientists are scientists and business people are business people," Little said.
This year, Little said, Oquendo is sold out from Thursdays through Sundays for almost the entire year, for functions such as exams for foreign vets seeking U.S. licenses, other animal health groups and even for periodic business meetings in others industries. But the center still has numerous open dates on Mondays through Wednesdays he said.
As part of the solution, Little is gearing up to sell the treatment labs to human medical groups that book conferences on the Strip. However, Pidgeon said previously, it could take several years for Oquendo to break even. Until then, the surpluses generated by the conference would subsidize operations.
Contact reporter Tim O'Reiley at toreiley@
reviewjournal.com or 702-387-5290.
LV roundup
Attendance at Western Veterinary Conference
2001 — 11,728
2002 — 12,161
2003 — 13,446
2004 — 13,448
2005 — 14,000
2006 — 14,445
2007 — 13.021
2008 — 13,226
2009 — 13.003
2010 — 13,515
2011* — 14,500
*Estimated
SOURCE: Western Veterinary Conference