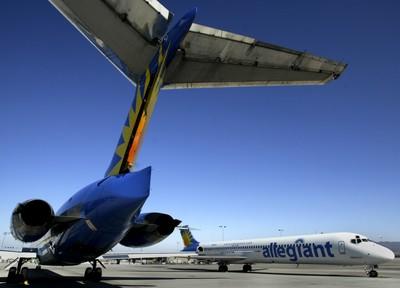 New routes and new ways to get money from passengers helped Allegiant Travel Co. boost revenue nearly 50 percent and profit more than 190 percent during the second quarter.
Las Vegas-based Allegiant operates an airline that focuses on routes between small-town airports where competition is scarce and resort destinations such as Southern Nevada, Florida and, more recently, Arizona.
The company generated revenue of $88.9 million for the quarter, up from $59.7 million in the second quarter of 2006. Operating income jumped from $4.9 million to $14.2 million for the same period, lifting the margin from 8.2 to 15.9 percent.
During the past year, Allegiant has added 10 cities and 31 routes to its network, which will soon include more than 50 communities and more than 80 routes.
The airline also boasted load factors, the number of seats filled on a given flight, higher than 90 percent in July, said M. Ponder Harrison, Allegiant's managing director of sales and marketing.
The high load factors helped Allegiant increase ancillary revenue, money it makes on charges for everything from assigned seats to checked bags to hotel and rental car deals.
Ancillary revenue per passenger rose 43 percent in the quarter to nearly $21.
Harrison expects that figure to continue to rise as the company fine-tunes its system for pricing seats based on location in the cabin. Assigned seating on an Allegiant flight now costs $11, but that figure could double for desirable seats such as those on an aisle or in an exit row, Harrison said Tuesday.
"The fuller the aircraft, the more important it is to avoid the dreaded middle seat," Harrison said.
He called ancillary revenue "added incentive to get as many paying bodies on our airplanes as practically possible."
Overall, ancillary revenue generated nearly $16 million of Allegiant's revenue for the quarter, about 18 percent of the total revenue.
Fuel costs, however, were a drag on earnings. The airline spent more than $35 million on fuel in the quarter, up 29.6 percent from $27 million in the same quarter last year.
Maurice Gallagher, chairman, CEO and president of Allegiant, said he thinks fuel costs will come down in coming months. The cost of fuel has increased about 50 cents per gallon since Jan. 1, Gallagher said.
He based the prediction of lower prices on an expectation that investors who drove up the price buying oil futures will unload their shares in the same way they sold out of the mortgage market.
"As long as the money has been easy … these financial investors have been able to throw billions of dollars, including a great deal of leverage, at oil futures," he said.
With lending standards tightening, "It wouldn't surprise me to see oil futures retreat quickly," Gallagher said.
That would be great news for Allegiant investors because the company saves an estimated $700,000 annually for every 1 cent decrease in the cost of a gallon of fuel, Gallagher said.
As an additional hedge against high fuel prices, Allegiant invested in a joint fuel venture with partners in Florida, including the Orlando Sanford International Airport.
The investment in storage and pipelines in Florida should help save Allegiant money because a lack of refineries and pipelines hinders deliveries into the Sunshine State, Gallagher said.
"Florida is a difficult state to obtain competitive prices for fuel," he said.
Other than the fuel issue, Florida has been kind to Allegiant. Seats on flights to Florida represented 40 percent of the airline's scheduled service during the quarter, up from 30 percent last year.
In November, Allegiant is adding flights to Fort Lauderdale, which will be its third Florida destination. It will also add flights to Williams Gateway Airport in Mesa, Ariz., another new Allegiant destination.