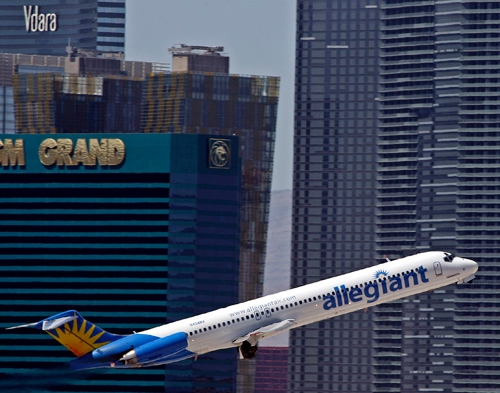 If Allegiant Travel Co. goes ahead with a novel ticket pricing concept, passengers could start gambling even before they leave home.
In a letter concerning possible airfare disclosure rules proposed by the U.S. Department of Transportation, Allegiant Chairman and CEO Maurice Gallagher Jr. wrote that the Las Vegas-based airline was considering giving customers a choice on its website: a traditional fixed fare or a discounted one that would fluctuate with the price of aviation fuel. If fuel prices rose between the date of the ticket purchase and departure, the passenger would pay the difference up to a set maximum. But falling prices would net them a refund for the spread.
Company spokeswoman Sabrina LoPiccolo said there were "no immediate plans" to implement this approach or even establish thresholds about when to go ahead.
"It hasn't been thought through or developed to that stage," she said.
However, Gallagher wrote on Feb. 16, "The potential to offer this alternative is especially important for Allegiant."
Besides facing the industrywide problem of rapid price increases in recent weeks, Allegiant relies heavily on leisure passenger who buy tickets weeks or months in advance. This makes is difficult to predict what fuel prices at flight time, Gallagher wrote.
Company management has said in the past that it is harder to raise prices on leisure passengers paying their own way than on business travelers on expense accounts, a critical base for many larger airlines. In addition, Allegiant flies fuel-guzzling MD-80 series jets that are based on a design more than four decades old and does not hedge its fuel supply, a form of price insurance many of its rivals purchase.
"In Allegiant's view, fundamental fairness dictates that both parties to a travel transaction have available a measure of protection," wrote Gallagher, instead of just passengers via fixed ticket prices.
The reaction came quickly. Burton Rubin, director of AirlinePassengers.org, a recently formed group of what he described as "aviation wonks," derided the idea as "Allegiant roulette."
"These guys are like throwing up their hands on what it means to be good airline management by shifting one of the main risks over to the consumer," he said.
Because passenger know so little about aviation fuel prices, added Charles Leocha, director of the Consumer Travel Alliance, "It's like the airlines are saying, 'Trust us.' And we all know how that one turned out."
But the Business Travel Coalition, a group of companies that run up huge air travel bills, called the idea similar to the raw material purchase contracts many of its members sign. Typically, said coalition chairman Kevin Mitchell, these deals contain clauses that allow for higher prices in the event of sudden changes on world markets.
"You can't get religion over unbundling to the extent is denies an airline the ability to stay in business," he said. "Furthermore, with a company like Allegiant that is leisure oriented, (flexible pricing) makes even more sense."
Unbundling refers to the airline industry practice of charging extra for various amenities, such as baggage handling and food.
In the 1980s, discount carrier People Express didn't set a fuel price until passengers got to the airport, he recalled. As a promotion for starting service to Houston in 2006, JetBlue set the one-way ticket price as the same as the price of a barrel of oil. But that lasted only one week.
No one else has proposed a fuel-influenced fare to the extent Allegiant has. Airlines have raised their fares several times in recent weeks to cover rising fuel prices, although federal regulations prohibit listing fuel surcharge as a separate line item. Still, the fare does not change from the time of purchase.
Contact reporter Tim O'Reiley at toreiley@reviewjournal.com or 702-387-5290.