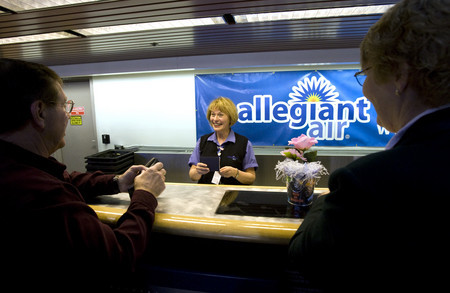 Higher fuel costs and lower air fares caught up to Allegiant Travel Co. in the fourth quarter.
The Las Vegas-based parent company of Allegiant Air reported in an earnings call Tuesday morning that fourth-quarter profits fell from the same period a year ago.
Allegiant said fuel costs in the fourth quarter averaged $2.07 per gallon, up from $1.46 the company paid in the first quarter of 2009.
Fuel prices for the year averaged $1.76, but company Chairman and Chief Executive Officer Maurice Gallagher told analysts he doesn't expect to see fuel prices that low again anytime soon.
"It doesn't appear we'll return to these fuel prices in the coming year," Gallagher said. "Expectations for 2010 from industry experts suggest $80 per barrel as a target price."
The airline reported that its average fares dropped 6.3 percent in the quarter, to $108.59. Average fares were down 9.6 percent for the year, to $103.45.
Allegiant's earnings dropped 42.1 percent to $10.5 million for the quarter ended Dec. 31, from $18.2 million for the same time in 2008.
The quarterly earnings come to 52 cents a share, down from 88 cents a share in 2008. That beat the 48 cents-a-share estimate of analysts surveyed by Thomson Reuters.
It was the 12th straight quarter the company posted a profit.
Despite the decline, the company reported earnings for 2009 of $76.3 million, or $3.76 per share, an increase from $35.4 million, or $1.73 per share, in 2008.
Revenue increased 10 percent in the fourth quarter to $135.7 million, and 10.7 percent to $557.9 million for the year.
Nearly 29 percent of the company's revenues come from ancillary charges — charges for seat assignments, travel insurance, baggage fees and other add-ons.
Revenues from third-party sales — the reselling of hotel rooms, ground transportation, and attraction and show-ticket sales through its Web site — increased 4.5 percent in 2009 to $73.1 million. That was an income increase of 3.2 percent to $19.7 million.
Gallagher said Allegiant Travel will put additional emphasis on third-party sales to increase income.
Allegiant Air increased its routes last year by 23 to 136, largely from entering the Los Angeles International Airport for the first time with 11 routes.
McCarran International Airport remains the company's busiest destination, with 40 routes between Las Vegas and small cities such as Bismarck, N.D.; Missoula, Mont.; and Shreveport, La.
Allegiant serves 58 small cities, six more markets than 2008, with routes to leisure markets, including Las Vegas and the Florida cities of Orlando, St. Petersburg and Fort Lauderdale.
Gallagher said the company has a strong reputation in many of the cities, some of which the company entered in 2002 and 2003. Only eight of the company's 136 routes have direct competition.
President and Chief Financial Officer Andrew Levy said the company expects to cut its debt to nearly $22 million as long as its growth can continue to be funded through operating cash flow.
Allegiant Travel shares rose 47 cents, or 0.92 percent, Tuesday to close at $51.46 on the Nasdaq National Market.
Contact reporter Arnold M. Knightly at aknightly@reviewjournal.com or 702-477-3893.