Bags of Nevada executive became hooked on airline industry — and returned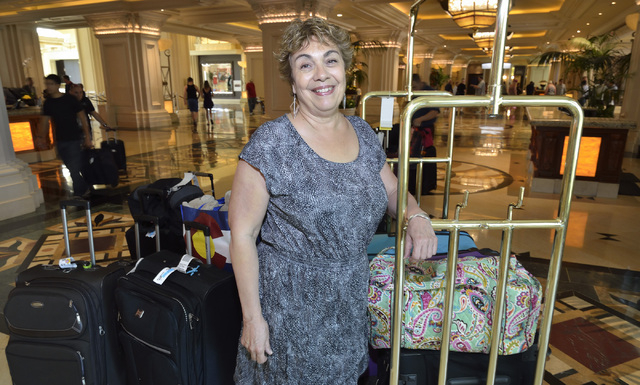 Roz Santangelo is one of those airline industry lifers. Once you get in, you're hooked and there's no turning back.
That's why after retiring from Southwest Airlines after a 20-year career, she knew she had to return to the industry.
"I love to travel, and I loved that I could fly for free," Santangelo said. "Now, as a retired Southwest employee, I'll get to fly for free for the rest of my life."
Santangelo, a Staten Island, N.Y., transplant, went to work for Pan Am as soon as she left college, eventually moving to Las Vegas to work for Western Airlines.
After Delta Air Lines absorbed Western, Santangelo found Southwest and was in marketing for the busiest carrier at McCarran International Airport.
Santangelo's people skills flourished at Southwest, and she was the face of the company in Las Vegas during its fastest growth period.
When the company merged marketing departments in several cities, Santangelo transferred to Phoenix, retiring from the airline there.
But she wanted to get back to Las Vegas and, more importantly, back to the industry she loved.
Question: How did you get started with Bags of Nevada?
Answer: I had just lost my job, and I called a few people that I knew would have an opportunity or know of an opportunity. I got a call from the station manager at Southwest Airlines and he said, "I've found the perfect job for you." I couldn't have created a better job than this one.
Question: Why?
Answer: Because it had to do with community, working in the community and being involved with the airport, the airlines and the hotel industry. It was everything that I had done when I was working for Southwest Airlines. He knew that I had the relationships in place and he told the supervisor who was over Las Vegas for Bags of Nevada while they were looking for someone in marketing and sales that he had the perfect person for them. So the supervisor called me. He said he would call me by Friday, and on Friday morning at 8, he was on the phone. He asked me some questions and after about 15 minutes, he invited me to Orlando (Fla.) and offered me the job. That was in June 2012.
Question: What does Bags of Nevada do?
Answer: We do off-site baggage check-in. It's just like having a mini-airport in a hotel. We will check your luggage at the hotel, and you won't see your bag until it gets to the carousel at your home airport. If you purchase VIP service, we'll take your bag right to your house.
Question: What else is included in VIP service?
Answer: If you're staying at Mandalay Bay, for example, and you check your bag in, for a little extra, when you reach your home in, say, Chicago, you can just go directly home, or work or wherever. We will go to the carousel, get your bag and deliver it within four hours of the arrival of the flight at whatever destination you want us to deliver it to.
Question: So if you're a Las Vegan and you're going somewhere else, you could have your bag delivered to your hotel, right?
Answer: Right. In some cases, we've had people coming to Las Vegas and they're going golfing and they have their golf clubs and their luggage and they'll have us pick up their golf clubs and take them to the course so when they get to the course, they're ready for them.
Question: How long has your company worked in Las Vegas?
Answer: I started in June 2012 and I think the company was operating here maybe six months before I started.
Question: But you're in several cities across the country, right?
Answer: We're nationwide. We have operations in 250 cities, but our major operations are in Seattle, Long Beach (Calif.), Salt Lake City, Las Vegas, Orlando (Fla.), Atlanta, Newark (N.J.), Chicago and several other cities in Florida. Our headquarters is in Orlando. In Orlando, we check in bags for every hotel at Disney World. When visitors go to Disney World and they stay at one of the Disney hotels, they have a service called "the magical experience." We are actually the magical experience. We take the bags from the airport and we bring them to the hotel and bring them to their rooms, and then when they leave, they come down to us in their hotel and take their bags and they don't see them until they get home. The hotel provides the shuttle service for them. So it's actually us, but our name isn't on it.
Question: In Las Vegas, you're in how many resorts?
Answer: We're at Luxor, Harrah's, Mandalay Bay and the McCarran Rental Car Center.
Question: Are there opportunities to expand into other properties?
Answer: We're trying to expand into other properties with groups and conventions because we're finding that just having a counter at the hotels isn't noticed as much unless it's promoted. We're looking to work with groups and conventions so they can buy the service for the entire group. We've started to do some advertising at the Luxor, and we're seeing our numbers go up. That's encouraging for us. We're now on their website, and in August, we'll be in a newsletter that the hotel puts out. We're also going to be included in a coupon book that is given to every guest that checks into the hotel.
Question: When I'm a customer and I drop off my bag at your counter at Luxor or Mandalay Bay, what happens to it?
Answer: We keep it secured. It's locked up until our truck arrives. Once we get bags checked in, we call our truck. Bags are scanned and put into a secure truck. We take them directly to a node at the back of the house at the airport. We put it through the Transportation Security Administration security screening, and after they've cleared that, we sort them by the six airlines that we check in. Then, the airlines come and pick them up.
Question: So you had to make an arrangement with the TSA?
Answer: Yes, TSA and McCarran both. We have a contract with the airport, and the TSA has approved the entire operation.
Question: You mentioned you work with six airlines. Which ones?
Answer: Southwest, United, Delta, American, US Airways and JetBlue.
Question: Is there an opportunity for that to expand?
Answer: We've approached some airlines and we're waiting for some responses.
Question: How much does the service cost?
Answer: It's not the same at every location. It's $10 a bag at every location except Mandalay Bay. At Mandalay Bay, it's $12 for the first bag and $8 for the second. We also collect bag fees for the airlines. Every month, we write a check to the airlines for every fee we collected.
Question: What else is in the business model?
Answer: We also do baggage delivery. We deliver all the lost and mishandled bags at McCarran and at all the other cities we're in. That's why we can do our VIP service, because we do the deliveries.
Question: Does the delivery company have a different name?
Answer: In Las Vegas, it's Bags of Nevada. In other cities, it could be under Home Serve Delivery or Bags.
Question: What's the service's appeal?
Answer: For inbound flights, it's great because you don't have to deal with baggage claim or lines. You just get off the plane, get your rental car or taxi and go right to the hotel. It probably saves you at least an hour. You just pass the whole baggage claim area and go straight to your transportation. That's an advantage to the hotels, too, because it gets their guests to the property faster.
Question: How about for outbound traffic?
Answer: It works the same way. Suppose you have a 10 p.m. flight out and you have to check out of your hotel room at 11 a.m. You'd have to leave your bags at the bell desk, which would require you to come back to the hotel before you go to the airport. If you check your bags with us, you can go anywhere you want until your flight departs and when you get to the airport, you don't have to wait in lines to check bags. You go straight to the security line and go straight to your flight. Because we'll give you your boarding pass as well as your bag tag.
It's a great product, and when you're on vacation and you have kids, you have one less thing to have to worry about.
Contact reporter Richard N. Velotta at rvelotta@reviewjournal.com or 702-477-3893. Follow him on Twitter @RickVelotta.